mytest
Books, eBooks, and more from Debito Arudou, Ph.D. (click on icon):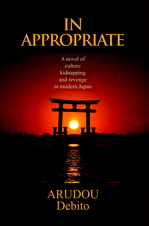 UPDATES ON TWITTER: arudoudebito
DEBITO.ORG PODCASTS on iTunes, subscribe free
"LIKE" US on Facebook at http://www.facebook.com/debitoorg
https://www.facebook.com/embeddedrcsmJapan
http://www.facebook.com/handbookimmigrants
https://www.facebook.com/JapaneseOnlyTheBook
https://www.facebook.com/BookInAppropriate
If you like what you read and discuss on Debito.org, please consider helping us stop hackers and defray maintenance costs with a little donation via my webhoster:


All donations go towards website costs only. Thanks for your support!
Visible Minorities: Advice to Activists in Japan
Shingetsu News Agency, Visible Minorities Column 11
By Debito Arudou, Ph.D. (excerpt)
SNA (Tokyo) — Sparked by the George Floyd murder by police in America last month, street protests against official violence towards minorities and disenfranchised peoples have sprung up worldwide.
Japan has been no exception. Within recent Black Lives Matter demonstrations, a wider range of people are finally decrying, for example, the Japanese police's racial profiling and violence towards visible minorities.
I've talked about these and other issues for years, devoting significant space both on Debito.org and in my book Embedded Racism: Visible Minorities and Racial Discrimination. That said, it should be noted that my position in Japan as a white male with naturalized Japanese citizenship has provided me significant privilege; in all humility I am not in the best position to offer advice to people who have the right (nay, obligation) to create their own identities, narratives, and agendas as they see best.
Nevertheless, this column would like to point out some of the pitfalls that activists may face in Japanese society, based upon my experience fighting against racial discrimination here for nearly thirty years. Please read them in the helpful spirit they are intended:
1) Remember that, in Japan, activists are seen as extremists
2) Keep the debate focused on how discrimination affects everyone in Japan
3) Be wary of being fetishized
4) Be ready for the long haul
5) Control your own narrative
[…]
Full writeup on the SNA website at http://shingetsunewsagency.com/2020/06/22/visible-minorities-advice-to-activists-in-japan/. Debito Arudou, Ph.D.
======================
Do you like what you read on Debito.org?  Want to help keep the archive active and support Debito.org's activities?  Please consider donating a little something.  More details here. Or if you prefer something less complicated, just click on an advertisement below.