Posted by Dr. ARUDOU, Debito on May 7th, 2012
Other works/publications by ARUDOU, Debito (click on icon):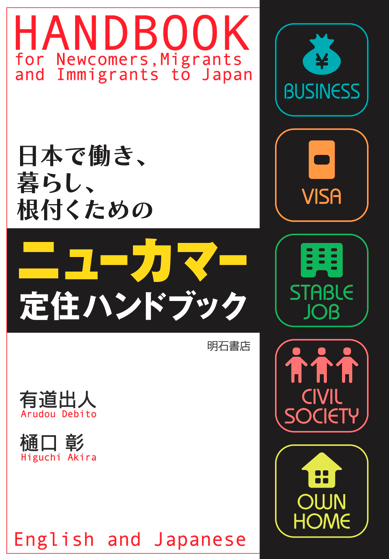 UPDATES ON TWITTER: arudoudebito
DEBITO.ORG PODCASTS on iTunes, subscribe free
Hi Blog. The Japan Times came out with an editorial last Sunday, entitled "Flyjin rather few," which talked about a recent Tokyo Metropolitan Government survey of NJ in Tokyo, carried out to ascertain how many stayed or left after the disasters of March 2011 and beyond. The survey was trying to see if the "Flyjin" phenomenon really happened, and in doing so, the JT notes, potentially resuscitated the invective of Japanese media and xenophobic pundits branding NJ as deserters.
The JT editorial is a doozy. Not only does it demonstrate that "the vast majority of foreigners in Tokyo stayed right where they were — in Tokyo", it also castigates the whole thought process behind it:
"The survey did little to focus on what can be done to ensure that all residents of Tokyo be given clear information about conditions and constructive advice about what to do in the event a similar disaster strikes in Tokyo in the near future."
"The 'flyjin' issue, besides being a derogatory term, was always a tempest in a teapot. Surveys that find information to help improve communications are important, but it is the actions that follow that really count. The metropolitan government should prepare a means to give all residents of Tokyo, whatever nationality they are, trustworthy information during emergencies so safe, sensible decisions can be made."
Thank you.  Read the full JT May 6, 2012 Editorial at http://www.japantimes.co.jp/text/ed20120506a2.html
In other words, the JT was easily able to see through the stupid science (e.g., the singling out of NJ, the small sample size, limiting it to Tokyo residents, the lack of clear aim or rigor in methodology, and ultimately its lack of conclusion: "The survey did little to better understand all Tokyoites' complicated reactions to the crisis.")
Yet people who should know better, and who should be advocating for the needs of the NJ Communities in Japan, are already citing this survey as somehow indicative. Japan Probe, for example, states that this survey "confirms Post-3/11 "Flyjin" Phenomenon / 25 Percent of Tokyo's Foreign Residents Fled", and apparently "deals a major blow to certain bloggers who have claimed that the "flyjin" phenomenon was a myth".
One of those certain bloggers indeedy would be me.  And I gave much harder and rigorous numbers from all of Japan and from the central government and for the entire year, clearly exposing the "Flyjin" phenomenon as myth in my April Japan Times column.  Hence, there's no clearer interpretation of Japan Probe's conclusion than the will to live in obtuse denial.
But that's what keeps hatenas hovering around my head.  Wouldn't it be nicer if online resources like Japan Probe (which calls itself "The web's no.1 source for Japan-related news and entertainment") would work for the good of the NJ communities it purports to inform? It did do so once upon a time, for example, during the whole GAIJIN HANZAI mook debacle, where Japan Probe was instrumental in helping get the racist magazine on foreign crime off the shelves and the publisher bankrupted. But now, why try so hard, as the Japan Times Editorial above saliently notes, "to exaggerate the extent of foreigners leaving the country and impugn their motives for leaving"?
What's gained out of any of this, James at Japan Probe? The smug satisfaction that you're somehow right? (Even though you're not?) Or that you're somehow "more dedicated to Japan" because you didn't leave? (Assuming you are in Japan.  Who cares?  Moreover, what if, as I argued in my May 2011 JT column, people did leave Japan anyway?  It's their life and their decision.  Why should you care anyway?)
Why, in these days of seemingly-endless self-sacrifice in Japan, do people have to turn on themselves like this and just make things worse for everyone?  Especially themselves?  It's a serious question.  So let me pose it.  Arudou Debito
//////////////////////////////////////////
Referential J media:
25 percent of foreigners living in Tokyo left Japan temporarily after March 11 quake
May 01, 2012 (Mainichi Japan)
http://mainichi.jp/english/english/newsselect/news/20120501p2a00m0na016000c.html
Twenty five percent of foreigners living in Tokyo left the country temporarily following the March 11, 2011 disasters, according to a recent Tokyo Metropolitan Government survey.
The survey was conducted between October and November 2011 as part of the metropolitan government's efforts to re-examine the way information is delivered to foreigners residing in the capital in case of a disaster. It obtained responses from a total of 169 Tokyo-based foreigners.
According to the survey, among those who had briefly returned to their home countries following the disasters, nearly half were foreigners who have lived in Japan for less than three years, hinting at the tendency that the shorter a foreigner had lived in Tokyo, the more likely they were to leave after the disasters.
Among the most common reasons for those who had briefly left Japan were, "Strongly urged by families abroad," and "Following embassies or employers' instructions to leave temporarily."
Meanwhile, 56 percent of the respondents said they did not leave Tokyo following the disasters, while 5 percent had moved to the Kansai area in southern Japan or other places within the country.
In terms of the means foreigners used to collect information related to the disasters, 75 percent said they relied on TV broadcasts, 37 percent used the Internet, and only 7 percent read newspapers at the time.
Among the respondents, 44 percent said they used mobile phones and 28 percent used e-mail as a means to contact relatives and friends immediately after the disasters, though only 51 percent reported the attempt was successful.
Among the free answer section of the survey, some opinions stressed the need for more accurate and faster information services for foreigners, one explicitly pointing at the fact that "A panic was caused at the time due to a lack of accurate information provided to foreigners overseas."
At the same time, the survey also hinted at the need for information provided in easy Japanese, based on the results that while 76 percent of the respondents said they could understand Japanese, when asked if they could understand the language if simple phrases are used, responses increased to 85 percent.
The survey also showed that 41 percent of the respondents had never experienced earthquakes prior to moving to Japan.
ENDS
==========================
ORIGINAL JAPANESE:
東日本大震災:都内外国人、25%が一時帰国 母国の家族ら心配−−都アンケ /東京
毎日新聞 2012年05月01日 地方版
http://mainichi.jp/area/tokyo/news/20120501ddlk13040130000c.html
都内在住の外国人に東日本大震災時の行動を尋ねた都のアンケートで、25%が周囲の勧めなどで一時帰国していたことが分かった。地震の直後、家族や友人と連絡がうまく取れた人は半数にとどまり、母国の家族らの心配が大きかったことがうかがえる。
調査は昨年10〜11月、災害時の外国人への情報提供のあり方を検討する資料にするために実施。169人から回答を得た。41%は日本に住むまで地震に遭った経験がなかった。
一時帰国の理由は「母国の家族から強く言われた」「在日大使館や職場からの指示」などが多かった。「国内滞在3年未満」が帰国者のほぼ半数を占め、滞在が短い人ほど東京を離れる傾向があった。56%は震災後も転居や帰国をせず、5%は関西などに引っ越していた。
地震の直後は44%が携帯電話、28%がメールで家族や友人と連絡を取ろうとしたが、「うまく連絡が取れた」と答えたのは51%。震災関連情報は75%がテレビ、37%がインターネットから得ており、新聞は7%にとどまった。自由意見では「海外の外国人に正確な情報が伝わっていないため、パニックが起きた」として、的確で迅速な情報公開を求める声もあった。
ends
/////////////////////////////////////
UPDATE MAY 9, 2012:
'Exodus' of disaster-panicked foreigners from post-3.11 Japan doesn't add up
Mainichi Daily News May 9, 2012, courtesy of MS
http://mainichi.jp/english/english/features/news/20120509p2a00m0na013000c.html
Where have all the foreigners gone?
One year ago — less than two months after the Great East Japan Earthquake and with the Fukushima nuclear crisis in flux — anyone walking the streets of Tokyo might very well have asked that question. With Japan in the teeth of disaster, it seemed as though the country's foreign population had evaporated, an image reinforced by news footage of gargantuan queues at Narita International Airport check-in counters.
Some 531,000 foreigners left Japan in the four weeks after the March 11, 2011 disaster, according to a Ministry of Justice announcement of April 15 that year. It was mass panic, a rush for the last lifeboats on the Titanic. The expatriate community had left Japan for dead.
Or had they?
Of those 531,000 people who left in the first month, about 302,000 had obtained re-entry permits, suggesting most were at least considering coming back. Furthermore, a look at foreign resident numbers and the job market for foreign talent months after the disaster show that the exodus was in the end more a trickle than a flood, and perhaps only an acceleration of pre-existing trends.
Certainly in the days after the quake, with a nuclear crisis and all its potential horrors brewing at the Fukushima nuclear plant — about 225 kilometers from the heart of Tokyo — the first reaction of many was to get somewhere else in a hurry. Canadian Jason Yu, a senior IT manager at the Tokyo offices of a European investment bank, says more than half his predominantly foreign staff disappeared soon after the disaster.
"We had around 120 (workers), and I'd say about 70 left," he says. "It was really something, because one day they were there, and then they weren't."
According to Yu, amid the hysteric coverage of the nuclear disaster in the Western media and a general sense that the government wasn't telling the whole story, his firm allowed employees to leave if they didn't feel safe and return when they were ready. Eventually, of the some 70 who had left — many with families — about 50 returned to their posts. However, "a lot of them moved on" to jobs outside Japan when their contracts ended that summer.
"That was typical," says Christine Wright, managing director of Hays Specialist Recruitment Japan, a recruiting firm that also does broad research on employment trends. "There was a bit of a knee-jerk reaction," where lots of people left, if not Japan, then the Kanto area, and then came back.
The rush for the exits was not, however, entirely illusory. Hays Japan saw a wave of openings in the "professional contractors" area, which includes IT and other positions where Japanese language proficiency is not necessarily a requirement. With so many foreigners in certain fields having absconded, Wright says some of Hays' client firms expressed a preference for Japanese candidates with good English skills, as they were seen as more likely to stay long-term. Furthermore, "a lot of roles that can be (filled) by a non-Japanese speaker have been off-shored" to places like Hong Kong and Singapore, she adds.
So how great was the exodus?
"When you look at the statistics, the losses weren't all that huge," Nana Oishi, associate professor of sociology at Tokyo's Sophia University, told the Mainichi. According to Oishi, the Ministry of Justice — which administers Japan's immigration system — has not released how many of the half a million-plus foreigners who left Japan from March 12 to April 8, 2011 have returned. However, what the ministry will say is that the total foreign population in the country fell from 2,134,151 in December 2010, to 2,078,480 by December 2011 — a loss of 55,671 people, or just 2.6 percent.
Moreover, the loss was not disproportionately greater than those of preceding years. Japan's foreign population peaked at 2,217,426 in 2008 — the year of the Lehman Shock — and has been in decline ever since, dropping by 31,305 from the end of 2008 to the end of 2009, and by 51,970 in the same period in 2009-2010.
A closer look at the foreign population by resident status furthermore shows that the decline was far from an across-the-board phenomenon, with some categories even posting significant gains. The number of technical trainees, for example, jumped to 141,994 in December 2011 from 100,008 at the same time the previous year — a 42 percent rise. Permanent residents went from 964,195 to 987,519, up 2.4 percent; investor and business manager visa holders from 10,908 to 11,778, an 8 percent climb; and teacher numbers inched up 0.9 percent, from 10,012 to 10,106.
Even in categories that saw declining numbers, the justice ministry statistics show a pattern of losses predating 3.11 by years. "Specialist in humanities and international services" visa holder numbers peaked in 2009, and have since been drifting downwards by several hundred annually. The number of foreign engineers, which dropped by 8.5 percent to 42,634 between December 2010 and December 2011, had already fallen from a high of 52,273 in 2008 to 46,592 by the end of 2010. Intra-company transferee numbers — those posted to Japan by their firms — have also been declining since 2008.
What's more, according to justice ministry statistics, the inflow of foreign workers has also been in annual decline since a 2004 peak of about 158,900, dropping to some 52,500 by 2010.
In other words, not all the blame for even the modest drop in the foreign population can be put on disaster panic, as the overall numbers — and those in certain professional categories in particular — had been in decline for some time.
What the earthquake and the nuclear crisis have done, according to Oishi, is accelerate pre-existing trends. First of all, Oishi and Wright point out, off-shoring of back-office and non-Japanese speaking jobs was already in progress when the disaster hit. Furthermore, there was already employee attrition in some sectors for reasons completely divorced from the disaster. As Jason Yu points out, there were already staff cuts and transfers going on at the investment bank where he works before 3.11 because "it was not a good year" financially, "so you can't say people left just because of the earthquake."
Even the outflow of foreigners with children, which Yu says accounted for a significant portion of those who left his firm, was not all down to the disasters, according to Oishi.
"When the earthquake happened, that trend accelerated because of the radiation issue," she says, but she points out that the departure of skilled foreign workers with kids, too, was a pre-existing trend. In a paper published on April 13 in the journal American Behavioral Scientist, Oishi points out that concerns over the quality of Japanese public education and the high cost of international schools — which do not receive government funding — was already pushing skilled foreigners with families out of the country.
The fear and the airport lines in the weeks after the earthquake and meltdowns were real. Over the long term, however, it can be said that there was no "exodus" of foreigners, but rather a smaller-scale reshuffle of certain types of foreign residents that was sped up by 3.11. "You can't really say the quake chased away skilled workers," says Oishi.
In fact, asked if the disasters had impacted firms' drive to internationalize their workforces, Hays' Christine Wright said, "One year on, no."
According to Wright, Hays Japan's business in foreign talent has jumped to "record levels. We've got record levels of vacancies, record levels of placements, so our business is performing at the best it's performed" in the firm's 11 years in Japan.
Furthermore, Wright says that the initial post-quake preference for Japanese candidates has weakened and "the market for foreign talent in the future … will continue to increase," with fluent bilinguals and those capable of filling leadership positions particularly in demand.
The image of foreigners streaming out of Japan in March and April 2011 was a strong one. Wright says that she was thanked by Japanese associates for staying, and that her business relationships with some clients even improved when it became clear she would not be absconding.
More than a year on, however, government statistics and employment trends show that the exodus was if not entirely imaginary then at least ephemeral. The reality is, the foreign population remains in the millions, job openings for foreigners and foreigners hoping to fill them remain plentiful, and Japan remains a major destination among the globally mobile. (By Robert Sakai-Irvine, Staff Writer)
ENDS