Posted by Dr. ARUDOU, Debito on May 16th, 2012
Books etc. by ARUDOU Debito (click on icon):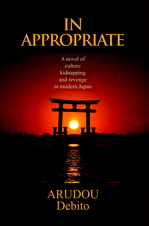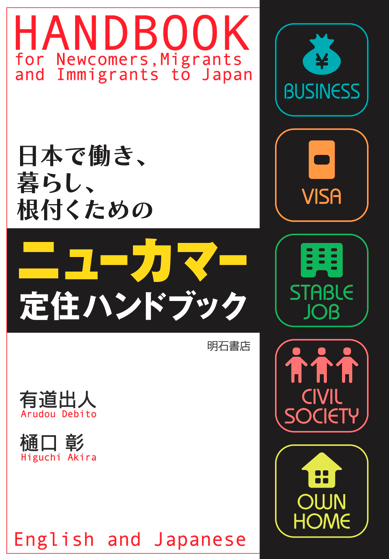 UPDATES ON TWITTER: arudoudebito
DEBITO.ORG PODCASTS on iTunes, subscribe free
Hi Blog. As I've been hitting the books these days in terms of theories of nation-state formation and concomitant creation of racialized societies, I found something I think readers of Debito.org might be interested in:
This is an excerpt from the late Dr. Iida Yumiko, from her book "Rethinking Identity in Modern Japan" (Routledge, 2002), pages 264-5. Plough through it, as it is written in the (often impenetrable) prose of academics (and don't get derailed by words like "ontological", please), and afterwards I'll rewrite it in simpler language and tell you why it is germane to Debito.org:
================================
Iida: "As a collective human organization, the nation necessitates a common set of functional rules articulated in the form of a narrative. […] Since individuals are born into a socio-cultural system that ontologically precedes them, they are predisposed to certain patterns of meaning and behavior operative in the existing symbolic system; their sensory experiences, emotional attachments, and sense of moral duty, all of which occupy an import an place in the social life of humanity and society, are built upon such cultural bases.
"State hegemonic power, thus, rests on its ability to weave the identity of its subjects into the reigning system of symbolic meanings, which the subjects in their everyday practices then embody. Further, the survival of the nation-state and the well-being of its subjects [sic] are dependent upon, and reinforced by, the existing symbolic system. Naturally, the form and intensity of such connections between the state and the subject varies from place to place; arguably, the linkage is much less significant in the advanced industrial societies of the West, where 'culture' appears less of an immediate issue and the state's power to regenerate 'hegemonic consensus' is constituted more by the legal and institutional apparatus.
"The question of degrees not withstanding, however, the fact remains that the hegemonic reproduction of the nation is dependent upon its subject being provided with such socio-cultural foundations for shared memories of the past, as sense of communal moral obligation, a coherent vision of the world, and collectively articulated hopes.
If in the current global context the nation-state is indeed being dismantled [by the effects of multinational corporations, global migration of capital and labor, etc.], then the danger looms nigh that highly disruptive forces contained within the bounds of the nation-state will be unleashed, forces which at present are more or less circumscribed by the established symbolic links constituting, albeit hierarchically, the order and stability between a nation and its subjects.
Since the normal functioning of the nation-state is a necessary condition for the stability of the individual subjects whose everyday lives are integrated into hegemonic political-cultural institutions, contesting hegemony runs a number of risks, for 'to battle the temporal constructions of power is to battle the self and to damage the readily available means of achieving comfort and assurance'."  ENDS
================================
Now leaving aside Iida's problematic use of "subjects" (as opposed to "citizens" or "nationals"), let me rearticulate this passage for readers who aren't used to academic writing and then comment:
TRANSLATION:  Every country has to convince the people who live within it to accept that a) there is a country that they are members of, and b) that there are rules they have to follow in order to be members (obeying the laws, paying taxes, potentially giving up one's life to defend it, etc.).  When power becomes this unquestioned, it becomes (to use Gramsci's word) "hegemonic", in other words, normal enough to be invisible and generally unquestioned.  Almost all people on this planet, born into a nation-state, accept that they are members of one country of another (by dint of having a passport, a tax home, accountability before the law etc.) and play by the rules because that's how they were socialized.
But there is a give-and-take here.  The nation-state must give its members four things in order for them to adopt the rules of play and pass them down to the next generation.  These are, according to Iida above:
1) A shared memory of the past (i.e., a national narrative) that links them all,
2) A sense of community, with moral obligations to it,
3) A world view that makes sense,
4) Hope for the future that other people share.
COMMENT:  Fine.  Now, as this relates to Debito.org:  What do NJ in Japan get?
1) A shared memory of the past?  Not really, since what NJ generally hear in the national narrative (and replicated in ignorant overseas media and scholarship) is how foreigners, if any influence at all in Japanese society, are generally exogenous influences (Chinese writing, Perry, MacArthur, the gaijin du jour/baseball star revved up for mass consumption and soon forgotten, etc.).  NJ are not seen as part of Japan's domestic past or legacies.  Japan takes any foreign influence and makes it "Japanese", as we keep hearing, and that's what makes Japan "unique".  Any attempts to correct that ahistory are generally shouted down as not home-grown (by now by definition) or else ignored as just temporary (again, by definition, since the domestic media won't appraise it either long-term or as something domestic; for example, look how much trouble I've had just getting the Japan Times to be the only media outlet giving simple Obituaries to long-term NJ residents and their legacies).
2) A sense of community, with moral obligations?  Not really. I've mentioned before (see my last blog post, for example) how NJ communities are not even acknowledged in Japan (Japan as a nation has enough trouble ever acknowledging that even domestic minorities exist).  If anything, NJ are (by default, only — something not actively generated by the nation-state) linked by who they are NOT (i.e., not Japanese), rather than by who they ARE; which, the record shows, is not much of a basis for a community (communities here have to link themselves, as the independent outsider Zainichi and Nikkei media demonstrate).
As for moral obligations, Rick Gundlach has written some very thoughtful posts on how NJ, as they rip at each other in public, do it beyond the regular moral bounds of Japanese society (his most recent: "a lot of what foreigners do in Japan is make up their own rules about what is and is not acceptable, or legal, or socially desirable, in Japan. They seldom rely on what is actually legal, or what the Japanese would themselves like to have the foreign community do") — in essence, NJ are left out of being held accountable under domestic standards for their actions (as you'll see when the Japanese police act so lackadaisically towards NJ-on-NJ crime).  That is perhaps the best evidence yet of just how outside the Japanese sense of community NJ are.
3) A world view that makes sense?  I don't think even many Japanese would assert without reservation that Japan's world view makes sense, especially after the Fukushima Disasters; it's just that most Japanese are having trouble seeing any alternative (or seeing one but unsure how to get enough people on board to get it enforced) given how people are socialized towards nation-state power in Japan.
But in regards to NJ, since many CAN see an alternative, the oft-touted national narrative often makes even less sense.  Even before Fukushima, being told constantly, for example, that Japan is #1 at just about everything, that only Japan has the best stuff in the world (be it vegetables to consumer electronics — even crappy housing under generations of recycled mortgages are somehow justified) and has the safest classless most equitable society etc. (except when something that isn't supposed to happen does happen — like theft, violence, discrimination, or clear class-based elite privilege — it comes as a great shock to many), and you foreigners are damned lucky to be here in our Japan — not contributing to it, of course, but somehow taking advantage of it (i.e., by getting paid for your labor).  Then one begins to wonder if the national narrative is not a form of group psychosis.
4) Hope for the future that other people share.  This was the biggest denouement after Fukushima, when a lot of people, seeing the lies and obfuscations that were coming out of the media essentially to protect the elite and corporatist sides of Japan, lost hope that Japan could ever fix itself.  Again, this loss of hope was not something that only affected the NJ, but when NJ began to be partially and specifically blamed (as "Flyjin") for Japan's troubles under the new post-3/11 national narrative, then what hope for the future was there for NJ to live normal lives as regular, untargeted, unaccused members of Japan's domestic community?
In sum, one of the reasons I believe why NJ have little sense of "belonging" to Japan is not only that they are constantly "othered" and alienated (through the daily processes of "Microaggressions", which happen in every society), but also that in Japan's case they are by-and-large egregiously deprived of the four essential requirements that are incumbent upon a nation-state to make people accept that nation-state as something with hegemonic power over their lives.  And that's why so many NJ in the end feel little affinity and will just pick up and leave.
Even if NJ do make the investment (family, home, loans, language and acculturation, even permanent residency/citizenship), they are generally not included in Japan's national narrative.  This is a fatal flaw in Japan's nation-state engineering, and it will not keep people coming to and staying in a depopulating Japan if they will never feel "Japanese", by design.  Arudou Debito