Posted by Dr. ARUDOU, Debito on May 26th, 2012
Books etc. by ARUDOU Debito (click on icon):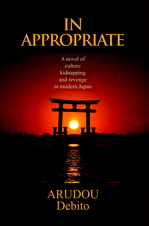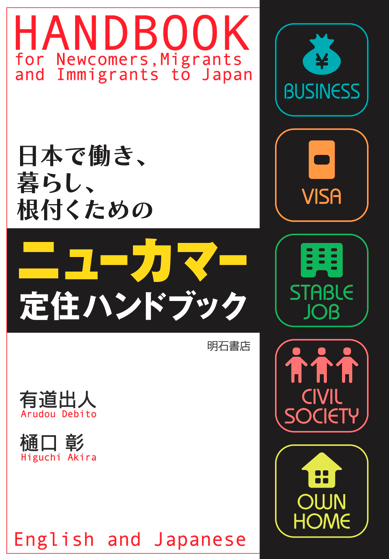 UPDATES ON TWITTER: arudoudebito
DEBITO.ORG PODCASTS on iTunes, subscribe free
Hi Blog.  Debito.org Reader Aly Rustom has taken the trouble to write this up for critique and debate.  I think it deserves some.  Putting this up with the reminder that this is under the "Discussions" category (where I moderate more loosely), and that I don't necessarily agree with all or even any of it.  Have a think.  Arudou Debito
/////////////////////////////////////////////////
March 8, 2012
Ways to fix Japan
By Aly Rustom
Prologue
It has taken me over a year to write this piece. I have put my heart and soul into making this reading as concise as possible. This is a small essay on the problems of Japan, and my personal opinion on how to fix them.
These days, Japan is suffering from a lot of socioeconomic problems. Whenever I talk to people and ask how can we fix them, no one ever has an answer. Everyone just folds their arms, tilts their head and says "Muzukashii" (Its difficult) Well, I do have a few solutions.
I have written a small piece here on how to solve these problems. I have written this as a foreigner who has lived in Japan for over ten years and has the unique perspective of looking at things from both the inside and the outside.
It is not my intention to try to tell Japan or it's people what to do. Nor do I have any delusions of grandeur that the Japanese will all of a sudden sit up and take notice of what I have to say. I am only writing this to show that there are concrete steps that can be taken to heal Japan, and that all it takes is a little bit of thinking outside the box to make this happen. I am also hoping that this small piece will at least start up some degree of discourse which will eventually lead to some level of action sometime in the future. I also felt the need to vent, as I see a beautiful country being destroyed since no one wants to take the helm and do what needs to be done.
There are those who will attempt to paint me as a Japan basher. Let me respond to this accusation early:
1. I am married to a Japanese and have lived here for over a decade. Most of my friends are Japanese, and I do speak as well as read and write the language.
2. Criticism is not bad unless it simply takes the form of negative complaining. Constructive criticism is good and it shows that I care enough to write out my thoughts and observations that I have accumulated for over a decade and am willing to share them with everyone.
So without further ado, let's start:
Taxes
A. Sales Tax, Health Insurance and Public Education
While everyone doesn't want to pay higher taxes and the debate about raising the sales tax is a sensitive issue, there would be an easier way to sell the idea. Instead of raising sales tax from 5 to 10% and upsetting everyone, why not raise it to 20% with the promise that health care and education becomes completely free. People would be far less apt to complain if their trips to the doctor and their children's education becomes free and guaranteed. This will also help the Japanese government compete with the private health insurance companies and most people probably will opt for the public option since they are already paying the taxes for it. Also this will ensure that foreigners will be in the system as well since it is included from the very beginning in our taxes. Also, our public schools have problems with parents who don't pay for the school lunches or uniforms which forces the schools to shoulder the cost. Raise the taxes and include all these costs into the inescapable tax system, and these problems will be solved.
B. City and Ward Taxes
First, the ward and city taxes should be calculated and taken out from people's salaries along with the income tax. Second , Increase ward and city taxes on residents and companies based in Tokyo and other large cities, while offering companies and residents tax breaks for moving outside of the cities. Cities like Tokyo and Osaka should have extremely high living taxes in order to encourage more migration to the countryside, and companies should also have to pay hefty taxes for having offices and factories in these major cities.
Taxes should be significantly lower taxes for relocating outside the big cities, and residents and companies alike should be given big tax breaks and benefits for relocating to towns (machi) instead of small cities (shi). The government can invigorate these towns by having more funds be allocated to building train stations and train lines in towns without them and not to fixing roads that don't need fixing. If the government invests in better and more convenient transportation, companies might be more apt to relocate outside the major cities and spread the population around a bit more, breathing some life in these dying costal towns.
C. Pachinko and Hostess club taxes
The government should more heavily tax the pachinko parlors. Their profit margin is huge, and much of it is sent to North Korea as many of the owners are North Korean. It would be extremely prudent to propose a hefty tax on all parlors, say about 20-25% of all their profits. Let us not forget that recently, tax authorities have stated that about 40 corporate groups running pachinko parlors across Japan have not declared over ¥100 billion in total taxable income with back taxes amounting to several billion yen. Why is this happening? Why doesn't the government apply more scrutiny to these establishments and not only force them to pay their taxes, but also raise their tax rate?
The hostess clubs are another type of establishment that should also be taxed heavily. That money can then also be used to fund more government social programs that would benefit the public instead of encouraging more vice.
D. Fast Food Tax
Another business sector that should be taxed is the fast food industry. The government needs to tax fast food restaurants more. Fast food should not be this cheap. The problem is that it is encouraging young as well as older people to eat more unhealthy food. As the economy stagnates more and more people flock to cheaper venues. Unfortunately most of the cheapest venues are fast food restaurants which serve unhealthy food. They need to be taxed heavily to become less attractive price wise to people, and to let the family restaurants in Japan enjoy a resurgence in popularity.
Working hours
The working hours MUST be strictly defined and implemented. The nation cannot continue to overwork its people, because fathers are becoming estranged from their families. Why not implement a system similar to France , where when an employee works overtime one week, they get those hours in off time the following week. Somewhere between 35-40 hours a week maximum should be the working norm. Companies should also be heavily fined for overworking their employees. If a company is forcing its employees to work overtime, that usually means that company is suffering from inadequate manpower and therefore should hire more employees. Companies could also get tax breaks for hiring more workers a particular year and pay more tax for laying off workers. One of Japan's main reasons for its economic decline is the lack of domestic demand and and over reliance on exporting it's goods and products overseas. Why is there no domestic demand? Because everyone is working all the time, and no one is out spending money to stimulate the economy. Why is that? Oh, because they have no free time. People who work all the time don't spend money. People who don't spend money don't stimulate the environment.
Minimum Wage and the working class
I would strongly urge the government to raise the minimum wage to 1000¥ an hour, and set the basic starting wage to no less than 250,000¥ per month regarding full time workers. This would certainly boost public spending and give people some measure of financial stability. The companies can easily afford to do this. Japan should learn from the US's mistake and salvage its middle class. If it doesn't, the nation will collapse financially, as America surely will. If Japan does not find a way to stimulate domestic spending it will be doomed. The only way to secure Japan's future is to ensure that even people on minimum wage can afford to contribute financially to society which along with less working hours would greatly contribute to the increase of domestic demand.
Holidays
A. Summer and Winter
Why not have a Winter vacation for two weeks and Summer vacation two weeks so that people can recharge their batteries twice a year?Also people should have the option of combining their two weeks into one month to allow them to a take longer vacation once a year. It's common knowledge that countries with a high rate of productivity also allow lots of off time for their citizens. Longer vacations would also mean that people would not be so apt to kill themselves every year. Overworked people develop a sense of hopeless, because they see their lives as nothing except work. The meaning of life becomes lost to them, and they become jaded. Walking around the forests near Mt Fuji and trying to stop suicides isn't going to do it. Changing the system will. Also, lets not forget another important point: people on holiday tend to spend their money which in turn stimulates the economy's domestic demand.
B. Public Holidays
The first thing that should be done is the following: when a national holiday falls on a Thursday, that Friday should also be a day off. If the public holiday falls on a Tuesday, that Monday should also be a paid holiday, and that should be the case regardless of whether or not the employee is part or full time.
Housing
Many of the rules and regulations regarding renting apartments in Japan are bizarre and draconian. Some of these ancient ways of doing business really need to change. One of the things that really needs to change regarding housing is this stupid idea of key money (reikin). This is nothing more than a form of legalized bribery given to a landlord by a prospective tenant, and it should be stopped. This key money issue is causing problems in society. For example, many employees are finding it difficult and expensive to move closer to work, because key money is very expensive . So instead they remain in their previous dwellings and commute up to two hours one way to work. This in turn affects their productivity, makes them more tired, and less happy in life generally . It's also just simply not good for society and the economy of this country for people to be less mobile and less able to change their living quarters.
Fees
Another thing that really needs to be stopped is fees on late payments. The reason for this is very simple: these fees then sink people more deeply into debt and they are less able and less likely to pay off their debts which leads to suicide. There's no doubt that these late fees are a huge contributing factor to suicide as people list debts as one of the main reasons for their suicides. The government and landlords have a right to demand their taxes and rent, but they have no right to place any additional fees on people who already are struggling to pay. It's stupid to force people more into debt and then spend lots of money and resources trying to stop them from killing themselves when the government itself is partially to blame.
Hay fever
The hay fever affliction is a problem that is severely overlooked in Japan. It is amazing to see the amount of hype that has been given in the media to the Swine Flu pandemic while complete and utter indifference has been displayed toward a far more widespread pandemic: hay fever. And yet, the remedy is staring everyone right in the face: start cutting down all the various birch trees that cause the different types of hay fever.
A. Suffering population
We have a nation of red eyed, runny nosed sneezers whose productivity is ebbing due to this condition. And every year, the people's condition gets worse. People are suffering, the nation's productivity rate is dropping, and the healthcare cost is rising from this condition. In addition to that, a third of all children are afflicted with this condition.
B. Weakened military
Lets also not forget about national security. What happens if the nation finds itself in a situation where it has to defend itself without warning all of a sudden? Imagine a coughing swollen eyed SDF…
C. Creating jobs and income through better use.
Cutting down all these useless trees which make people sick and planting, shall we say, various fruit trees like apple, orange, and banana trees etc. which are healthy for people would get rid of the hay fever problem as well as provide a source of income and nutrition for the nation. In addition to that, if the government subsidizes this endeavor instead of whaling which is causing Japan diplomatic problems it could generate record profits, create more jobs, save money otherwise that would be spent importing fruit, and give Japan some measure of independence. Imagine the number of farming jobs that can be created through an endeavor like that, not mention some degree of national security in being able to grow your own food to feed your population as opposed to spending money importing it.
D. Domestic supply of wood
All these useless trees could be an excellent source of wood for a number of years and temporarily save Japan a lot of money on wood imports, not to mention the number of logger jobs that would be created by that industry.
Smoking
Anti-smoking laws should be enacted in Japan more vigorously. Currently, North America, Australia and Europe all have strict anti-smoking laws and the Middle East is starting to follow in their footsteps. It is embarrassing that Japan still is so far behind and backward in that respect. Japanese smokers are becoming less and less prevalent in society these days . The Japanese government estimates that less than 20% of the population are smokers. It is imperative for Japan to enact antismoking laws to protect the children and pregnant women from secondhand smoke which is even more dangerous than direct smoking. Add to that the point mentioned beforehand regarding hay fever, and you have a major health hazard that will deeply affect adults and children alike.
A. Public Places
First, a law that prohibits smoking in any public place including restaurants and bars is desperately needed. We need a smoke free public area society.
B. Vending Machines
Second, the nation must do away with the cigarette vending machines. The less convenient it is to buy cigarettes the less people will be apt to smoke. It makes it so much easier for people who are trying to quit smoking to quit when they don't see these vending machines in their faces every day.
C. Tobacco Tax
Finally, introduce a very hefty tobacco tax to further discourage people from taking up or continuing to smoke. A pack of Marlboros shouldn't cost less than 1000 yen. In fact, they cost closer to 2000 yen through the increased taxes. It is incredible that in a country as expensive as Japan a pack of cigarettes would only cost 400 yen. And let's not forget that these are imported cigarettes.
Immigration
This has always been a sensitive topic in Japan. There are ways to slowly bring the population to a stable count.
A. Born in Japan
First, allow all people born in Japan to have Japanese citizenship. Zainichis and children of LEGAL immigrants should be allowed to become citizens automatically.
B. Parents 0f Japanese nationals
Second, foreign parents of Japanese citizens should also have the right to become citizens. If your own flesh and blood is Japanese, shouldn't you be recognized as one as well?
C. Investors
Third, people who buy a house or bring a certain amount of money into the country should also be allowed to become citizens. They are, after all, stimulating the economy.
D. Employers of Japanese nationals
Finally, people who start a business and employ Japanese nationals as well people with a lot of money who invest in the country should also be given that right. People who give their money to Japan should be rewarded with its citizenship. All of this would increase the number of Japanese nationals without actually opening up immigration just yet. A slight liberalization of the rules might help soften the Japanese people to the prospect of immigration in the near future.
Government sponsored programs
A. Free or cheap English Day Care centers
One of the reasons the Japanese women are refusing to marry is that many of them fear not being able to go back to work due to the lack of public facilities that can accommodate their children. Well, how about the government funding a new version of the JET program in which foreigners can be brought to Japan to simply be day care center nannies. They would just play with the kids and watch cartoons with them in English and other things like that. The toddlers would learn English naturally through games and come to like it because they wouldn't be studying, just playing with the language. They would shed their fear of foreigners because they would be exposed to them at an early age. That would also allow the mothers to go out and work or pursue a hobby, which would certainly encourage them to have more babies since the government is finally stepping in and helping them. Why not make all day care centers in Japan English speaking? This would ensure all Japanese children would grow up with very good English speaking skills and give young women encouragement to have more children.
B. Government run Japanese language programs.
It would very prudent of the local governments to hold daily language classes in a public facility that aid foreigners in understanding and learning the Japanese language and culture. This would help foreigners assimilate better in the society which would benefit Japanese people as much as foreigners. The government should also declare that employers of foreign nationals cannot forcibly overwork their foreign employees to the point where they cannot attend these language classes thereby making their integration into Japanese society more difficult and more time consuming. The companies must allow employees to attend these classes.
Epilogue
In a perfect world, this would happen. However, I am not optimistic. I know the Japanese system too well.
The Japanese politicians will never implement such drastic measures to save their country. None of them have ever shown themselves to be mavericks. This is the really sad part. There are ways to fix this country. It's just that no one will stand up and do it. People just sit and discuss and pretend they are concerned, but no one really is. The Japanese today are a far cry from the Japanese of long ago who would die for their country. Those before thought nothing of committing suicide for their country. However, today's politicians are not even willing to take a few political risks for a better future for Japan. What future is left for the Japanese people?
ENDS