Posted by Dr. ARUDOU, Debito on September 14th, 2012
Books etc. by ARUDOU Debito (click on icon):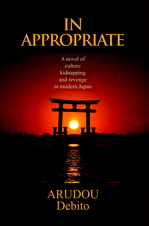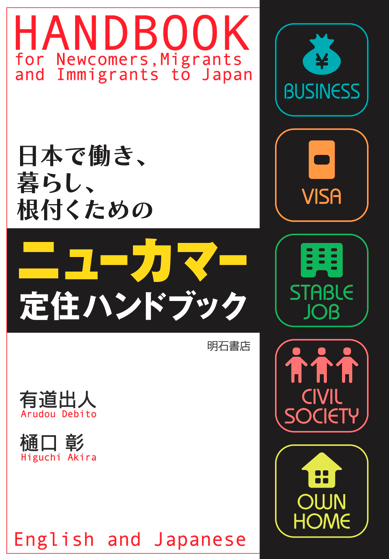 UPDATES ON TWITTER: arudoudebito
DEBITO.ORG PODCASTS on iTunes, subscribe free
Hi Blog.  There's a case that can be made nowadays that Japan is not only in decline, it's falling back on jingoism (beyond the standard nihonjinron and historical revisionism) to support the image of a Japan that was once better when it had fewer foreigners (or none, which was historically never the case).  As my current research (more on this in future) has sought to demonstrate, Japan's (Postwar, not Prewar, cf. Oguma Eiji) national narrative of "monoculturalism, monoethnicity, and homogeneity" has sponsored an ideological ethnic cleansing of Japan, thanks in part to revolving-door visa regimes and all manner of incentives to make sure that few "visibly foreign" foreigners stay here forever (hence the prioritizing of the Nikkei) for they agitate for more rights as generational residents (consider the visas that can be cancelled or phased out pretty much at government whim; we've seen it before with, for example, the Iranians in the late 1990s).  And if you ever thought "the next generation of younger Japanese will be more liberal", we now have Osaka Gov Hashimoro Touru (younger than I) also supporting historical revisionism (see below) and forming the "Japan Restoration Party" (the poignantly and ominously named Nihon Ishin no Kai) on September 12, 2012.  With the recent saber-rattling (which nation-states indulge in periodically to draw public attention away from larger social problems, in Japan's case the issues of nuclear power and the irradiating food chain) and the overblown flaps over the Takeshima/Tokdo and Senkaku/Diaoyu ocean specks, we have an emerging vision of Japan as a remilitarized power in Asia, courtesy of Debito.org Reader JDG.  I thought we'd have a discussion about that here.  Take a look through the resource materials below and consider whether or not you share the apprehension that I (and some major academics overseas, including Ted Bestor and Harumi Befu, at the very bottom) have about Japan's future.  Arudou Debito
/////////////////////////////////////////////////////
August 23, 2012
Hello Debito, I hope that you are well, and enjoying your sumer break.  I was wondering if I might suggest a JBC topic for you?
The Economist link I sent to you before, combined with the earlier war-crimes denial by the mayor of Nagoya, the ever-irritating blinky [Ishihara Shintaro], and now this:
http://www.japantimes.co.jp/text/nn20120822x3.html
===========================================
The Japan Times Thursday, Aug. 23, 2012
No evidence sex slaves were taken by military: Hashimoto
By ERIC JOHNSTON Staff writer (excerpt)
OSAKA — Osaka Mayor Toru Hashimoto said there was no evidence that the Imperial Japanese Army forced Korean women and girls into sexual servitude at wartime military brothels.
In response to a question Tuesday about South Korean President Lee Myung Bak's visit to the disputed Takeshima islets, which are called Dokdo in South Korea, which controls them, Hashimoto touched on Lee's recent demands for Japan to apologize to the forced sex workers — now often described as "sex slaves" by the media — who were euphemistically called "comfort women" by the Japanese.
"There is no evidence that people called comfort women were taken away by violence or threat by the (Japanese) military," Hashimoto said. "If there is such evidence, South Korea should provide it."…
In August 1993, after more than 1½ years of government research into the issue, then-Chief Cabinet Secretary Yohei Kono issued a statement saying the Japanese military was, directly or indirectly, involved in the establishment and management of "comfort stations" and the transfer of comfort women.
"The government study has revealed that in many cases they were recruited against their own will, through coaxing, coercion, etc., and that, at times, administrative/military personnel directly took part in the recruitments," the statement said.
"It is deeply regrettable that the politician (Hashimoto) made remarks that run counter to the official position of the Japanese government," said a South Korean government spokesman in an email to The Japan Times. "Former Chief Cabinet Secretary Kono issued a statement acknowledging the forcible recruitment of the so-called comfort women, sexual slavery victims drafted for the Japanese Imperial Army. As such, we believe the Japanese government has already acknowledged the forced nature of the recruitment of comfort women."
Full article at http://www.japantimes.co.jp/text/nn20120823a6.html
===========================================
Hashimoto denying J-war crimes is giving me massive pause for thought about the future of Japan. J-politicians have done this since the reverse course, but the fact of Hashimoto doing it proves that even the 'next' generation of J-politicians can't stop the denial, and abandon Imperial era ideology.
Why does this bother me (beyond the obvious)?
Power is (as I am sure you know) based on three 'legs' in international relations terms. The first is political power (you can influence countries because they agree with your policies). Post-war Japan has never had any clout in this area. The second form is economic power (you can influence other countries with cash incentives). Until now Japan has been quite adept at quelling ruffled neighbors feathers with large amounts of ODA. But now China and Korea are 'catching up' economically, and Japan is falling behind, so this economic power is seen to be escaping from Japan's grasp.
The third type of power in international relations is military power (when you can't convince or buy concordance, smack them in the face). Recent comments by J-politicians named above, the continued visits to Yasukuni by the insensitively flippantly named 'Let's Visit Yasukuni!' group of Diet members, the recent changing of the constitution to 'ensure Japan's nuclear safety' (a move that specifically does not exclude the development of nuclear weapons- 'Self Defense Force' type word games), are causing me and others, great apprehension about Japan's future.
Whilst I have no doubt that Japan will not embark on a series of expansionist wars, it seems to me that increasing Japanese insecurity with economic stagnation (read as: 'Economic failure=losing the post-war peace'), is forcing J-politicians to fall back increasing on the verbosity of the third leg of international relations power. The purpose of this verbosity is to garner domestic support rather than exert any real international influence, and in this sense, it is of great concern for NJ residents in Japan.
Whilst I hope sincerely that a significant majority of the Japanese public would resist such endorsement of Imperial-era Japanese militarism, I am not encouraged. Given that it is unrealistic to suppose that Japan could successfully take military action against it's powerful neighbors free from the risk of retaliation, my fear is that (as in 1930's Germany), we are seeing a 'renaissance' of Japanese nationalistic ideology, rather than it's much prolonged demise. An ideology that can only find a vent for it's frustration on the NJ living in Japan.
The implications of this for NJ is that Japan will certainly not become more open and less discriminatory, but rather the drastic opposite.
At present, it's all rather in the balance, but the fact that 67 years after the end of WWII the Mayors of Japan's first, second, and third cities can still deny war crimes whilst calling for a militarily 'stronger' Japan should certainly make any NJ think twice about even visiting.
I have had enough, and will be leaving with my family. Japan, I sincerely believe, will get much worse for NJ as the economy fails to right itself. I think that the case can be made that the chance for Japan to become an internationalized country (in the Western sense) passed some 20 years ago, and instead of looking to the future, the Japanese are raging at the passing of glory days gone by.
Sincerely JDG.
/////////////////////////////////////////
September 10, 2012
As a postscript to the mail I sent you before, have you seen this?
http://www.japantimes.co.jp/text/nn20120911a1.html
===========================================
The Japan Times, Tuesday, Sep. 11, 2012
Tanigaki out, Ishihara likely in LDP race
Party angling for return to power; Noda kicks off DPJ campaign
By MASAMI ITO and NATSUKO FUKUE Staff writers
Liberal Democratic Party President Sadakazu Tanigaki gave up his bid Monday to seek re-election in the Sept. 26 LDP leadership race, paving way for his right-hand man, Nobuteru Ishihara, as yet an undeclared candidate, to vie for the helm…
[Current DPJ PM] Noda, 55, vowed to create a nuclear power-free society, without saying when this may be achieved, and pledged 1 percent inflation within a year to overcome deflation.
He also vowed to protect Japanese sovereignty, including over the Senkaku Islands, which Japan controls, and the Takeshima islets, which are held by South Korea. He pledged to pave the way for the return of the Russia-held islands off Hokkaido. Noda also noted the government will buy three of the five Senkaku Islands, which are currently owned by a Saitama businessman.
Full article at http://www.japantimes.co.jp/text/nn20120911a1.html
===========================================
Son of blinky as the next PM, combined with The Economist's insiders' take on future LDP policy? Does not bear thinking about for NJ.
I believe that Japan has been stringing the world along all along, just so that we would be happy to buy their cars and VCRs and other crap. In it's heart Japan has never changed because it doesn't want to, and now that we aren't buying enough of their products, they have no reason to pretend to have changed.
I think that the time is coming for a change in strategy. Working from inside to educate the Japanese about the issues is having no real effect, maybe the next phase is just to shove evidence of Japan's disgraceful behavior into the face of the international community until Japan is shamed into taking action.
After all, what should the headline of the NY Times be on the day that PM Son-of-Blinky shakes hands with the President of the USA?
////////////////////////////////
The Japan Times, Thursday, Sep. 13, 2012
Hashimoto launches party amid workload, universal appeal doubts
By ERIC JOHNSTON Staff writer (excerpt)
http://www.japantimes.co.jp/text/nn20120913a3.html
OSAKA — Osaka Mayor Toru Hashimoto's new national political party, Nippon Ishin no Kai (Japan Restoration Party), was officially launched Wednesday with the aim of fundamentally changing the way the nation is governed…
The event boasted a map of Japan that included not only the four main islands and Okinawa, but also the Japan-controlled Senkaku islets, which are also claimed by China, the Takeshima islets, which are held by South Korea, where they are called Dokdo, and the four Russian-held islands off Hokkaido that Japan has wanted back since Soviet forces seized them at the end of the war.
Hashimoto's party platform calls for proactive defense of Japanese sovereignty and territories. It did not specify how it would deal with territory Japan claims but no longer has control over….
There is also concern among Hashimoto's advisers over how broad, nationally, the new party's appeal will be. His biggest supporters are socially conservative urban males in their late 20s through late 40s, and media are already dubbing the party a "boy's club." Of the 105 local-level politicians in Osaka Ishin no Kai, only nine are women, and there were no female participants in Sunday's discussion.
Full article at http://www.japantimes.co.jp/text/nn20120913a3.html
////////////////////////////////
日本維新の会、結党を宣言 衆院選350人擁立目指す
朝日新聞 2012年9月13日
http://www.asahi.com/kansai/news/OSK201209130004.html
大阪維新の会(代表・橋下徹大阪市長)は12日、大阪市内で政治資金パーティーを開き、橋下氏が国政政党「日本維新の会」結党を正式に宣言した。次期衆院選に向けて350人程度の擁立を目指し、候補者の公募も週内に開始する。設立時期は、新党に参加する衆参国会議員7人の離党時期を踏まえ、今月下旬以降になる見通し。
パーティーで橋下氏は「我々大阪維新の会は国政政党をつくることに決めた」と、大阪市内に本部を置く日本維新の会結成を宣言。「これから日本の大いくさが始まる。今日そのスタートを切る」と、次期衆院選に向けた候補者擁立などの準備を本格化するとした。
橋下氏は、新党に参加するため11日に離党届を出した民主党の松野頼久元官房副長官(衆院熊本1区)、自民党の松浪健太衆院議員(比例近畿)ら衆参国会議員7人を紹介。次期衆院選での擁立を検討している前横浜市長の中田宏氏らのほか、維新の会との連携を模索する河村たかし名古屋市長や大村秀章愛知県知事も参加した。
ENDS
////////////////////////////////
September 12, 2012 3:45 am
Japan's not ready to be a reliable ally
The Financial Times (London), Letter to the Editor
From Dr Jean-Pierre Lehmann. Courtesy DH
http://www.ft.com/intl/cms/s/0/99321782-fb4d-11e1-87ae-00144feabdc0.html

Sir, Ian Bremmer and David Gordon's suggestion that "Japan must be the new indispensable ally for the US in Asia" (September 10) is an absolute non-starter; going down that road would be disastrous for the US and for the region.
First, Japan has become more than ever since the end of the second world war, and more than any other major country, an inward looking-nation. There is no Japanese world view. The number of Japanese students in the US has significantly declined, in contrast to the growing numbers from many other Asian countries. Japan scores last but one (North Korea) in TOEFL (tests of English as a foreign language). Since Sadako Ogata served as the UN high commissioner for refugees there has been no prominent Japanese holding an international position. There is no visibility, let alone influence, of Japan at the World Trade Organisation. On this, as in respect to many other issues, no one knows what Japan stands for. At international policy forums, the Japanese, apart from a tiny handful of regulars, tend to be conspicuous by their absence. Japan remains a very closed country to foreigners: there are very, very few foreigners (and especially few non-Japanese Asians) in prominent positions in Japanese companies, Japanese universities, Japanese think-tanks, Japanese non-governmental organisations (of which there are very few internationally inclined), and so on. The picture of Japanese corporate diplomacy they present is a throwback to a vision of the 1980s, which was pretty much a mirage already then.
Second, and far more critical as recent events so sadly demonstrate, Japan, unlike Germany, has still not made peace with its neighbours. Relations are terrible with the Koreans and with China, but they are also bad with many other Asian countries or entities, including Hong Kong and Taiwan. Not only has Japan shown no leadership in Asia, it has been seen to behave in a highly mercantilist fashion and with a stunning lack of conscience of its past atrocities. The Japanese have shown themselves, at best, to be amazingly insensitive.
For the moment, unlike in the 1930s and 1940s, Japan poses no military threat. However, its behaviour vis-à-vis the world in general and its Asian neighbours in particular poses a serious security threat. There can be no peace in the Asia of the 21st century if the peace of the 20th century in Asia has not been restored. By whitewashing the past (as the US did vis-à-vis Japan and Asia in the aftermath of the second world war) and embracing Japan as an indispensable ally in Asia, the US will be seriously exacerbating the already explosive regional condition.
Japan should be encouraged to make peace and open up. Then prospects for a peaceful and prosperous Pacific will be greatly enhanced.
Jean-Pierre Lehmann, Emeritus Professor at IMD, Lausanne, Switzerland
ENDS
////////////////////////////////////////////////
From: "Bestor, Theodore" XXXXXXX@WJH.HARVARD.EDU
Date: September 3, 2012 6:10:57 PM
To: EASIANTH@LISTSERV.TEMPLE.EDU
Subject: FW: China & Korea relations with Japan 中国〜日本/韓国〜日本
Reply-To: East Asia Anthropologists' discussion
Dear Colleagues,
With Harumi Befu's permission, I am forwarding his email of earlier today regarding the crises among various Asian nations over nominal control of tiny rocks in the several oceans and seas around East Asia. I entirely agree with his position that nationalist rhetoric is ramping up in very disturbing ways on all sides.
I send this along in the hope (both Harumi's and my own) that those of us who study and write about East Asian cultures, societies, polities might help create spaces in which to engage in creative and productive dialogue that could contribute to a diffusing of tensions.
Harumi and I agree that the current heated rhetoric over the various specks in dispute are serious threats to regional peace and stability.
Perhaps EASIANTH could be a forum for discussion on this set of issues.
With best wishes, Ted
==================================
From: Harumi XXXX@stanford.edu
Date: Mon, 3 Sep 2012 19:56:30
Subject: China & Korea relations with Jpan 中国〜日本/韓国〜日本
Dear Colleagues in East Asian Studies:
(Apologies for multiple mailing.)
This communication is being sent to my colleagues who might be concerned as I am with the current developments in the border dispute between Korea and Japan and between China and Japan, created by respective governments' hardened positions. These disputes are unnecessarily escalated by the support of nationalist sentiments of all sides and are further flared by the media.
I hope at least some of you share my view that the current developments are counterproductive to the lasting peace in East Asia and are dangerously degenerating into belligerent diplomacy, and that it is time and it is the duty of us academics making our living by studying this area to undertake a concerted effort to make our voices heard, trusting that our collective wisdom has the power of persuading the public and the governments of the three countries.
Our academic endeavor is an effort in futility if we cannot exert any influence on the larger society in time of crisis.
I have no preconceived agenda, formula, or program of action. You must have your own take and preferred course of action. Some might like to act alone; others might like to underscore the Durkheimian belief that collective action is more than the arithmetic sum of parts. Whatever you wish to do, time is of essence. Dark clouds are gathering fast. I beseech you to act.
Respectfully submitted by your colleague,
Harumi Befu, Stanford University
p.s. My mailing list is woefully inadequate. I hope you will feel encouraged to utilize your own lists of contact.
ENDS