Posted by debito on December 15th, 2012
Books etc. by ARUDOU Debito (click on icon):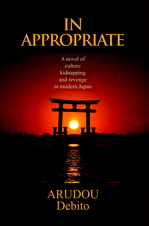 UPDATES ON TWITTER: arudoudebito
DEBITO.ORG PODCASTS on iTunes, subscribe free
Hello Blog.  I will reprint this essay about cyberbullying as it has a connection with Debito.org.  I add the caveat that I what is written below is not necessarily representative of the opinions of myself or of readers/writers of Debito.org as a group.  It is reprinted with the intention of subjecting it to the same critique and scrutiny as anyone else who publishes their thoughts or claims on the Internet.   The person(s) being critiqued herein has a very strong and influential presence within Japan-related online debate arenas, and the claims, if true, indicate a significant degree of attempt at public character assassination through allegedly unethical and unprofessional tactics.
It is Debito.org's solemn hope that an ensuing discussion of this essay will bring to light several issues that warrant attention for honest and forthright public discussion about Japan, without fear of cyberbullying that has become so rampant in Japan-related cyberspace.  With the looming Japanese election and the impending future lurch to the right in Japanese politics, more debate on issues without bullying the messenger is very much needed these days.  In that spirit, I pass this essay and all its evidence, written by "A Concerned Citizen", on to you.  Please read and critique.  Arudou Debito
UPDATE DECEMBER 17, 2012:  This essay has not withstood the test of critique, and so Debito.org will keep the essay up as a matter of record but signal its disavowal with a strike-through of its contents.  Please read the Comments Section below for the critique, and click here to read the essay justifying the Moderator's decision.
///////////////////////////////////////
December 6, 2012
Dear Debito
Our group has discovered that Adrian Havill, an employee of Google Japan, has been using a number of phony names on the Internet to smear the online reputations of those who disagree with his views about human rights, nuclear radiation, and the cruel and unnecessary killing of dolphins and whales.
After months of research, our group has assembled a dossier of evidence that Adrian Havill, who also publicly goes by the name Eido Inoue, has fallen down a slippery slope into fullblown sock-puppetry using these aliases:
–James Probel, editor of Japan Probe
–Level3, VK, Barry McMeany, Impressive and other pseudonyms which appear frequently on Japan Probe, Tepido.org, Japologism.com, FuckedGaijin.com and various other sites attacking Debito.org
We agree that it is one of the whackiest cases in vapourwear online media, a rambling mess of psycho-babble emanating from a sanctimonious person meant to be diligently working full-time for a major corporation which has significant influence over the online reputations of people.
In many cases, Adrian Havill is conversing with himself in the form of Havill, Eido Inoue, Level3, VK, Barry McMeany, James Probel and several other pseudonyms. We can prove that Adrian Havill is committing this fraud to generate more hits on his sites, including Japan Probe, in order to earn income from selling Google Ads and other products.
We believe that this constitutes a flagrant contravention of the policies of Google and its various products, as well as the policies and legal responsibilities of companies hosting Havill's sites. We also believe that Havill's gross misconduct over the past few years violates the laws and regulations of a number of countries, including Japan and the United States, and we urge relevant authorities to take appropriate action.
We believe that Adrian Havill, using his knowledge of Google's inner workings and his access to company resources and infrastructure, has intentionally manipulated Google Search Results to tarnish the reputations and images of a number of people. In particular, links to articles by Adrian Havill in Japan Probe, a relatively unknown site, appear unusually high up in Google Searches for a number of his targets, including those listed below.
All of this is a serious breach-of-trust and conflict-of-interest for an employee of Google, a blue-chip company built on the success of its search engine business.
We feel that any right-minded and conscientious individual would consider it unacceptably corrupt for a Google employee, with insider knowledge of Google operations, to secretly administer a sophisticated website, Japan Probe, that gains a significant amount of internet traffic and profits by attacking innocent foreigners and Japanese citizens in Japan and overseas. Google and other organizations have been denying or covering up this for months while Havill continued, without consequence, to ruin the lives and reputations of innocent people.
–We call on Google USA and Google Japan to immediately launch a full investigation into the criminal conduct of Adrian Havill, and to hold him accountable and responsible for his actions.
–We call on Media Temple, a host organization in California, to immediately tear down Japan Probe's site, and to fully cooperate with efforts to prosecute Adrian Havill in courts in the United States, Japan and other countries.
–We call on relevant authorities, including police, to immediately investigate the actions of Adrian Havill in regards to stalking, harassment, defamation, fraud and threats of physical violence. Havill's disorderly behavior online raises alarms about what other frauds Havill might be secretly committing in Japan, the US and other countries, such as hacking and robbing accounts and stealing confidential information.
–We call on courts in Japan, the United States and other countries to promptly issue injunctions prohibiting Adrian Havill from stalking, contacting or harassing any of his targets anywhere in the world, whether in private or online.
Our group includes academics, journalists, businessmen, activists and lawyers living in Japan and abroad. We are requesting anonymity in order to protect ourselves from reprisals by Adrian Havill, who has demonstrated an obsession and compulsion to physically threaten or destroy the reputations of those of his choosing.
Here is some background information about Adrian Havill and his actions:
1. Havill's father, Adrian Havill senior, was born in Bournemouth, England in 1940.[...]. Havill Sr. was educated in Vancouver, Canada and the US, and was a paratrooper in the US 82nd Airborne Division in Fort Bragg, North Carolina, where he edited the division's newspaper. (Fort Bragg is known for hosting elite US Special Forces who often use pseudonyms to protect their identities.) Havill Sr. wrote advertorials for U.S. News & World Report in the 1960s, and later owned an advertising and public relations firm in Washington. He authored several books denouncing people such as former NBA team owner Jack Kent Cooke and legendary Washington Post journalists Bob Woodward and Carl Bernstein. "Havill, in fact, believes that "Deep Throat" is no more real than the movie episode or the rain, but rather, a dramatic device."
http://www.spartacus.schoolnet.co.uk/JFKharvill.htm
http://en.wikipedia.org/wiki/Adrian_Havill
(Some of Havill's claims were later proven false.) His articles were featured in Probe magazine in 1995 in the United States (likely the inspiration for Adrian junior naming his own site Japan Probe.)
http://www.ctka.net/pr196-woodward.html
2. Adrian Havill junior attended school in Langley, Virginia (near CIA headquarters). He later moved to Japan and has endeavored to renounce his US citizenship in order to become the Japanese citizen Eido Inoue.
3. On January 15, 2012, Eido Inoue wrote on Google Plus: "I just transferred my domains from #GoDaddy to Dyn to express my displeasure with their stance on #SOPA" (However, there seems little indication that Eido Inoue has a number of domains under his official name. Havill, using the alias James Probel, has on Japan Probe vehemently stated his opposition to SOPA.)
https://plus.google.com/117944255792788034101/posts
On Feb. 8, Havill wrote in Japan Probe:
"I believe that the freedom of speech is a fundamental human right. And that human right extends to the internet. On this issue, I agree with the Electronic Frontier Foundation's views of bloggers' rights. Bloggers are entitled to free speech…..Internet bullies shouldn't use copyright libel or other claims to chill your legitimate speech."
http://www.japanprobe.com/2012/02/08/christopher-johnson-attempts-to-silence-criticism-of-his-gaijin-gulag-article-legal-threats/
4. Havill's accounts bearing his official names and pseudonyms share his diction, grammar, and thought patterns, obsessions for certain issues and links, and prejudices and motives for revenge against certain people. It is indeed highly unlikely that any other person in sound mental health would imagine that they could successfully hide and get away with spending hundreds of hours writing thousands of comments on the internet attacking the same persons over the same issues.
5. While other commenters, such as Ken Y-N and Hikosaemon, to name but a few, have publicly acknowledged their real identities, nobody has ever stood up to declare their responsibility for James Probel, Level3, VK, Impressive, Go Home, Go Home Loser, and several other hateful pseudonyms. Their inability to stand up and declare themselves will only further the case that Adrian Havill is solely responsible for thousands of slanderous comments online.
6. Japan Probe's "about" section lists "James", nationality American, as the "founder and editor-in-chief of Japan Probe. His hobby is reading and posting on blogs, and he's terribly addicted to it." Though it lists 23 other contributors, it's likely that Adrian Havill has defrauded readers by inventing many of these other names.
http://www.japanprobe.com/author-information/
7. This is the most important point. In a long-winded essay on November 4, 2010, Eido Inoue tried to show his superior knowledge of immigration issues on Debito.org.
http://www.debito.org/?p=7723
Later, he attacked Debito in a large number of articles, including this one on Japan Probe: http://www.japanprobe.com/2011/05/23/why-i-turned-on-debito-org/
Havill's vendetta against Debito and associates is best understood by reading Havill's long essay on Japan Probe, where he details why he turned on Debito, and sets out his plans to discredit and destroy Debito and other foreign journalists. Havill also admits to writing on Tepido and other sites for that stated purpose.
Havill writes:
_/_/_/_/_/_/_/_/
"I know Debito. Personally. I attended a FRANCA meeting he had in Roppongi, I've bought his books (the Newcomer book was pretty good. The In Appropriate book was not in my opinion."
"I've given his FRANCA organization money, and I used to be a frequent contributor to debito.org. I invited him to participate on my blog, and he's featured my opinions both in his printed columns and his online posts. I enjoy spending time with Debito in person. I've had drinks with him on more than once in Tokyo, just the two of us and with others."
_/_/_/_/_/_/_/_/
Havill lists reasons for turning on Debito:
_/_/_/_/_/_/_/_/
1. I believe his tragic life has colored his judgement so severely that he is no longer able to be objective regarding anything related to Japan.
2. I think he's good at his career, which is a professor of English (as a Foreign Language) at a university … However, I think he's very bad at his second career he's trying to develop, which is being an "activist." I base this opinion on his public record over the years: almost no tangible results that affect our day-to-day life. He can't moderate or filter or judge, and can't distinguish between "instigating debate" and "instigating quality, productive, non-red herring debate."
3. I joined FRANCA and participated on debito.org because I've had a very good life in Japan and I wanted to give back and help the immigrant community be as happy living in Japan as I am. I originally thought debito.org and FRANCA were tools to help achieve this. I stopped participating on debito.org — FRANCA never really existed — near the end of last year after it became clear that many of the participants had no genuine interest in enjoying life in Japan or having anything positive to say or believe in regarding Japan. That, or they had an attitude of entitlement: Everything is a right. Nothing is a responsibility. I don't have to change for Japan. Japan must change for me.
4. THE MOST IMPORTANT POINT AND WHY I JOINED TEPIDO.ORG AGAINST DEBITO.ORG.
3/11 was a defining moment for me regarding my attitudes towards the international press. Even before 3/11, I always knew that the international press:
• never properly hired enough people that have the credentials to properly translate Japanese in volume or in a timely manner
• never properly did investigative journalism in Japan
• rarely spoke or read or wrote proper fluent, native or near-native Japanese, which is required to be an effective reporter for Japan
• rarely properly socialized and developed relevant powerful Japanese connections (political and business), instead preferring to hang out in the "gaijin ghettos" and wait for the Japanese with an angle come to them
• rarely lived in Japan or had lived in Japan within the last five years — keeping their "street knowledge" remained relevant.
… but I never envisioned how bad this unprofessional behavior could become until the Kantō/Tōhoku Disaster really put the international media to the test with a demanding journalistic task.
Prior to 3/11, I thought the international press' ineptitude was a harmless diversion. You could count on normally respectable papers like NYT to pander to its audience's desire for the "strange and wacky and perverted" (it pays the bills) with stuff that normally would be embarrassing for even a minor paper to write: Japanese girls eyeing hostess careers (Tabuchi), people dressing up as vending machines (Fackler), and almost everything that CNN's Kyung Lah writes …
After 3/11, the stakes changed … During this time Debito.org attempted to gleefully feed the schadenfreude of its core audience and delivered the "kick em when they're down!" performance that its readers craved, hiding under the guise of responsible, conversative criticism and skepticism.
The international press, having downsized whatever meager Japanese office they had during the recession, pathetically relied almost entirely on 4th or 5th level source English social media, English papers in Japan, and barely-able-to-speak interpreters — as they were caught unprepared to responsibly cover a national disaster affecting one of the most important countries in the world.
I want the international press to start hiring more professionals that will do their own homework, rather than distort information they got from an English blog in Japan, which distorted information about an English newspaper in Japan, which distorted a translation from an Japanese newspaper in Japan, whose editor distorted the notes from a Japanese press conference reporter, which distorted what a PR person said, who distorted the truth in the first place!
The international press is feeding from the wrong end of that chain. Debito.org is one (of many) blogs on the wrong end of that chain. And debito.org is one of the worst, in that it's (perhaps unintentionally) based on hate and the presumption that everything in Japan is bad, and it has undeserved legitimacy attached to it because the blog author has a monthly column in a relatively minor niche English national paper in Japan — which is given too much weight by the international press because the paper is written in English and the international press can't read Japanese well.
I hope to force the overseas media to do their job better. It's probably a unrealistic naive dream, but I think it's more realistic than many other methods, and it's one that I think benefits the world, including non-Japanese, in the long run.
As I believe a solution is to get rid of or reform the English nth-in-the-chain sources that the international press crib-sheet cheats from when they're Japanese-challenged, that means debito.organd company must change or go away.
If debito.org or "Just Be Cause" doesn't or can't be reformed, I'd be satisfied with discrediting them, so that no legit press, international or domestic, would dare attempt to use them as a source, lest they be caught and shamed and laughed at for using such a unreliable information.
Tepido.org helps serve this purpose. It's not perfect: it's crude, often immature, and too personal. I often wince when I read both the posts and comments (including my own). But it's free (as in speech), and it seems to be effective based on how I've seen debito.org react to it.
5. That's why I read and comment on Tepido.org.
Additionally, I now work with other native Japanese to work on making Japan a little friendlier towards true human rights issues in Japan. I work with them, rather than debito.org, because they've demonstrated they have to will and the diplomacy skills (language, judgement, and compromise) to fairly assess and fix (where possible) true unfair discrimination — quickly and effectively.
In the parlance of the industry, they're mere crude "traffic driver" ads, designed to boost page views and participants of the problematic blog.
However, as I'm often typing on a mobile (or worse, experimental or development) device and have a hard enough time editing simple English on tiny keyboards, I may make a mistake and occasionally slip and break my own rules. Despite this, the appearance of me attacking Debito The Person is not intentional. However, the man has intertwined his blog, his activist work, and his personal life together so deeply that it's sometimes difficult to criticize the work without criticizing the man.
Thusly, having unambiguously stated his motives and prejudices against international media critical of Japan, Adrian Havill carried out his plans by using Japan Probe and other sites to stain the reputations of a number of reporters as well as other foreigners questioning Japan's official version of the nuclear meltdown, slaughter of mammals, rights violations, and other issues.
_/_/_/_/_/_/_/_/
Here are some of Havill's targets:
1. CNN Japan correspondent Kyung Lah
Though she has done hundreds of stories reaching millions of viewers and readers, a Google search for her shows, in third place, a Japan Probe article: "More trashy journalism from Kyung Lah and CNN." In fourth place is another Japan Probe article: "Kyung Lah leaving Japan." In the articles, Havill found and posted the worst possible photo of Lah, a woman known for her presentable looks and personality. He also accused her, without evidence, of being fired over an affair with a producer.
Havill wrote: "Few of us in the Japan blogosphere liked Kyung Lah's crude, misinformed, trashy and stupid reports about Japan. Her replacement will probably not be great, but it is hard to imagine that CNN could find another reporter as bad as Lah."
http://www.japanprobe.com/2010/04/05/more-trashy-journalism-from-kyung-lah-and-cnn/
http://www.japanprobe.com/2012/06/29/cnns-kyung-lah-leaving-japan/
2. New York Times Tokyo bureau chief Martin Fackler
A Google search for Fackler, whose work reaches millions every week, finds a Japan Probe article titled: Asahi Journalist Claims New York Times Printed Fake Quote From Japanese Foreign Minister. Another Japan Probe article attacking Fackler says: New York Times' Martin Fackler Receives Prize (Funded By Russian Fossil Fuel Industry). The artwork implies Fackler is a pawn in a chess game. Fackler was not contacted for reply.
http://www.japanprobe.com/2012/06/23/new-york-times-martin-fackler-receives-prize-funded-by-russian-fossil-fuel-industry/
http://www.japanprobe.com/2012/02/15/asahi-journalist-claims-new-york-times-printed-fake-quote-from-japanese-foreign-minister/
3. Washington Times Tokyo correspondent Christopher Johnson
A Google search finds four Japan Probe articles attacking Johnson at the top of a long list of articles likely linked to Havill. Attack articles in Japologism.com also rank near the top. A derogatory image posted on Japan Probe, of a man wearing a tin-foil hat, which accompanied an article titled "Japan Journalist Chris Johnson's Mental Meltdown", appear second in Google Images for Johnson. The title suggests that Havill deliberately sought for his Japan Probe article to appear immediately to anyone typing "Japan Journalist Chris Johnson" into a Google search.
Johnson's own articles in the Washington Times, his article in The Economist about being deported from Japan, and articles in his blog Globalite Magazine on Posterous.com, do not appear in the first 10 pages, which are littered with links to articles in Japan Probe, Japologism, Tepido, and versions which Havill cached on versionista.
http://www.japanprobe.com/2012/04/04/japan-journalist-chris-johnsons-mental-meltdown/
4. Tennessee businessman Christopher Savoie
In one of several Japan Probe articles attacking Savoie, who was arrested in Japan for trying to regain access to his abducted children, Havill wrote: "The not-so-pretty truth that the American media failed to look into has come to the surface. I think it's pretty much assured that the Japanese media will not be following CNN's example of declaring Christopher a "hero."
The comments sections are littered with pseudonyms accusing Savoie of everything from perjury to theft to child abuse.
In an article two years later, Havill wrote: "Savoie's new wife, with whom he had an affair before divorcing his Japanese wife, was given free reign to appear on CNN and slander the Savoie's Japanese ex-wife. It was a very ugly spectacle." Havill presented no evidence to support his false claims about Savoie's personal life.
http://www.japanprobe.com/2009/10/01/details-emerge-in-case-of-child-abduction/
http://www.japanprobe.com/2011/05/10/american-court-orders-japanese-ex-wife-to-pay-6-1-million-to-christopher-savoie/
5. Social Media Guru and Dolphin Defender Michael Q Todd
A Google search for "Michael Q Todd Japan" finds Japan Probe articles in the top three places, unusually and remarkably higher than Todd's twitter account (73,000 followers), Facebook (5000 friends) and his plethora of social media sites.
In his attack article on Japan Probe, Adrian Havill cites, as evidence of Todd's wrongdoing, an article he wrote under his other name, Eido Inoue, on Ecademy.com.
Havill wrote on Japan Probe: "In an Ecademy comment thread about Michael Q Todd's fundraising page, a reader has posted some accurate information on how detention and deportation work in Japan. It has been re-posted here, with the author's permission."
(Thus, Havill asked Havill for permission to repost Havill's article.)
Havill, who has met Todd in person, writes under his name James Probel:
"MQ is a nice guy. I know him and have met him on numerous occasions. I feel for him. He messed up, though, and there's basically not any amount of money (or lawyering) that will fix this. I'm sorry he messed up his life in Japan."
http://www.japanprobe.com/2012/09/24/michael-q-todd-caught-overstaying-his-visa-friends-raising-thousands-of-dollars-online-to-free-him/
http://www.ecademy.com/node.php?id=180778
http://www.japanprobe.com/2012/09/28/michael-q-todd-living-and-working-in-japan-without-a-work-visa-a-victim-of-passport-theft/
6. US businessman Josh Swift
Google searches find Japan Probe leading an online campaign to slander US citizen Josh Swift for saying he was moving his family out of Japan due to radiation fears from a meltdown at Fukushima reactors, near his home and the homes of his in-laws in Japan. Other websites picked up the Japan Probe attacks. They, as a whole, have effectively smeared his name online, with unproven accusations that he and his Japanese wife are abusing their three children by moving them to the United States. Headlines such as "Joshua Swift Japan Radiation Health Scam" appear to be written with the intention of appearing whenever a potential employer, probing Swift's past in Japan, types "Joshua Swift Japan" into a Google search.
One of the articles attacking Swift received 189 comments, many written by Havill using sock-puppets. Google Images for "Josh Swift Japan" show his tweets, as they were printed on JapanProbe.
http://www.japanprobe.com/2012/05/06/american-claims-children-in-chiba-are-sick-from-radiation-poisoning-raises-thousands-of-dollars-online/
http://www.japanprobe.com/2012/05/09/voice-of-america-interviews-american-who-raised-7500-online-after-claiming-children-in-chiba-were-sick-from-radiation-poisoning/
http://www.google.com/search?q=josh+swift+japan&start=10&hl=en&sa=N&tbo=u&tbm=isch&source=univ&ei=OSXAUPewKc2emQXGvYFg&ved=0CDQQsAQ4Cg&biw=1431&bih=686
http://www.godlikeproductions.com/forum1/message1863866/pg1
7. US-born teacher William Milberry
The top-ranked result in a Google search for "William Milberry Japan" finds a Japan Probe article defaming Milberry, an American high school teacher in Japan concerned about the effects of radiation on his family.
Havill calls him a "scumbag" making "crackpot videos". Google Images for Milberry lead off with Japan Probe images meant to smear him.
Havill, saying that Milberry doesn't require money to take his family out of Japan, writes:
"When I worked as a private contract ALT several years ago, I had no trouble at all living a very comfortable life. Despite earning about two-thirds what a JET Program teacher would earn, I was able to pay rent on an unsubsidized apartment, take international vacations, and save up thousands of dollars."
In the comments section, Eido Inoue writes: "If this is true, then as a JET alumni I too am disgusted. JET Programme participants receive at least the funds for a plane ticket home (though not money for moving expenses, a spouse plane ticket, or spouse visa). However, as he knew JET is a limited term assignment, he should've financially prepared to leave Japan, as his employment time in Japan was not guaranteed to be indefinite."
The comment section spreads down the page, involving a lengthy and obsessive conversation between "Eido Inoue", "Level3″ and "VK", who agree on everything, cite the same evidence based on anecdotes from their similar experiences, and make essentially the same points in lengthy dissertations read by almost nobody. Yet this article, appearing at the top of Google searches for Milberry, would be the first thing read by anyone thinking of employing Milberry in the future.
http://www.japanprobe.com/2012/07/13/why-is-jet-program-teacher-william-milberry-raising-money-online/
http://www.youtube.com/watch?v=9F8vZdyevG0
http://kyotoobserver.wordpress.com/2012/07/13/william-milberrys-donations-box-gets-japan-probed/
Respectfully,
A Concerned Citizen
ENDS