Posted by Dr. ARUDOU, Debito on December 29th, 2012
Books etc. by ARUDOU Debito (click on icon):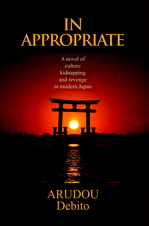 UPDATES ON TWITTER: arudoudebito
DEBITO.ORG PODCASTS on iTunes, subscribe free
Hi Blog.  In this time of unprecedented migration of labor across borders (click to see some international labor migration stats from the ILO and the OECD), I think increasingly one can make a strong case that Japan is being seen as a place to avoid.  As I will be mentioning in my next Japan Times JUST BE CAUSE column (out January 1, 2013), as part of my annual countdown of the Top Ten most influential human rights issues in 2012 affecting NJ in Japan, Japan's "revolving-door" visa regimes (which suck the most productive work years out of NJ while giving them fewer (or no) labor law protections, and no stake in Japanese society — see here and here), people who are even guaranteed a slot in Japan's most difficult visa status — refugees (see also here) — are turning the GOJ down!  They'd rather stay in a Thai refugee camp than emigrate to Japan.  And for reasons that are based upon word-of-mouth.
That's what I mean — word is getting around, and no amount of faffing about with meetings on "let's figure out how We Japanese should 'co-exist' with foreigners" at the Cabinet level is going to quickly undo that reputation.
Immediately below is the article I'm referring to.  Below that I offer a tangent, as to why Burmese in particular get such a sweetheart deal of guaranteed GOJ refugee slots.  According to media, "From 1982 to 2004, Japan accepted only 313 refugees, less than 10 per cent of those who applied. Even after its rules were slightly liberalized in 2004, it allowed only 46 refugees in the following year. Last year it accepted only 34 of the 954 applicants.  Those numbers are tiny in comparison with Canada, which accepted more than 42,000 refugees last year, despite having a much smaller population than Japan.  But they are also tiny in comparison to European countries such as France and Italy. On a per capita basis, Japan's rate of accepting refugees is 139th in the world, according to the United Nations."  This means that Burmese make up between a third to a half of all refugees accepted!  Why?  As a holiday tangent, consider the elite-level intrigue of a wartime connection between the Japanese Imperial Army and SLORC…  Arudou Debito
///////////////////////////////////////////////////
Japan to receive no Myanmar refugee this year
via NHK
Published on Wednesday, 26 September 2012
http://www.houseofjapan.com/local/japan-to-receive-no-myanmar-refugee-this-year
All 16 people on a list of Myanmar refugees preparing to enter Japan have dropped out of the program. They have decided to remain in a camp in northwestern Thailand.
The 16, from 3 families, said they were worried about life in Japan. They had already quit studying Japanese language and culture.
The Japanese government started the program 2 years ago to help refugees who escaped from conflicts and persecutions in their home countries.
45 people from 9 families have used the program to move to Japan.
One of those leaving the program this year said he wanted his children to study technology in Japan, but was concerned that he had no support network in the country.
He had planned to move to Japan with his wife and 4 children.
Myanmar's democratization has convinced some refugees to return home.
The Japanese government says it plans to continue the program next year.
ENDS
Now for the political intrigue:
/////////////////////////////////////
JPRI Working Paper No. 60: September 1999
Japan's "Burma Lovers" and the Military Regime (excerpt)
by Donald M. Seekins
http://www.jpri.org/publications/workingpapers/wp60.html
Japanese people often claim that their nation has a "special relationship" with Burma. Most older Japanese think of Michio Takeyama's novel Biruma no tategoto (translated by Howard Hibbett as Harp of Burma), the story of Private Mizushima, a good-hearted soldier who is separated from his comrades and dons the robes of a Buddhist monk. When his unit is repatriated to Japan after the war, he refuses to go with them, staying behind to take care of the remains of the Japanese war-dead. As many as 190,000 Japanese soldiers died in Burma in 1941-1945, and groups of veterans regularly visit the country to relive old memories and pray at the graves of fallen comrades.[…]
The most important legacy of the Japanese occupation was the establishment of a powerful national army, Tatmadaw in Burmese, which grew out of the BIA and was largely modeled on Japanese rather than British lines. Many of its officers studied at Japanese military academies during the war. Lieutenant General Khin Nyunt, a leading member of the military junta that has ruled Burma since September 1988, commented in November 1988, "We shall never forget the important role played by Japan in our struggle for national independence" and "We will remember that our Tatmadaw [army] was born in Japan."1 Ethnic minorities like the Karens and Shans who have experienced the Tatmadaw's counterinsurgency campaigns in the border areas claim that its brutal behavior was inspired by the Imperial Japanese Army.[…]
Postwar Economic Ties
Postwar relations between Japan and Burma were primarily economic in nature. Official ties began in 1954, after Tokyo and the U Nu government signed a peace treaty and a war reparations agreement, which brought the struggling young state some US$250 million in Japanese goods and services, supplemented by "quasi-reparations" amounting to US$132 million between 1965 and 1972. Tokyo allocated these additional "quasi-reparations" (jun baisho) on the grounds that the original funds were insufficient compared to those given other Asian countries.
During this period, many Japanese who went to Burma as diplomats or technical advisers fell in love with the country. Back home, they were called biru-kichi (Biruma-kichigai, "crazy about Burma"), a remarkable attitude given the condescension with which most Japanese officials regarded their poor Asian neighbors. Japanese were impressed by the professionalism and honesty of Burma's civil servants, who used reparation funds conscientiously, in contrast to some other recipient governments.
Many Japanese also identified with the country because of shared Buddhist values, although the schools of Buddhism (Theravada in Burma, Mahayana in Japan) are different. Their social ethics are similar, however, stressing respect for elders and educated people, strong family ties, and a sense of mutual obligation. But while Japan had rapidly modernized and is losing many of these traditional values, Burma seemed to have preserved them uncorrupted by modernity.
According to the well-known business guru Ken'ichi Ohmae, who visited Burma in 1997 with a Japanese business delegation and was a quick convert to the biru-kichi mindset, "Even I, with much contact with many Asian countries, have seen no other country in Asia whose morality is so firmly grounded in Buddhism."2 Ohmae compares Burma favorably with China where allegedly "they do everything for money." Burma also evokes his nostalgia for Japan's rural past: "Seeing the lives of the people in Myanmar [Burma], I remembered Japan in previous years. I was raised in the countryside in Kyushu, where children always walked around barefoot, the lights were not electric, and the bathrooms had no running water. The current Myanmar mirrors these memories of farming villages in Japan." While biru-kichi is a refreshing alternative to the insular Japan-is-unique worldview, it is not unmixed with other motives, as the title of Ohmae's November 26, 1997, article in Sapio (magazine) suggests: "Cheap and Hardworking Laborers: This country Will Be Asia's Best." […]
Many inside Japan's business world–and their supporters in academia and the media–seem to share a common goal with the junta: discrediting Aung San's daughter. Given her central role in the struggle for democracy, it is not an exaggeration to say that if she could be marginalized and lost the support of the international community, big corporations in Japan and elsewhere would find it easy to get their governments to snuggle closer to the junta. Without Suu Kyi, full economic engagement and recognition would surely follow swiftly.
Kazushige Kaneko, director of an obscure Institute of Asian Ethnoforms and Culture in Tokyo, repeats the junta's racist charges that Aung San Suu Kyi sold out her country by marrying a foreigner, the late Oxford professor Dr. Michael Aris. He writes, "For example, if Makiko Tanaka [the daughter of former Prime Minister Kakuei Tanaka and today a member of the Diet] stayed in America for thirty years and returned with a blue-eyed American husband and children, do you think we Japanese would make her our prime minister?" (The Asia 21 Magazine, Fall 1996).
Nor is the attack on Aung San Suu Kyi confined to fringe figures. In an April 1995 article published in Bungei Shunju, Yusuke Fukada claims that Burmese are sending out a "love call" (rabu kooru) to Japan for economic assistance and that Suu Kyi is the only real obstacle to better relations. The reason she is so uncompromising with the military regime, Fukada argues, is her marriage to an Englishman. "If she had married a Japanese, she would have made quite different decisions." In the June 1996 issue of Shokun, Keio University Professor Atsushi Kusano expresses amazement that Suu Kyi has become a figure of international stature, attributing it to a campaign by the mass media.8 […]
Two factors seem to account for Japan's ambiguous Burma policy. One is the strength of its business interests, counterbalanced by pressure from Japan's Western trading partners who take a less indulgent stance toward the junta. Some observers cynically suggest that Western governments, especially Washington, act as Tokyo's "superego" on human rights, inhibiting it from pursuing its usual economics-first policies. But Liberal Democratic Party cabinets cannot ignore business interests, which have been stepping up pressure for full engagement since 1989, using means both fair and foul. The best of both worlds for policymakers in Japan would be a transition to civilian rule, either involving Aung San Suu Kyi or someone else. This could legitimize more active aid policies as well as greater investment by Japanese companies. But given the political situation, this is unlikely to happen soon.
Second, if Tokyo strongly supported the democracy movement in Burma, this would inevitably reflect on its policies toward other countries such as China and Indonesia, where the stakes for Japan are much higher. Some Americans have criticized their own government's inconsistency on this matter: the Clinton Administration maintains sanctions on little-known Burma but maintains full economic engagement with the regime in Beijing.
Japanese elites are not used to and do not like open debate, especially on foreign policy. Some members of the Diet are interested in Burma, both pro- and anti-junta, but the issues are rarely discussed, even the junta's misuse of debt relief funds for the procurement of weapons. Bureaucrats and LDP bigwigs keep policy initiatives to themselves, which means that their actions often appear incomprehensible or arbitrary to outsiders, including Japanese citizens. The flap over so-called humanitarian aid for Rangoon's airport is an example of this. In a way, Tokyo's Burma policy, deeply influenced by the sentimental Orientalism of the business world and its allies, says as much about the limitations of Japanese-style democracy as it does about the lack of democracy in Burma.
Full article at http://www.jpri.org/publications/workingpapers/wp60.html
ENDS