Posted by Dr. ARUDOU, Debito on January 17th, 2013
Books etc. by ARUDOU Debito (click on icon):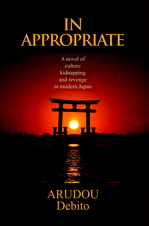 UPDATES ON TWITTER: arudoudebito
DEBITO.ORG PODCASTS on iTunes, subscribe free
"LIKE" US on Facebook at http://www.facebook.com/debitoorg
http://www.facebook.com/handbookimmigrants
Hi Blog.  Here's a couple of interesting lawsuits in the pipeline:  A French woman being fired from NHK (despite 20 years working there) apparently for leaving Japan during the Fukushima crisis, and eight US Navy sailors suing TEPCO (from overseas) for lying about nuclear fallout dangers and exposing them to radiation.
No matter what you think about the act of litigation (and there are always those, such as House Gaijin Gregory Clark or tarento Daniel Kahl (see Komisarof, "At Home Abroad", p. 100) who decry anything a NJ does in court, saying "they're suing at the drop of a hat like the litigious Westerners they are" — even though millions of Japanese in Japan sue every year), these cases have the potential to reveal something interesting:  1) Blowing the lid off the Flyjin Myth of "fickle NJ leaving their work stations" once again, this time in the Japanese judiciary; and 2) showing whether international effects of GOJ negligence (and irradiating the food chain both domestically and internationally counts as such) is something that can be legally actionable from afar.
Anyway, power to them.  I doubt the outcome of these cases will appear much in the J media, so keep an eye out for their potential appearance in the English-language media when the decisions get handed down within the next year or two.  Arudou Debito
///////////////////////////////////////////
French woman who fled during nuclear crisis sues NHK for firing her
January 16, 2013 (Mainichi Japan), courtesy of JK
http://mainichi.jp/english/english/newsselect/news/20130116p2g00m0dm023000c.html
TOKYO (Kyodo) — A French woman on Tuesday sued public broadcaster Japan Broadcasting Corp., or NHK, for dismissing her after she left Japan in response to a French government warning issued during the Fukushima nuclear crisis.
Emmanuelle Bodin, 55, who had engaged in translation and radio work, said in a complaint filed with the Tokyo District Court that she had told her boss that she would return to work on March 30, 2011, but received a termination letter on March 22.
Two days after the earthquake-tsunami disaster triggered the accident at the Fukushima Daiichi plant on March 11 that year, the French government advised its citizens to leave the Tokyo area.
Bodin, who is demanding her dismissal be rescinded and damages be paid, had worked at NHK for over 20 years as a contract staffer, renewing her contract every year, according to the complaint. She said in a news conference no other employee in the French language section who left Tokyo at the time was fired.
NHK said the termination of her contract was not made in an unfair manner but refrained from elaborating on reasons for the dismissal.
ENDS
////////////////////////////////////////
The Japan Times, Friday, Dec. 28, 2012
Eight U.S. sailors sue Tepco for millions for falsely downplaying Fukushima radiation exposure
http://www.japantimes.co.jp/text/nn20121228a3.html
Bloomberg — Tokyo Electric Power Co. is being sued for tens of millions of dollars by eight U.S. Navy sailors who claim that they were unwittingly exposed to radiation from the Fukushima No. 1 nuclear plant meltdowns and that Tepco lied about the dangers.
The sailors aboard the nuclear-powered aircraft carrier USS Ronald Reagan were involved in the Operation Tomodachi disaster relief operations following the March 11, 2011, earthquake and tsunami that devastated the Tohoku region and led to the nuclear catastrophe, according to their complaint filed in U.S. federal court in San Diego on Dec. 21.
Tepco and the Japanese government conspired to create the false impression that radiation leaking from the Fukushima No. 1 plant didn't pose a threat to the sailors, according to the complaint. As a result, the plaintiffs rushed to areas that were unsafe and too close to the facility, exposing them to radiation, their lawyers said.
The Japanese government was "lying through their teeth about the reactor meltdown" crisis, as it reassured the USS Reagan crew that "everything is under control," the plaintiffs' lawyers said in the complaint. "The plaintiffs must now endure a lifetime of radiation poisoning and suffering."
The sailors are each seeking $10 million in damages, $30 million in punitive damages and a judgment requiring the creation of a $100 million fund to pay for their medical monitoring and treatments.
"We can't comment as we have not received the complaint document yet," Yusuke Kunikage, a Tepco spokesman, said Thursday. "We will consider a response after examining the claim."
In July, the Nuclear Damage Liability Facilitation Fund took control of Tepco in return for a ¥1 trillion capital injection after the disaster left the utility on the brink of bankruptcy. The utility received ¥1.4 trillion in state funds to compensate those affected by the disaster.
ENDS