Posted by Dr. ARUDOU, Debito on January 23rd, 2013
Books etc. by ARUDOU Debito (click on icon):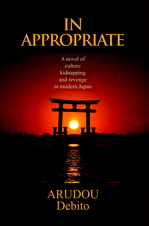 UPDATES ON TWITTER: arudoudebito
DEBITO.ORG PODCASTS on iTunes, subscribe free
"LIKE" US on Facebook at http://www.facebook.com/debitoorg
http://www.facebook.com/handbookimmigrants
Hi Blog. Last November, Debito.org reported that a magazine named Chagurin (sponsored by the PTA and the JA Japan Agricultural lobby, and placed in Elementary Schools nationwide) featured a scare-mongering article entitled "Children within the Poverty Country of America". This was reported by a NJ resident named Stephanie whose daughter read the article in public school, questioned its contents because she had overseas experience, and was allegedly rebuffed by her teacher with an unquestioning, "It is written so it must be true."
The contents, which were scanned and featured on Debito.org in full, depicted America as an example of what Japan should not become, and focused on several social problems (such as homelessness, poverty, obesity, non-universal health care, flawed education, and poor diet) which do exist but were largely exaggerated — even in some cases falsified —  in the article; moreover with no grounding with comparative social problems in Japan. The author, Tsutsumi Mika (her website here), a bilingual journalist educated in the US who preaches critical thinking in her article's conclusions, turns out to be someone who cranks out bestselling books in Japanese that don't apply the same critical thinking to Japan (only to America, as a cautionary tale). I called the Chagurin article "propaganda", not only because it was sponsored by a Japan Agricultural lobby famous for its dirty media tricks (see here, here and here), but also because it was disseminated to a young audience of sixth graders not yet trained in the critical thinking Tsutsumi so prizes.  It followed Robert W. McChesney's definition of propaganda exactly: "The more people consume your media, the less they'll know about the subject, and the more they will support government policy." And it caught them while they're young.
Even more interesting information about Tsutsumi then came out in Debito.org Reader comments:  She is married to a young Dietmember named Kawada Ryuuhei of the Minna No Tou Party; he is an HIV activist who preaches anti-discrimination within Japanese society, yet supports xenophobic arguments regarding revisions to Japan's Nationality Law (ergo his anti-discrimination sentiments only apply to "Japanese"). They make for an interesting pair, espousing an interestingly self-serving (and un-self-reflective) ideology that defies critical thinking even for fully-grown, mature, and educated adults — especially unbecoming given their life experiences both in overseas societies and in matters of discrimination.  (In contrast to what many say about international experience opening up the minds of younger Japanese, these two indicate the opposite effect as they pander to their xenophobic markets.)
That's the background. The news for today's blog entry is that Chagurin magazine responded to Stephanie this month, who in November had sent in a complaint letter about the article.  Their reply acknowledged some errors within, even incorporated answers from Tsutsumi herself (who didn't budge in her claims). I will translate it below with comments from Stephanie and myself, and enclose the original text (redacted to remove Stephanie's last name).  Any translation errors are mine, and corrections are welcome. As Tsutsumi advocates, put on your critical thinking caps as you read it!
==================================
TRANSLATION BEGINS:
Salutations.  We received your letter regarding the "Children within the Poverty Country of America" article in the December 2012 issue of Chagurin.  Thank you for your interest in our magazine.  We apologize for the delay in our answer.
Chagurin was created as a magazine to report on the importance of farming, food, nature and life, and cultivate the spirit of helping one another.  The goal of the article "Children within the Poverty Country of America" was not to criticize America.  It was to think along with the children about the social stratifications (kakusa shakai) caused by market fundamentalism (shijou genri shugi) that has gone too far.
Let us now answer the four criticisms that you pointed out, incorporating the answers of author Tsutsumi Mika:
1) Your point that "In any town you might go" you will find parks full of [homeless peoples'] tents being untrue:
Indeed, saying that "In any town you might go there are parks full of tents" might be considered an exaggerated (kochou) way to put it.
Author Tsutsumi writes this:
It is a fact that after the Lehman Shock, with bankruptcies driving people out of their homes, the people living in tents has gone up dramatically (kyuuzou).  These are called "tent cities", and they have been reported in major news media as well as in world media such as the BBC.
That said, tents aren't only in parks, so the expression "In any town you might go there are parks full of tents" I think is a mistaken way to put it. [sic]
In light of this, in our upcoming March issue of Chagurin we will run the following correction:
"In any town you might go there are parks full of tents" is a mistaken expression, so we amend it to "there are tents in various places".
2) Your point that "At a dentists. a filling (tsumemono) costs 150,000 yen [approximately 1700 US dollars]" being untrue:
Author Tsutsumi writes this:
A bill for a tooth's treatment will easily exceed 1000 dollars, especially in the cities.
Even if you are insured, there are cases where the insurance company refuses to pay.
If you are not insured, there are many cases where they take advantage of your weakened position (ashimoto o mirarete) and demand high prices.
[NB: With remarkable serendipity, I have a friend who just had dental work for a root canal for a cracked tooth and a cap on top.  The entire root canal came to about 1000 dollars, and the cap about 800 dollars.  So total that's about what Tsutsumi claims is the market price for a filling, in a city like Honolulu.  And yes, fortunately, the insurance company paid for most of it.  So obviously your mileage may vary from Tsutsumi's claims.]
In regards to points 1 and 2, the author did extensive on-site research, and this is grounded upon information with sources.  Saying it as an "everything and all" absolute beckons overstatement, and for giving rise to misunderstandings we apologize.
Regarding point three, about the the picture of the boy with cavities in fact wearing fake Hallowe'en teeth:
We checked with the photo agency from whom we borrowed this photo, and found out that they are fake teeth.  This was a mistake by our editorial department, and we apologize for putting up the wrong photo (ayamatta shashin o keisai shita koto).
In light of this, in our upcoming March issue of Chagurin we will run the following correction:
"Regarding the photo of the image of the boy with bad teeth, these were not cavities, these were false teeth used as a costume, and we apologize and correct this error."
4) Your point about the column being so negative:
Regarding that, the last page of the article states that it is calling for children to independently (jishuteki) choose data for themselves (jouhou no shusha sentaku), so as a project (kikaku) in itself we think this is a positive thing.  Author Tsusumi is of the same opinion.
There are many things in this world that we want children to learn.  Unfortunately with the way the world is now, there are many problems, not limited to poverty and social inequality, but also food supply, war, etc.  In regards to these problems, we would like to positively take up these issues and include Japan's problems as well.
Thank you very much for your feedback.  We will take them under advisement in our upcoming articles, and not make mistakes like these again by paying attention to fine details.  We appreciate your reading our publication very much.  
Signed, Chagurin Editors Iwazawa Nobuyuki and Mogi Kumiko
ENDS
CHAGURIN REPLY SCANS (two pages):
ENDS
===============================
COMMENT FROM DEBITO:  While both Stephanie and I appreciate the fact that the magazine admitted to some mistakes (let alone answered her at all; although Tsutsumi clearly didn't budge from her claims), the fundamental points I raised in my November post on this article and the treatment of the issues remain unaddressed:
 – It is testament to our educations that we as readers with critical faculties can see that the points raised [within Tsutsumi's article] are real social problems [in the United States]. The point of this blog entry, however, is how a) they are presented b) to a young audience without significant training in the critical thought the author is advocating, c) couched as a contrast to how Japan is (or is becoming) as a cautionary tale, and d) in a way unsophisticated enough to present these conditions with the appearance of unmitigated absolutes e) about a foreign society that isn't going to answer or correct the absolutes. Then we get to the sensationalism (e.g., the allegedly fake teeth in the illustration and the misquoted prices) and the subterfuge (the odd linkage to international trade/TPP as the source of problems, etc.)…
Finally, consider the shoe on the other foot — if an article of this tone and content appeared in an overseas grade-school level newspaper funded by the farming lobby and endorsed by the PTA with the same type of content about Japan, the first people banging on the publisher's door in protest would be the Japanese embassy.  Then the internet denizens will follow with accusations of racism and anti-Japaneseness. The fact that not a single poster on Debito.org has cited anti-Americanism as the author's motive (in fact, a few comments I did not let through were explicitly anti-American themselves; moreover with no substantiation for claims) is testament again to the sophistication of our audience here: We can acknowledge problems in societies of origin without glossing over them with blind patriotism.
Stephanie herself added (dated January 15):
I received a response from the editor of Chagurin magazine. I sent them a letter in November and when I did not hear back I thought they would not respond. I was surprised when this letter arrived a few days ago. And to admit any kind of mistake or wrong…I think that is a big step. […]
Yes, I thought missing the core issue of this being a propaganda piece aimed at children is what happened in their response (my daughter translated the letter for me). I've lived half my life in locations that were not exactly warm to my being caucasian or my being American. With that I have learned the frustrations of not being able to "make" someone see a different viewpoint or a view beyond what they narrowly have allowed themselves. Growing up, "Where are you from?" I never knew quite what to answer, I'm a "third culture kid". My mom is [a native of one European country] and my dad is [a native of another European country], I have dual citizenship.
Still, that Chagurin admitted anything wrong — was surprising. I'm still hoping that gradually, with people willing to write and speak out that there will be a change and an ability to focus on the true points of concern in these very important issues. And yes, if the shoe were on the other foot it would have been a huge deal!
I did follow the article and discussion after you posted it. I very much enjoyed the discussion and was glad that the majority of those sharing understood the overall concern –not, as you mentioned an anti-American issue. […]
I want to thank you again for the site you maintain that provides awareness and support for so many people — thanks.
==========================
Alright, Debito.org Readers: We have been formally encouraged to think independently by Chagurin and Tsutsumi, so let's use some critical thinking about this publication, the author, the tack, and the points/evidence raised therein. Problem solved with this apology and retraction? Arudou Debito