Posted by Dr. ARUDOU, Debito on April 6th, 2013
Books etc. by ARUDOU Debito (click on icon):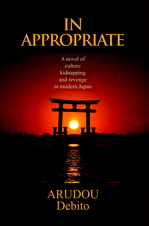 UPDATES ON TWITTER: arudoudebito
DEBITO.ORG PODCASTS on iTunes, subscribe free
"LIKE" US on Facebook at http://www.facebook.com/debitoorg
http://www.facebook.com/handbookimmigrants
Hi Blog. Here's something interesting for those of you working in Japan and intending to stay on until retirement. Those of you who have done the research (see also our HANDBOOK FOR NEWCOMERS, MIGRANTS, AND IMMIGRANTS TO JAPAN) will know that (aside from a quickie lump-sum you can withdraw if you've only paid in for a few years and are leaving Japan) you have to pay into Japan's mandatory pension system for 300 months (i.e., 25 years) or you don't get anything back. Further, you can't collect it until the mandatory retirement age, which was 60, but now has been raised to 61 and soon will be raised to 65, according to the Japan Times. So that means that even if you want to stop work early even after paying in for 300 months, you simply cannot collect. This is also assuming that, given the decreasing population and increasing pensioners, Japan's pension system will even be solvent by the time you reach retirement age. Something to think about. Other issues of import raised in the Japan Times article link as well. Arudou Debito
//////////////////////////////////
Mandatory retirement takes a leap forward
BY MARK SCHREIBER
The Japan Times, March 24, 2013
http://www.japantimes.co.jp/news/2013/03/24/national/mandatory-retirement-takes-a-leap-forward/
[excerpt] …Americans saw nothing odd about staying on the job until reaching age 65.
Now finally, Japan is catching up. From next month, when the 2013 fiscal year begins, the revised Law Concerning Stabilization of Employment of Older Persons takes effect, and the mandatory retirement age, defined as the minimum age for payout of social security pensions — last raised from 55 to 60 years in 1998 — will go up to 61, and then increase incrementally at the rate of one year of age every three years, until 2025, when the mandatory retirement age reaches 65.
Over the long term, the new statute is expected to have profound effects on hiring, the wage structure and many other aspects affecting the nation's corporate culture.
Yet Japan, with its declining birthrate and aging population, clearly had to do something to maintain the size of its labor force (which was 62.98 million as of 2010). Mass immigration, one of its few other options, has been proposed numerous times over the years, but for reasons too numerous to raise here keeps getting put on the back burner.
Rest of the article at http://www.japantimes.co.jp/news/2013/03/24/national/mandatory-retirement-takes-a-leap-forward/
ENDS