Posted by Dr. ARUDOU, Debito on April 12th, 2013
eBooks, Books, and more from ARUDOU Debito (click on icon):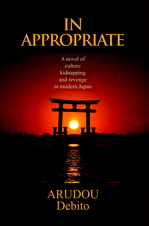 UPDATES ON TWITTER: arudoudebito
DEBITO.ORG PODCASTS on iTunes, subscribe free
"LIKE" US on Facebook at http://www.facebook.com/debitoorg
http://www.facebook.com/handbookimmigrants
https://www.facebook.com/JapaneseOnlyTheBook
Hi Blog. Check this out, courtesy of Japan Today:

Courtesy http://www.japantoday.com/category/picture-of-the-day/view/what-are-you-doing-here
Submitter JDG argues:
====================================
"Saw this story on Japan Today (link): It's a story about a poster campaign to advertise a TV show where NJ straight off the plane are asked why they came to Japan. In the poster, 'talent(less)' J-celebs, and a variety of caricatured NJ are proffering answers ('maid' cafes, lolitas, etc).
"I think that there are two ways of looking at this.
"The first is that they are proceeding from the false assumption that all NJ in Japan are visitors who must be here for some uniquely crazy 'Japanese' experience that they can't get at home, and plays into the myth that there are no NJ long term residents who are here because of their jobs, or family connections. Whilst ignorant and not very helpful for understanding the wide variety of NJ identities, it is a common enough mistake for the Japanese to make.
"However, my second thought is that this poster is an inadvertent and unintended insight into a darker aspect of Japanese psychology on the NJ issue. What if we suppose that this poster is not the product of some ignoramus who genuinely knows nothing of NJ realities in Japan, and believes the myth totally? What if this poster simply reflects a more widespread and deep rooted opinion that NJ shouldn't be living in Japan because they have families or business here? What if the poster is deliberately not offering reasons such as 'I'm here because I'm on the board or directors of (insert J-company here)', or 'I'm here to get my children back', or 'I'm here with the IAEA to inspect your reactors'?
"These are exaggerations, of course, but the point that I am making is that this poster in itself is a tool of devision, disenfranchisement, exclusion, subjugation, and othering. All that, and created with a lack of self-awareness in the process? A frightening indicator of the extent to which discrimination is normalized in japanese society."
====================================
I would concur in particular with the aspect of maintaining the dominant discourse in Japan of NJ as "guests", i.e., "temporary visitors, not residents", mixed in with the shades of "Cool Japan" that helps Japanese society revalidate and even fetishize itself through foreigners.
But it's essential (by definition) that this revalidation message remain positive — as in, "Japan is a nice place that is polite to everyone, especially its guests". That is one of the positive aspects of "guestism" — hosts don't get their status quo challenged. After all, why would somebody spend so much money and fly in just to come and bad-mouth the place? It's a pretty safe and not-at-all-random sampling that will probably match the TV network's editorial and entertainment conceit.  (And on the off-chance if not, no need to broadcast the views of quite clearly rude people.)
Media enforcement of Guestism has a long history, really. Back in 2009, Debito.org caught NHK asking specifically for NJ guests on its "COOL JAPAN" program "who have lived in Japan for less than one year", as if they would have more insights on Japan than somebody who has lived in Japan longer. Like, say, for example, participants in the reviled and acclaimed bangumi "KOKO GA HEN DA YO, NIHONJIN" (1998-2002; even my fellow plaintiffs and I were allowed to appear regarding the Otaru Onsens Case), which featured diversity of opinion in all its screaming glory, but still allowed NJs to speak in their own words in Japanese.  KKGHDYN was probably the high water mark of Japan's assimilation of NJ viewpoints into Japan's generally foreign-resident-free media (one that shuts itself off so effectively from NJ voices in Japan that nearly HALF, i.e., 46%, of all respondents (Japanese, natch) to a recent Cabinet survey didn't even know that Nikkei Brazilians have been living in Japan on a special visa status for the past two decades!), but after the "foreigner as criminal" GOJ and media blitz of the 2000s, we're right back to Bubble-Era-and-before attitudes towards NJ in the domestic media.
So in the end, asking people, "So how do you like Japan?" mere minutes after landing is probably within character.  But it's awful media representation.  Arudou Debito