mytest
Books, eBooks, and more from Dr. Debito Arudou (click on icon):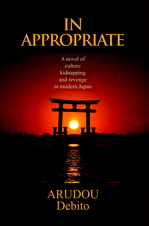 UPDATES ON TWITTER: arudoudebito
DEBITO.ORG PODCASTS on iTunes, subscribe free
"LIKE" US on Facebook at http://www.facebook.com/debitoorg
https://www.facebook.com/embeddedrcsmJapan
http://www.facebook.com/handbookimmigrants
https://www.facebook.com/JapaneseOnlyTheBook
https://www.facebook.com/BookInAppropriate
If you like what you read and discuss on Debito.org, please consider helping us stop hackers and defray maintenance costs with a little donation via my webhoster:


All donations go towards website costs only. Thanks for your support!
Hi Blog.  Finally, a quarter-century into the horrible government-sponsored NJ "Trainee" program, the GOJ is now releasing actual hard statistics about the people it is killing.  And you can see why it took so long — the numbers are shameful enough to warrant a cover-up:  Between 2014 and 2017, 22 NJ died (almost all due to workplace accidents, but at least one was probably being worked to death).  This is more than twice the on-job fatality rate for J workers.  There were also 475 cases of serious accidents to NJ "Trainees", and, as activists point out below, this figure is probably understated.
A contrarian might argue that NJ are just accident-prone.  But as the article describes below, working conditions are simply awful, not to mention generally illegal.  And as as Debito.org has pointed out repeatedly over the decades, "the program is rife with abuse: exploitation under sweatshop conditions, restrictions on movement, unsafe workplaces, uncompensated work and work-site injuries, bullying and violence, physical and mental abuse, sexual harassment, death from overwork and suicide — even slavery and murder.
"Things have not improved in recent years. The Health, Labor and Welfare Ministry announced that about 70 percent of some 5,200 companies that accepted trainees in 2015 violated laws, and in 2016 a record 4,004 employers engaged in illegal activities. The program is so rotten that even the United Nations demanded Japan scrap it." (From Japan Times, Jan. 3, 2018, Item 4)
Anyway, let's celebrate that we have some official statistics at last, for without them, it's easy to see why this program can keep going for a quarter-century with little political traction to improve it.  Dr. Debito Arudou
/////////////////////////////////////////
Foreign trainee fatality data highlight safety and exploitation issues in Japan
KYODO NEWS/JAPAN TIMES JAN 15, 2018
https://www.japantimes.co.jp/news/2018/01/14/national/social-issues/foreign-trainee-fatality-data-highlight-safety-exploitation-issues-japan/
Work-related incidents killed 22 foreign trainees over a three-year period from fiscal 2014, according to government data, illustrating the risk that laborers brought to Japan will face dangerous or exploitative conditions.
While most of the 22 deaths are believed to have been caused by accidents, one was the result of karōshi (death by overwork), the Health, Labor and Welfare Ministry said Sunday.
The ministry's figures are the first government