mytest
Books, eBooks, and more from Debito Arudou, Ph.D. (click on icon):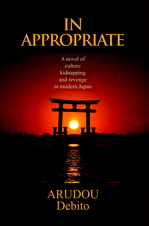 UPDATES ON TWITTER: arudoudebito
DEBITO.ORG PODCASTS on iTunes, subscribe free
"LIKE" US on Facebook at http://www.facebook.com/debitoorg
https://www.facebook.com/embeddedrcsmJapan
http://www.facebook.com/handbookimmigrants
https://www.facebook.com/JapaneseOnlyTheBook
https://www.facebook.com/BookInAppropriate
If you like what you read and discuss on Debito.org, please consider helping us stop hackers and defray maintenance costs with a little donation via my webhoster:


All donations go towards website costs only. Thanks for your support!
Hi Blog.  A couple of days ago I commented on an article in the Japan Times by a former Ministry of Foreign Affairs diplomat and TV pundit Miyake Kunihiko (or "Kuni", for gaijin ingratiation) who has a weekly JT space for his musings.  A pedigreed elite trained in international "Gaijin Handling", Miyake clumsily talks about Japan's race relations and multiethnic future by critiquing tennis champ Osaka Naomi's "Japaneseness".
My JT comment helped draw readers to the article, and I've just written my first feature piece for the Shingetsu News Agency (the only independent English-language media left in Japan not toeing a Japanese government line) about what Miyake's article indicates in terms of the decline in the JT's analytical abilities, as it swings rightward to knuckle under to revisionist pressure on Japanese media and curry favor with Japan's elites.  It also cites other research from Reuters and the Asia-Pacific Journal (Japan Focus).  Here's an excerpt:
//////////////////////////////////////
The Japan Times Becomes Servant to the Elite
By Debito Arudou
Shingetsu News Agency, February 2, 2019
SNA (Honolulu) — On January 28, the Japan Times published an opinion piece titled, "How Japanese is Naomi Osaka?" Author Kunihiko Miyake "felt something odd" about how the multiethnic tennis champ could ever "represent Japan." Miyake's article is indicative of how the quality of analysis has slipped under the Japan Times' new ownership, and suggests how the purposes of the organization have changed…
[Miyake's] half-baked column is indicative of something much larger—a decline in analytical prowess due to the editorial changes at the Japan Times in recent years.
The Japan Times came under new ownership in June 2017 by the media group News2u Holdings, a PR company. In an unexpected editorial shift, last November the Japan Times announced that it would henceforth be rewording the "potentially misleading" (and internationally-recognized) terms "Comfort Women"—which is already a direct translation of the official euphemism of ianfu—as "women who worked in wartime brothels, including those who did so against their will, to provide sex to Japanese soldiers." Likewise, the term "forced laborers" would now be rendered merely as "wartime laborers," following the new government policy.
Aside from journalistic concerns about cramming a wordy term into concise articles, it wasn't hard for media observers to understand this as a response to government pressure, already manifest in Japanese media and world history textbooks, to portray Japan's past in a more exculpatory light…
Rest at http://shingetsunewsagency.com/2019/02/02/the-japan-times-becomes-servant-to-the-elite/
//////////////////////////////////////
As Michael Penn at SNA notes, "I'm pleased to note that Debito Arudou has contributed his first article to the Shingetsu News Agency. Aside from being a strong article, it's another step toward getting a wider range of writers taking advantage of our progressive news media platform."  Other writers and investigators, please feel free to pitch something to SNA as well.  Debito Arudou Ph.D.
===============================
Do you like what you read on Debito.org?  Want to help keep the archive active and support Debito.org's activities?  Please consider donating a little something.  More details here.  Or even click on an ad below.