mytest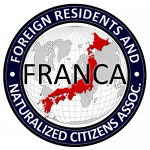 Hi Blog.  Saw something on NHK last night (General, 11PM) that made me see red.
International comedy team Pakkun and Makkun (Pakkun is the American, Makkun the Japanese) were part of a comedy troupe who descended on the G8 Summit Site to test people's language ability.
Perhaps this is part of their act (I have avoided Pakkun in particular for quite some time–so far I have only found him humorlessly obnoxious), but NHK was exploring how Hokkaido locals around Toyako had spent years preparing for the G8 Summit beefing up their English language ability.
First bit I saw (I came in late and left early) was a roundtable with a group of Japanese locals acting as a model UN, all speaking English to each other in the guise of several countries.  They were doing a decent job, had been learning from native volunteers (the TV show said) for about seventeen years.  Nice try, anyway, but Makkun told the Japanese woman to speak with her chest like a "typical American" (yeah, right); that's pretty ignorant, but Pakkun told the guy posing as a Russian to learn a Russian accent–and essentially misled him into a German accent…!  Yeah, I'm sure that'll help these people communicate.
It went on in this vein–Pakkun telling people that if they make a mistake in English, they'll cause an "international incident" (yeah, sure).  Pakkun putting a hotel owner (who had studied English language tapes in his car for two years) on the spot and in his place by using a complicated English question (about whether he was using English geared for the workplace or general conversation–or something like that–it was pretty mumbled) and occasioning a "pardon"?  And Pakkun walking into an onsen area with slippers and a towel, and acting dumb about being cautioned ("Uh… take off your slip…" "I'm not wearing a dress." "Um… your shoes, take to locker…" "You want me to go back to my locker and take my shoes in there?", and so on) in particular showed incredible insensitivity and ignorance, particularly given Hokkaido's past difficulties with NJ in places like Otaru onsens.
I had had enough.  I switched it off.  Way to go, Pakkun.  Japanese people in general have glass jaws when it comes to foreign languages in the first place.  And your going up there to nameru people with your native tongue, and doing it incorrectly and insensitively (it went beyond IMO a simple playfulness–it was making sport of them), did nobody any favors.  Least of all those earnest people who were trying so hard after so many years to cope with NJ.  Hardy har har.  Go to hell.  Arudou Debito in transit