mytest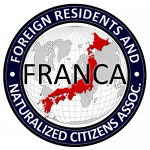 UPDATES ON TWITTER: arudoudebito
DEBITO.ORG PODCASTS now on iTunes, subscribe free
Hi Blog.  Three articles here describing police actually arresting people (Japanese employers, too) for NJ employment visa violations.  Interesting, given all the shysterism that goes on under the Trainee Visa etc. programs that necessitate civil (not criminal) court cases for redress, and involve few arrests.  I guess it's more important to employ people on proper visas than to employ them humanely.  Get the visa right, and you can do whatever you want to your NJ workers.  Perhaps that's precisely what the Trainee Visa was designed to enable:  Cheap exploitable NJ labor for companies in trouble.
Read on.  Comment from submitter follows.
========================================
4 arrested for helping Cambodian men illegally work at supermarket
(Mainichi Japan) October 18, 2010, Courtesy of JK
http://mdn.mainichi.jp/mdnnews/news/20101018p2a00m0na007000c.html

FUKUOKA — The president of an information technology (IT)-related company and three others were arrested on Oct. 18 for helping three Cambodian men come to Japan under the guise of IT engineers and illegally work at a supermarket, police said.
Arrested for violating the Immigration Control and Refugee Recognition Law were Lim Wee Yee, 39, president of the IT company in Iizuka who is a Malaysian national; Takashi Miyazaki, 40, president of the Kurume Chimakiya supermarket chain; his younger brother and board member Yoji Miyazaki, 36; and Masaru Sakai, 30, the operator of another supermarket.
The elder Miyazaki has admitted to the allegations while the three others have denied any wrongdoing, according to investigators.
The Fukuoka Regional Immigration Bureau is considering deporting the three Cambodian men.
The four suspects conspired to help the three Cambodian men aged 24 to 27 come to Japan in early December last year on special work visas by disguising them as IT engineers at Lim's company, and illegally work at Kurume Chimakiya supermarket, prefectural police allege.
The bearers of special work visas for IT engineers can stay and work in Japan for up to five years while those holding ordinary work visas can work here for only three years.
When they were secondary school students, the three Cambodian men got acquainted with Sakai, who was teaching Japanese in Cambodia as a volunteer, sources involved in the investigation said.
In summer last year, shortly before they graduated from university, Sakai approached them again and solicited them to work at a supermarket in Japan, according to the sources.
Fukuoka Prefectural Police investigators suspect that Sakai mediated between Lim and the elder Miyazaki.
ENDS
Submitter JK notes:
My take is that Mr. Sakai had a genuine interest in these guys as human
beings when he met them in Cambodia, and wasn't merely looking for some
foreign labor to exploit (otherwise why take on the risk and hassle, and
why deny the allegations 「不法就労させていた認識はない」?).
Now it would have been nice if there was some actual investigation into
Mr. Sakai's motives (read: human element in reporting). Instead we're
left with another story about how The Man is cracking down on illegals.
Sheesh!
=======================================
Original Japanese:
不法就労助長:容疑のIT会社社長らを逮捕 福岡県警など
毎日新聞 2010年10月18日
http://mainichi.jp/select/jiken/news/20101018k0000e040035000c.html
福岡県警などは18日、IT技術者名目でカンボジア人3人を来日させ、同県久留米市内のスーパーの倉庫で働かせたとして、同県飯塚市のIT関連会社「マルテック」社長でマレーシア国籍のリム・ウィイ容疑者(39)=飯塚市下三緒=ら4人を出入国管理法違反(不法就労助長)容疑で逮捕した。また、県警は福岡入国管理局と合同で同社など関係先約20カ所を同法違反容疑で家宅捜索した。
県警によると、「マルテック」は、国の「地域再生計画」に基づく支援措置の対象として認定されていた。認定企業は、外国人IT技術者を受け入れる際、入国審査にかかる時間が短縮されるなど優先措置がある。地域再生計画に絡む不法就労事件の摘発は全国初。
他に逮捕されたのは、同県久留米市のスーパーチェーン「くるめチマキヤ」社長、宮崎貴吏(たかし)(40)=久留米市山川町▽宮崎容疑者の実弟で同社役員、陽吏(ようじ)(36)=久留米市善導寺町島▽リム容疑者の知人で、飯塚市のスーパー経営、酒井優(31)=飯塚市枝国=の各容疑者。
容疑は、共謀のうえ24~27歳のカンボジア人男性3人を、IT技術者として「マルテック」が雇用する形をとり、昨年12月5日、出入国管理法に基づく「特定活動」の在留資格で入国させ、国の資格外活動の許可を受けずに「くるめチマキヤ」で働かせたとしている。
県警によると、宮崎貴吏容疑者は容疑を認めているという。▽リム容疑者は「商品の在庫管理システム開発の勉強をさせていた」▽陽吏容疑者は「どういう経緯で彼らが働いているか分からない」▽酒井容疑者は「不法就労させていた認識はない」--とそれぞれ否認しているという。
関係者によると、カンボジア人3人は中学生だったころ、カンボジアでボランティアで日本語教師をしていた酒井容疑者と知り合い、大学卒業を控えた昨年夏、酒井容疑者から「日本のスーパーで仕事がある」と勧誘されたという。県警は、酒井容疑者が、リム容疑者と宮崎両容疑者の仲介をしたとみている。
福岡入国管理局は、カンボジア人男性3人について強制送還する方向で検討している。【伊藤奈々恵、河津啓介】
ENDS
============================
Asahi: IT技術者で来日、スーパーで働かせ月給5万円 福岡
朝日新聞 2010年10月19日, Courtesy of DC
http://www.asahi.com/national/update/1018/SEB201010180009_01.html
「外国人IT技術者」の在留資格で入国した20代のカンボジア人男性3人をスーパーで不法に働かせていたとして、福岡県警と福岡入国管理局は18日、同県飯塚市下三緒(しもみお)、ITソフト開発会社「マルテック」社長リム・ウィイ容疑者(39)ら4人を出入国管理法違反(不法就労助長)の疑いで逮捕し、発表した。
ほかに逮捕されたのは、飯塚市枝国、会社経営酒井優(31)、同県久留米市山川町、食品販売「くるめチマキヤ」社長宮崎貴吏(40)と弟で同市善導寺町島、同社役員陽吏(36)の3容疑者。県警によると4人のうち、兄の貴吏容疑者以外は容疑を否認しているという。
県警外事課によると、4人は共謀し、昨年12月5日に24〜27歳のカンボジア人男性3人をIT技術者の在留資格で来日させながら、実際は久留米市内のスーパー倉庫内で野菜詰めなどの資格外の作業をさせた疑いがある。
酒井容疑者はカンボジアの日本語学校講師だった2001年ごろ、生徒だった3人と出会ったという。3人が大学卒業を控えた昨夏、「日本のスーパーで仕事がある」と勧誘。知人のリム容疑者のマルテックと雇用契約を結ばせ、IT技術者の在留資格で12月に来日させたという。
だが、来日後、3人は宮崎貴吏容疑者が経営するスーパーに勤務し、そこから給料を受け取っていたという。ビザ申請時とは違う同市内のアパートに住み、月給5万円で1日8時間以上働いていたという。今年7月上旬、「スーパーでカンボジア人3人が厳しい労働条件で働かされている」との情報が県警などに寄せられたという。
福岡入管によると、IT技術者の資格なら、従来の技術者の就労資格よりも2年長い5年間の滞在が可能になる。
また、マルテックは国の地域再生計画に認定された飯塚市の「e—ZUKAトライバレー構想」の指定企業で、指定企業と雇用契約を結んだIT技術者のビザ審査は通常よりも優先されるという。こうした地域再生計画を悪用して、不法就労させる行為が表面化するのは初めてという。
飯塚市などによると、マルテックは1999年にマレーシアから九州工業大に留学していたリム容疑者らが設立した留学生による国内初のベンチャー企業で、04年に株式会社化した。資本金は800万円で、代表取締役のリム容疑者ら役員3人、従業員は10人。
ENDS