"HANDBOOK FOR NEWCOMERS & IMMIGRANTS" 2nd Edition
Books etc. by ARUDOU Debito (click on icon):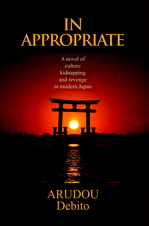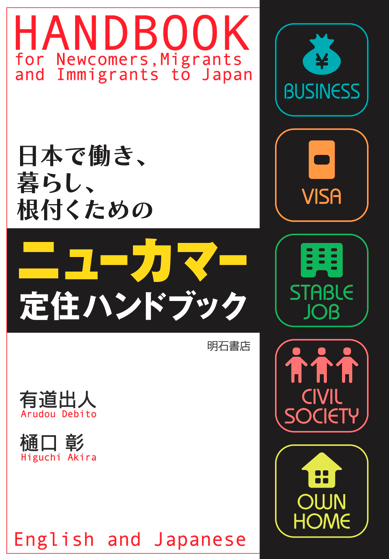 HANDBOOK FOR NEWCOMERS, MIGRANTS AND IMMIGRANTS TO JAPAN
SECOND EDITION, ON SALE DECEMBER 2012
INCORPORATING JULY 2012'S CHANGES TO JAPAN'S IMMIGRATION LAW
As of December 2012, Japan's biggest human rights publisher Akashi Shoten Inc. has published the Second Edition of the long-selling "HANDBOOK FOR NEWCOMERS, MIGRANTS, AND IMMIGRANTS TO JAPAN", coauthored with legal scrivener Akira Higuchi. Table of contents follows after book reviews, cover image, and preface below.
If you would like to read an excerpt of HANDBOOK, see academic website JAPAN FOCUS, published March 2008 (after the First Edition came out). http://www.japanfocus.org/products/details/2708
Bookstores confirmed selling HANDBOOK are at the very bottom of this blog entry. If you would like to order from within Japan, you can download one of the following thumbnails in English or Japanese, print it up, fill it out, and FAX it to publisher Akashi Shoten. Or take the printed flyer to your local bookstore and let them handle the order.
Or you can try Amazon Japan. Amazon.co.jp entry for HANDBOOK here.
If you'd like to order from outside Japan, please go to this page:
http://www.debito.org/handbook.html
If you'd like to leave feedback or advice for future editions of HANDBOOK, please click here.
Reviews (if you've gotten a copy of your own and would like to comment, please see Comments Section at very bottom):
========================
"In this important and necessary book the authors address migrants and immigrants to Japan in saying that "we believe that your life in Japan should be under as much of your control as legally possible." That it sometimes seems not to be, is the reason for their having written this handbook…  This is not the first such handbook…  Not the first, but this new handbook is much the fullest and consequently the best.The wise newcomer, be he or she nascent migrant or not, is hereby counseled to acquire this valuable volume and render life in Japan not only possible but practical and pleasurable as well."–Donald Richie, The Japan Times Asian Bookshelf column, April 20, 2008. (click here to read entire review)
"Higuchi and Arudou's HANDBOOK promises to be the second passport for foreigners in Japan. It provides a map to navigate the legal, economic, and social mazes of contemporary Japanese life. Practical and affordable, clear and concise, the Handbook should contribute not only to a better life for newcomers to Japan but also to a more humane society in Japan."—Dr John Lie, Dean of International and Area Studies, University of California Berkeley, and author of MULTIETHNIC JAPAN.
"Finally, the book I always wished I had, explaining in clear and precise language the legal labyrinths that make life interesting and sometimes treacherous for non-Japanese trying to find their way in Japan. This is the A-Z what to watch out for and how to do it guide that will help all non-Japanese living in Japan. Whether it is visas, workers' rights, starting a business, pensions, naturalizing, divorcing, etc. this is essential reading. For non-Japanese this is truly a godsend, but even better the entire text is bilingual so Japanese who have extensive dealings with non-Japanese can also better understand the rules of the game and avoid mishandling what can be difficult situations. I can think of no other book that comes close in promoting mutual understanding, one that is grounded in the law and brimming with practical advice."–Dr Jeff Kingston, Director of Asian Studies, Temple University Japan, and author of JAPAN'S QUIET TRANSFORMATION
"Whether you're a new 'newcomer' or an old 'newcomer,' the Handbook for Newcomers, Migrants, and Immigrants to Japan is invaluable. The headaches and frustration saved by having accurate information on everything from establishing residency to setting up a business all in one handy volume are incalculable. Best of all, Higuchi and Arudou tackle sticky situations with sound advice that just isn't available but through experience. Whether you're new to Japan or looking for guidance on a newfound difficult situation, this book will help cut through the red tape and noise, ultimately helping to get one on a path to productive problem solving. A must-own book for anyone intending to call Japan 'home'."–Ken Worsley and Garrett DeOrio, Trans-Pacific Radio
"If there weren't an Arudou Debito, we would have had to invent one. Until recently, if you wondered about your visa, or you wanted to start a company, or you got into trouble with the police, it was very difficult to get clear advice. Now, with this Handbook, we know what to do. Starting as an activist fighting discrimination against foreigners, Arudou Debito has expanded his scope to codify and organize information about every aspect of life as a foreigner here. The results are collected in this Handbook, written in collaboration with legal expert Higuchi Akira. In addition to detailed sections on inheritance, marriage, children, divorce, etc, one of the most unusual and enlightening chapters comes at the end: "Giving Something Back," a guide to involvement in civil society — clubs, non-profits, and social activism. Arudou and Higuchi's Handbook is an indispensable reference for all outsiders who live here for any length of time."–Alex Kerr, author, DOGS AND DEMONS and LOST JAPAN.
"…Indeed, this is one of the outcomes of reading the Handbook – it prompts you to want to find out more. Although the book has 376 pages, half of it is written in Japanese so that someone who you might be seeking advice from (a lawyer or Japanese friend or "senpai") can quickly grasp the nature of what you are asking, and give you a more specific answer. This means that the Handbook is not only a quick read, but also is intended to be a framework rather than an exhaustive reference manual. Arudou addresses this fact by providing copious notes on where to go to get follow up help. …The retail price is JPY2,415, and my personal opinion is that it is worth every yen. A necessary read for newcomers, and useful "gap filling" information for longer-term residents."–Terrie Lloyd, owner of CrissCross (Metropolis Magazine), author of Terrie's Take, reviewing for Daijob.com (click here to read entire review)
"…Because the Handbook covers so many issues, it generally gives a bird's-eye view of each one. Details of your situation may vary, but this little volume should get you off to a good start by recommending what forms to fill out, what government offices to visit and what authorities to consult for specific guidance.  Asked to characterize the reader feedback he has received so far, Arudou summed it up as: "Where has this book been all my life? It's about bloody time." –-Tom Baker, The Daily Yomiuri, May 30, 2008 (click here to read entire review)
"…So, it was with my [mental] fingers tightly crossed that I first opened Arudou and Higuchi's book. I have interacted with Arudou off and on over the years as his editor and as someone who paid passing attention to his activities as a Japan-based activist for foreigners' rights. Arudou had taken the challenging path of adopting Japanese nationality (he was an American citizen) and creating a life for himself in Hokkaido, itself a frontier-esque northern island in Japan. Knowing Arudou knew his subject had raised my hopes. But, he and his writing partner pulled it off? Indeed they had… The two of them (Higuchi is a Hokkaido-based lawyer) had summarised the nuts and bolts of life for people whose Japan stay is extended. Whether it is maintaining a funeral plot in Japan, buying a car, joining a union or tips on divorcing a troublesome partner — life's essential tips and tricks are covered… Yes, living in Japan is just like living in most other places (pretty much) — but there is a twist. This Handbook is an excellent guide to set you on the way to learning all those twists (and a few turns). In brief, Arudou and Higuchi have put together an essential handbook covering the key topics and questions anyone living in Japan (or intending to) needs to address." — Tanya Clark, September 24, 2008 (click here to read entire review)
"The bilingual guidebook entitled HANDBOOK FOR NEWCOMERS, MIGRANTS, AND IMMIGRANTS TO JAPAN is a "must have" for anyone planning to live or stay for any length of time in this seemingly complex country…  The handbook is not only a good source of information about Japan for foreigners, but it makes for a very interesting read." — Yusuke Tanaka, Nikkei Voice (a newspaper for Japanese Canadians), July-August 2008, page 16 (click here to read entire review.)
===================================
Book synopsis follows:
===================================
"HANDBOOK FOR NEWCOMERS, MIGRANTS, AND IMMIGRANTS TO JAPAN"
SECOND EDITION
ISBN: 978-4-7503-2741-9
Authors: HIGUCHI Akira and ARUDOU Debito
Languages: English and Japanese
Publisher: Akashi Shoten Inc., Tokyo
On sale from December 2012
389 Pages. Price: 2300 yen (2415 yen after tax)
Goal: To help non-Japanese entrants become residents and immigrants
Topics: Securing stable visas, Establishing businesses and secure jobs, Resolving legal problems, Planning for the future through to death…
===================================
To give you an idea of what this book is trying to achieve, let me enclose a draft English Introduction and Table of Contents from the manuscript:
////////////////////////////////
PREFACE
"HANDBOOK FOR NEWCOMERS, MIGRANTS, AND IMMIGRANTS TO JAPAN"
Setting Down Roots in Japan
Migration of labor is an unignorable reality in this globalizing world. Japan is no exception. In recent years, Japan has had record numbers of registered foreigners, international marriages, and people receiving permanent residency. This guidebook is designed to help non-Japanese settle in Japan, and become more secure residents and contributors to Japanese society.
Japan is one of the richest societies in the world, with an extremely high standard of living. People will want to come here. They are doing so. Japan, by the way, wants foreigners too. Prime Ministerial cabinet reports, business federations, and the United Nations have advised more immigration to Japan to offset its aging society, low birthrate, labor shortages, and shrinking tax base. Unfortunately, the attitude of the Japanese government towards immigration has generally been one of neglect. Newcomers are not given sufficient guidance to help them settle down in Japan as residents with stable jobs and lifestyles. HANDBOOK wishes to fill that gap.
Divided into seven chapters closely reflecting the stages of assimilation into any society, HANDBOOK takes the reader through 1) entry procedures, 2) securing employment, 3) establishing one's own business, 4) addressing possible problems, 5) planning for the future and retirement, and 6) participating in the development of civil society. We offer the information in easy grammatical English (for readers of English as a second language) and furigana Japanese on opposing pages. We hope this will serve a wide readership.
HANDBOOK is not an exhaustive fount of information. It is meant to be a concise and affordable reference book to help people find information efficiently. If there is more thorough data in other "Survival Manuals" or websites (such as lists of government phone numbers), we point you to them instead of duplicating the information here. We also assume that readers are not breaking any Japanese laws (if you are, then sorry, we cannot help you). We wish to provide everyone concise advice as veterans of the system, to save readers time and trouble, and help them find out their options for living in Japan.
The 2013 edition is the second edition of HANDBOOK. It includes important changes to immigration and registration law that took place in July 2012, along with other updates.  All advice within it is based on the opinions of the authors. We doubt we got everything right the first time, so we hope to have your input on how to make future editions more attuned to your needs. We welcome feedback, and hope that readers can assist us in creating future editions in other languages, including Chinese, Portuguese, Spanish, Tagalog, Hindi, and Urdu.
May you make a good life for yourself in this fine country.
HIGUCHI Akira, Administrative Solicitor
ARUDOU Debito, author, JAPANESE ONLY
===========================================
TABLE OF CONTENTS
Chapter One: ARRIVING IN JAPAN
1 – Understanding the structure of the Japanese Visa System (the difference between "Visa", "Status of Residence" (SOR) and "Certificate of Eligibility" (COE))
2 – Procedures for coming to Japan
– Acquiring SOR from outside Japan
– Changing or acquiring SOR from inside Japan
– Chart summarizing Visa, COE, and SOR
3 – Procedures after you came to Japan
– Bringing your family over to Japan
– Leaving Japan temporarily
– Extending your stay in Japan
– Changing jobs in Japan
– Changing SOR so you can work
– Chart summarizing Immigration procedures
4 – What kinds of Status of Residence are there?
– Chart outlining all 27 possible SOR
– Recommendations for specific jobs
– Requirements for select Statuses of Residence
– Points System
– Resident Card (Zairyuu Card)
5 – What if you overstay or work without proper status?
– Recent changes to Immigration law
– Examples of unintended violations
– Our advice if you overstay your SOR
6 – Getting Permanent Residency and Japanese Nationality
– Chart summarizing the requirements and differences between the two
7 – Conclusions and final advice on how to make your SOR stable
Chapter Two: STABILIZING EMPLOYMENT AND LIFESTYLES
1 – Characteristics of Japanese labor environment
2 – Labor law
3 – Labor contract
4 – Salary system
5 – Deduction and Taxes
6 – Labor insurance and Social Insurance for workers
7 – Summary
Chapter Three: STARTING A BUSINESS
1 – Why start a business?
2 — Sole Proprietorship (kojin jigyou) or Corporation (houjin jigyou)?
3 – Type of corporations
4 – Other forms of business (NPO, LLP)
5 – Procedures for starting a business by setting up a kabushiki gaisha
6 – Business license
7 – Periodical procedures to keep your business going
8 – Advice for a successful business
9 – Terminology
Chapter Four: WHAT TO DO IF… RESOLVING PROBLEMS
LIFESTYLE:
(These are frequently asked questions about overcoming obstacles and improving your lifestyle in Japan.)
…if you want to study Japanese
…if you want to open a bank account (and get an inkan seal)
…if you want a credit card
…if you want insurance (auto, life, property)
…if you want a driver license
…if you want to buy a car
…if you are involved in a traffic accident
…if you want Permanent Residency (eijuuken)
…if you want to buy property
…if you want to sell your property, apartment or house
…if you want to start your own business (see Ch 3 pg ##)
…if you need counseling or psychiatric help
…if you want to take Japanese citizenship (kika)
…if you want to run for public office (see Ch 7 pg ##)
POLICING:
(For visa overstay and other Immigration issues, see Ch 1. pg ##)
…if you are asked for a passport or ID ("Gaijin Card") check by police
…if you are asked for a passport or Gaijin Card check by anyone else
…if you are arrested or taken into custody by the police
…if you are a victim of a crime
DISCRIMINATION:
(What we mean by "discrimination", pg ##)
…if you are refused entry to a business
…if you are refused entry to a hotel
…if you are refused an apartment
…if you have a problem with your landlord, or are threatened with eviction
…if you are refused a loan
…if you want to protest something you feel is discriminatory
GOING TO COURT:
(Types of courts in Japan, pg ##)
…if you want legal advice, or need to find a lawyer
…if you want to go to court
…if you want to go to small-claims court (for fraud, broken business contracts, etc.)
WORKPLACE DISPUTES:
(For labor laws, legal working conditions, and other workplace issues that are not specifically problems, see Ch 1 pg ##)
…if you want government support for labor dispute negotiations
…if you want to join or form a labor union
…if you want to find another job
FAMILY MATTERS:
…if you want to get married
…if you want to register your children in Japanese schools
…if you want to register your newborn Japanese children with non-Japanese names
…if you have a problem (such as ijime bullying) in your children's schools
…if you want to change your children's schools
…if you suffer from Domestic Violence
…if you want to get divorced
…if you are having visitation, child custody, or child support problems
…if you are a pregnant out of wedlock by a Japanese man
Chapter Five: RETIREMENT AND PLANNING FOR THE FUTURE
1 – FINANCIALLY PREPARING FOR OLD AGE
– Corporate Retirement Benefits (taishokukin)
– Pension (nenkin)
– Private annuity (kojin nenkin)
– Long-term investment
2 – LIFESTYLE AND HEALTHCARE
– Elderly care and Nursing Care Insurance (kaigo hoken)
– Medical care and Medical services for the aged (roujin hoken)
– Guardian for adults (seinen kouken)
3 – INHERITANCE AND WILL
– Inheritance (souzoku) and taxes
– Last Will and Testament (yuigon, igon)
– Japanese rules regarding family inheritance
4- POSTHUMOUS CARE
– Culturally-sensitive funerals (osoushiki)
– Japanese cremation rules
– Repatriating a body for ceremonies overseas
– Maintaining a funeral plot in Japan
Chapter Six: GIVING SOMETHING BACK: DEVELOPING THE CIVIL SOCIETY
1. How to find a group
2. Starting your own group
3. Formalizing your group (NGOs etc.)
4. Making activism more than just a hobby.
5. Running for elected office
6. Staying positive when people claim "Japan will never change"
7. Conclusions
Chapter Seven: CONCLUSIONS: SUMMARIZING WHAT WE THINK YOU SHOULD DO TO CREATE STRONGER ROOTS IN JAPANESE SOCIETY
INDEX (Japanese and English)
==============================
ENDS
I hope you will consider getting a copy of this book. If you have already, and would like to leave feedback or advice for future editions of HANDBOOK, please click here!
==============================
BOOKSTORES CONFIRMED SELLING "HANDBOOK" (Because Arudou Debito went there personally and asked them to stock it):
Amazon Japan, see Amazon.co.jp entry for HANDBOOK here.
TOKYO: Good Day Books Ebisu, Tower Records Shibuya 7F, Aoyama Book Center near Roppongi Station, Aoi Bookstore near Roppongi Station, Aoyama Book Center Roppongi Hills, Tsutaya Roppongi Hills (gave me my biggest order–30 books!), Tokyo University Bookstore, Maruzen Honten Marunouchi, Yaesu Book Center 8F near Tokyo Station East Exit, Dan Books Hamamatsu-Cho, Kinokuniya Shinjuku Honten, Kinokuniya Shinjuku Minami-Ten, Junkudo Ikebukuro, Aoyama Book Center Honten Omotesando, Shibuya Book 1st, Blue Parrot Books Takadanobaba.
OSAKA: Namba Book 1st, OCAT Maruzen 5F, Sanseido Shinsaibashi Sogo Dept 12F, Kinokuniya Umeda by BIG MAN, Asahiya Books Umeda 7F.
KOBE: Foreign Buyers Club (FBC) Rokko Island
OKAYAMA: Ekimae "Happy" (formely Daiei) Dept. Store 5F Hon no Mori no Seruba
SENDAI: Maruzen, Junkudo (Loft 7F), Junkudo (I-Beans Bldg)
SAPPORO:  Sanseido (Daimaru Department Store 8F), Kinokuniya Sapporo Eki, Coach and Four Shinkawa, Coach and Four Munich Bridge, Asahiya Shoten Sapporo Eki, Atene Shoten Eki Mae Doori.
SHIN CHITOSE AIRPORT (the main Hokkaido airport): Bunkyodo 1F, Kinokuniya 2F
FUKUOKA: Kinokuniya Hakata Eki
CORPORATE LINKS:
Tokyo's top investment bank has made HANDBOOK FOR NEWCOMERS, MIGRANTS, AND IMMIGRANTS standard reading for all of its expatriate staff in or arriving in Japan, according to Ben Goodyear, former head of IT there.
Thanks for your support! Arudou Debito and Higuchi Akira
38 Responses to ""HANDBOOK FOR NEWCOMERS & IMMIGRANTS" 2nd Edition"
Leave a Reply