Posted on Tuesday, February 14th, 2012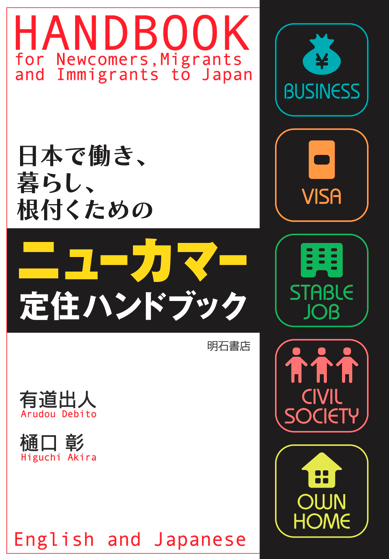 UPDATES ON TWITTER: arudoudebito
DEBITO.ORG PODCASTS on iTunes, subscribe free
Hi Blog.  Speaking of Japanese media profiteering off NJ by peddling images of them to the public (after in some cases killing them first, e.g., Ichihashi Tatsuya, Sagawa Issei — more on him below), here we have a quick book review of some author depicting NJ adding to the undercurrent of Japan's crimes and misdemeanors (N.B., in two articles that are quite different in English and Japanese, as the Mainichi is quite prone to doing).
While I haven't read the book to see if there is any element of, "If these guys had better opportunities in Japan, they might not resort to these trades" (i.e., it's not because NJ are intrinsically predisposed to criminality, despite what other Japanese media has nakedly asserted), it still panders to the latent NPA-promoted public prejudices of "foreigner as criminal", sensationalizing the lives of NJ residents in Japan.
Pity.  There is significantly less media about the regular lawful contributions NJ make to Japanese society.  But I guess a book about someone who does his or her day job, brings home the paycheck to put food on the table, spends the weekends playing with the kids, pays taxes on time, and takes on neighborhood association duties, isn't fodder for selling scads of sensationalism.  But I betcha that's much closer to the "reality" for far more NJ in Japan.  Arudou Debito
////////////////////////////////////////////
Writer talks of 'underground reality' of Japan's foreigners in new book
(Mainichi Japan) February 1, 2012, courtesy of JK
http://mdn.mainichi.jp/mdnnews/news/20120201p2a00m0et010000c.html
The myth that Japan is a homogenous society lost its veracity long ago. With the growth of globalization, the sight of foreigners living and working in Japan is certainly no longer a rare occurrence.
However, how much do we know about the real lives of Japan's foreigners?
This is the question that Kota Ishii, a spirited non-fiction writer, raises in his new book, "Nippon ikoku kiko — zainichi gaikokujin no kane, seiai, shi" (Journey through foreign Japan: The money, love, sex and death of foreigners in Japan).
"What happens with the bodies of foreigners if they die in Japan?"; "A Mie Prefecture island: A haven for foreign prostitution?"; "A South Korean church helping Japanese homeless — what is its real aim?" These are just a few examples of what Ishii tackles in his latest work.
Ishii, who has published several books on prostitution, slums and underground businesses in Asia, sheds light this time on different foreign communities in Japan.
The book introduces a South Korean who has conquered the Japanese sex industry by undercutting prices; an Israeli man with an expired visa who pays a Japanese woman to marry him to obtain Japanese nationality; Chinese who flee from the country after obtaining citizenship, and many other examples that portray the reality of "underground" foreign communities in Japan.
Because there are so many fake marriages initiated by foreigners in Japan, some international matchmaking companies even provide compensation to victims, Ishii writes.
The writer further introduces readers to a recent phenomenon among foreigners in Japan: jumping occupations.
Pakistanis opening Indian restaurants is one example from this trend, Ishii writes. Many construction company or factory employees who have lost their jobs are pushed into alternative businesses, the writer explains.
Even while he cuts deeply into the lives of Japan's foreigners, lending a critical eye to their doings, Ishii manages to portray the people who fight hard to survive in a foreign land with compassion.
"Nippon ikoku kiko — zainichi gaikokujin no kane, seiai, shi" went on sale in January.
ends
///////////////////////////////////////////////
"Original Japanese story" that was linked from this article:
読書日和:注目です アングラ在日外国人
毎日新聞 2012年1月31日 東京夕刊
http://mainichi.jp/enta/book/news/20120131dde012070018000c.html
日本が「単一民族」の国と言われたのは昔の話。グローバル化が進み、今や街中には外国人がたくさんいる。では彼らの暮らしぶりを、私たちはどれだけ知っているだろうか。
「ニッポン異国紀行--在日外国人のカネ・性愛・死」(石井光太著・NHK出版新書・903円)は、外国人による独自のコミュニティーに光を当てている。風俗業界を価格破壊で席巻する韓国人。日本国籍を得るため、日本人女性に金を出して偽装結婚する不法滞在のイスラエル人。日本人と結婚して国籍を得ると、さっさと逃げる中国人もいる。そのため国際結婚紹介業界では「夜逃げ補償」があるとか。
ある現象の背景にも焦点を当てる。パキスタン人などが「インド料理」を作る店が増えている。建築現場や工場で働いていた人たちが、職を失ってやむなく転身しているのだ。
著者は77年生まれ、気鋭のノンフィクション作家。アンダーグラウンドの世界に鋭く切り込む取材力は相変わらずだ。そのまなざしは、ただ彼らを批判するのではなく、むしろ異国で懸命に生きる人々にエールを送っているようだ。【栗原俊雄】
ENDS
PS:  For the purposes of contrast, here's a creepy interview with cannibal Sagawa Issei; overlook the somewhat questionable journalism, see him speaking after 1:14, and just try not to go slack-jawed…
Posted in Bad Business Practices, Bad Social Science, Cultural Issue, GAIJIN HANZAI mag, Immigration & Assimilation, Ironies & Hypocrisies, Media, 日本語 | 14 Comments »