mytest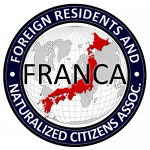 UPDATES ON TWITTER: arudoudebito
Hi Blog. Here's an important bellwether essay from Jiei, a fellow naturalized Japanese citizen who was singled out for a Gaijin Card Check by Osaka Cops last night. He tells the story of how he stood up for himself despite being explicitly suspected of being drunk or on drugs, and for sitting on a swingset while white when taking a break from jogging in a park. He cites the law back to the cops chapter and verse, but they undeterredly continue the questioning and racial profiling. I won't give away the ending.
The point is, this is going to happen more and more often as more people naturalize, and more Japanese of international marriages come of age and get hassled for not looking "Japanese" enough to allay cops' suspicion. This is not legally sanctioned, in any case. Which means people must learn about their rights and assert them, because there are no other checks and balances here.  Read on.
Thanks to Jiei for bringing this up to government-registered human rights group FRANCA.  Join us if you like.  Arudou Debito in Sapporo
REPORT BEGINS
============================
Like Debito, I am a former American naturalized Japanese citizen. While I don't look Japanese, I also had to jump over many hurdles for my naturalization application to be accepted by the government a year ago, and now I'm proud to call myself a Japanese and be recognized as a fully contributing member of this country.
Living here has had its ups and downs; I've been stopped at least 10 times by the police when I was a foreigner (once when I was leaving my apartment in the morning to go shopping because I "just looked suspicious"!), yet I never tried to exercise my full rights as Debito did, partly because of ignorance and partly because of fear.
However, tonight (09/7/25) I just had my first experience being stopped by the police as a Japanese citizen, and the situation was different. This time, I was going jogging around the park near my house in Osaka prefecture around midnight (something I always do since I work late and cannot go jogging during the daytime.) The park is a popular spot for teenagers to hang out at night, so I was not alone that night.
I took a short rest on the swings and then tried to leave the park from the main entrance to continue my run, when two "around 30" police officers on bicycles approached me from behind and suddenly stopped me with a loud "Konbanwa! Doko ikun' desuka?" I removed my headphones and took a deep breath since I knew exactly where this was heading, and tried to prepare myself for the coming debate.
The two officers "greeted" me again and the proceeded to surround me on both sides as if to stop me from escaping easily. I was looking down at my cell phone the time, so the officer on the left asked if I was drunk or on drugs. Slightly amused, I closed my eyes and touched my nose with my index fingers to show that I wasn't drunk. The one on the right looked at my face and simply said "Torokusho!" I asked him what he was talking about, and he repeated "Gaikokujin torokusho!" while making a rectangular symbol with his hands.
I stared at him for a moment and replied, "I am a Japanese citizen, I don't have any alien registration card." He looked genuinely shocked and asked me again twice if I was indeed Japanese. I simply responded,"I am Japanese." When asked to show my driver's license to prove it, I replied, "I refuse!"
The officer on the left then ordered me to empty my pockets and show my identification, so I said "Sure, I have my identification right here!" and pulled a copy of the "Keisatsukan Shokumu Shikkou Hou" that I always keep in my wallet, and showed the officer on the right the letter of the law concerning voluntary questioning by police officers.
Surprised, he asked, "What is this? Why did you pull something like this out?" I told them it's the law concerning police activity and asked them if my actions (kyodou) seemed strange (fushin) to them and if they had probable cause (soutou na riyuu) to stop me.
When they both responded with a strong and clear "yes," I asked if going for a jog is a crime in Japan. They both responded no, and then asked if I lived near the park. I deflected the question and said that it was quite rude of them to approach me and assume I was a foreigner and treat me like this.
The officer on the right laughingly apologized but then continued to ask if I was "haafu" or where I was born. I told them I refuse to answer any questions because police questioning is voluntary. They asked me "Why do you keep a copy of the law in your pocket? Are you trying to hide anything?" I spread my palms out to show I had nothing hidden, and replied that I was studying law and asked them if they were aware of the constitution or the code of criminal procedure.
The officer on the left said, "then you must know that voluntary questioning by police officers is a legally sanctioned activity (keisatsu katsudou.) I replied "That's true, and it is also voluntary, so I have the legal right to refuse your questioning." The officer on the right then repeated, "but we have the right to stop and ask you." I repeated, "I have the right to not answer."
This was repeated many times and after calmly debating with them for five minutes about what the meaning of "voluntary" (nin'i) is, and after repeated requests to show my license, the officer on the right asked if this was my first time getting stopped by the police, to which I said, "What do you think? With a face like this I've been stopped many many times in my life."
The officer on the left finally changed his attitude and said, "Well then, at least tell us your name, job, family member's names and where you live!" Naturally, I refused this also and said, "if you want to search me or see my license, you first need to arrest me or have a warrant. I am not on drugs, nor am I a criminal. I have been singled out for looking different many times now and I refuse to put up with it any longer. I know the law, so I honestly want to be arrested and take this to court; I'm sure I'll win in the end even if I have to take this to the Supreme Court!"
After asking if they had their handcuffs ready and if they were going to arrest me, they both laughed and the officer on the left said, "Who's talking about arresting you, we just want to see your identification! Don't you have anything?" I then pulled out my wallet and waved it around. "My identification is in this wallet but I refuse to show it and if you want to see it, arrest me here and now."
After more repetitive requests to identify myself and prove I am Japanese, they received a police report on their walkie-talkies, and finally sped off on their bicycles without saying anything or even looking back at me.
All in all, they were actually very calm about the whole thing; they seemed half amused to debate the meaning of the law with a "suspicious foreigner looking type" like me. To tell the truth, I was surprised at how easily they gave up without ask me to go to a police station with them, trying to search my pockets, or even actually see my driver's license.
While it may sound that I was fearless, I was actually quite nervous and my legs and hands were trembling, so I forgot to ask to see their badges and note their information or try to walk away during the questioning.
Yet when I returned home and told my native Japanese friends about this, they were not so supportive of me. They all simply asked why I didn't show my license first and not go through any hassle. I told them that this was a bigger issue about legal rights. I am definitely not the fighting type, and I basically keep to myself and try not to make any waves. However, I refuse to be treated as a second-class citizen in my own country, and if need be, I am absolutely willing to risk being arrested for standing up for what I believe in.
I'm sure that I will be stopped again in the future many times, along with all other non-Asian looking people in Japan, but I plan to stand up for my rights every time. While confronting the police and asserting your rights so clearly like this is not for everyone, I hope that my experience proves that calmly using the law to assert your rights does work in Japan, and can make a difference!
ENDS
ADDENDUM:
By the way, concerning the legality of photographing police officers' badges…unfortunately Japan has no clear law concerning image rights (shozoken) and the leading supreme court decision in the Hayashi Masumi case found that while people generally have the right to not have their images taken and published without reason, image rights still have to be considered specially in each case based on the situation…leaving things still unclear.
However, considering that they were public servants on duty and I needed to confirm their identity since I didn't have a pen to write it doen, I think that I would have a case if it went to court. However, it would take a clear Supreme Court verdict to give a definitive answer. In any case, as seen from the many shokumu shitsumon videos uploaded on YouTube, the police aren't actively pursuing fighting this.
ENDS