mytest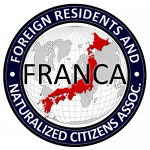 UPDATES ON TWITTER: arudoudebito
DEBITO.ORG PODCASTS now on iTunes, subscribe free
Hi Blog.  Now back to business.  While doing research over the new year, I got quite a shock when I was doing some followup on a case of exclusionary practices.  I reported on Debito.org in September 2007 that Fukushima Prefecture's Tourist Information website was advertising 35 hotels that refused NJ clients.  This is one of the few business sectors that actually has explicit laws preventing refusals of customers based upon nationality alone (thanks to the Hotel Management Law, see below), so when a government agency is even promoting "Japanese Only" hotels, you know something is rum indeed.
What's even more rum is that even after I advised the Tourist Information Agency that what they were doing is unlawful, and they promised in writing to stop doing it, now two years later the same website is now promoting 318 (!!) hotels that refuse NJ clients (in other words, about half of the total).  You can't help but get the feeling that you have been lied to, and by government bureaucrats.
A brief write up, with links to sources, follows.  At the very bottom are screen captures of the FTIA website evidencing the exclusionary practices.  Arudou Debito in Sapporo
/////////////////////////////////////////
Place:  Fukushima Prefecture (35 hotels, now 318 hotels)[1]
Background:  In September 2007, the author was advised that the Fukushima Prefecture's Tourist Information website[2] in English listed and advertised 35 hotels in the region that officially refused NJ clients.
Action taken by observers/activists:  In September 2007, the author contacted the Fukushima Tourist Information Agency, and advised them this practice of refusing NJ is unlawful under the Hotel Management Law (Hotel Management Law (ryokan gyouhou), Article 5[1], which says that hotels may not refuse customers unless 1) rooms are full, 2) there is a threat of contagious disease, or 3) there is a threat to "public morals" (fuuki)).  A FTIA bureaucrat who contacted all 35 hotels responded in October, stating, "Most of the answers were, 'We do not explicitly refuse NJ'," as they had never had a NJ client.  However, eight hotels of the 32 they were able to contact stated they would continue to refuse NJ, because they did "not have staff who spoke English", therefore "they could not positively (sekkyoku teki ni) receive NJ".  The FTIA said they advised them of the unlawfulness of this practice, and would be clarifying their website questions in future.
Current status (as of this writing):  A January 2010 search of the Japanese website[3] using search terms "gaikokujin no ukeire: fuka" revealed 318 lodgings refusing NJ lodgers, and amending the search terms revealed 335 places accepting NJ.  It would appear that the prefectural tourist agency officially offering the option to refuse NJ lodgers enables businesses to refuse.  This would appear to be within character:  The GOJ reported, in an October 2008 nationwide survey of 7068 responding hotels, that 27% of all hoteliers did not want NJ clients[4].
---
[1]
Primary source information at
https://www.debito.org/?p=1941
[1] https://www.debito.org/whattodoif.html#refusedhotel
[3] http://www.tif.ne.jp/jp/spot/cat_search.php, enter 外国人の受入:不可 into the キーワード section.
[4] "No room at inn for foreigners", CNN October 9, 2008, and 「外国人泊めたくない」ホテル・旅館3割 07年国調査」 朝日新聞2008年10月9日, both archived at https://www.debito.org/?p=1940
——————————-
Here are some evidentiary screen captures from the FTIA website as of January 3, 2010 (click on image to expand in your browser)
First, the site with search terms that indicate that 318 hotels refuse NJ clients:
Example of one hotel that explicitly says it refuses NJ clients:
Screen capture with different search terms, indicating 335 hotels of the total allow in NJ:
Example of one hotel that allows in NJ clients:
ENDS