mytest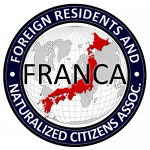 UPDATES ON TWITTER: arudoudebito
DEBITO.ORG PODCASTS now on iTunes, subscribe free
Hi Blog. Young-Turk Osaka Governor Hashimoto has been suggesting some interesting reforms recently, one of them, according to the Japan Times, is to close down Osaka Itami Airport (relocating all flights to KIX), and to use the land for creating an international campus, where international schools and universities would be located and the lingua franca English.
On the surface of it (regardless of the efficacy of essentially creating a Dejima for ideas and culture, nestled right next to Osaka proper), it's an intriguing idea with great potential, and not one that in principle Debito.org can oppose (what could a move like this hurt if successful, except the natural insular order of things, which does deserve some change).  It's already incurring a lot of opposition from entrenched interests (read full article at JT site).  What do other Debito.org Readers think?  Arudou Debito in Sapporo
///////////////////////////////////////////
Airport wars roil Kansai region
Osaka, Hyogo leaders clash over hub plans
The Japan Times Friday, Jan. 15, 2010
By ERIC JOHNSTON Staff writer
http://search.japantimes.co.jp/cgi-bin/nn20100115f2.html
(pertinent excerpt)
Under [Osaka Gov] Hashimoto's plan, Itami [Airport]'s 400 hectares would be turned into what he calls the International Campus Freedom City. Up to 20,000 people, including many foreigners, would live in the area, which would be home to international schools and universities. The common language would be English.
"To turn out talented workers of international stature, all elementary, junior high and high schools in the international free city will be instructed in English," the plan reads.
"Along with international schools and universities, home-stays with resident foreigners will provide practical education to students and all signs in the city will be in English. Young people from around Japan who want to improve their English will gather, and it will become a tourist spot, with shops and tourist facilities reminding people of overseas,"
The governor envisions an influx of highly skilled foreign workers in certain sectors who would serve as language tutors to interested Japanese students.
"Along with attracting highly skilled foreigners who specialize in biotechnology, new energy and other strategic industries like cutting edge medicine, incentives such as reducing income and residency taxes for foreigners who offer home-stays to Japanese wishing to learn a foreign language in a native linguistic environment could be given," the plan reads.
Ido also sees an international future for Itami, but one where foreigners arrive and go elsewhere, not live, work or serve as language tutors and tourist attractions…
EXCERPT ENDS
Full article at http://search.japantimes.co.jp/cgi-bin/nn20100115f2.html