mytest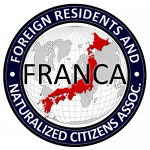 UPDATES ON TWITTER: arudoudebito
DEBITO.ORG PODCASTS now on iTunes, subscribe free
Hi Blog.  Debito.org Reader Kevin submitted this Japan Times article (thanks!) on how The Japan Property Management Association, which covers more than a thousand real estate agencies, is offering information to NJ renters and recourse to fearful landlords. They're even suggesting hiring NJ to bridge communication gaps! Bravo. If you're in the market for new digs, check this association out and give them your business.
After all, one of the first nasty things a NJ experiences is the pretty ubiquitous housing discrimination in Japan — where a renter can be refused by the mere whim of a landlord, and tough titties if that landlord has a "thing" about foreigners (due to, say, envisioned phobias about "differing customs", "communication troubles", or just plain visceral xenophobia). Sadly, there is no way, outside of a courtroom (which will probably, experience and word-of-mouth dictates, not rule in the NJ's favor unless the landlord changes his or her mind AFTER a rental contract is signed). 'Cos, as y'all know so well, there ain't no law against racial discrimination in this part of the world.
One more thing, and this is a tangent but I'm feeling chatty today:  Before we get all Pollyanna and flout any economic theories that "the marketplace will correct all if left to its own devices" (i.e. Japan's housing glut is forcing the buyer's market to find ways to be more accommodating to NJ), remember that there is no way economics is going to "fix" illogical or irrational behavior, such as fear and hatred of foreigners or other races that exist in every society.  If anything, as seen in the course of the Otaru Onsens Case, bathhouse managers (and apologist bigots like Gregory Clark) have even made economic arguments to justify the status quo ("our customers don't want to take baths with foreigners, so we have to give them what they demand"; some even created flawed surveys of customers to "prove" it, which got widely reported by an unanalytical Japanese media (page down to "False Summits Dec 1999").  In any case, the market CAN break down (in classic cases like farmers dumping surplus crops in the ocean to keep the market price up), and needs laws to govern it.  In this case, laws against the effects of the dread mental disease that is xenophobia.
Anyway, again, bravo Japan Property Management Association.   JT article about them follows.  Arudou Debito in Sapporo
////////////////////////////////////////
Housing glut opens door to foreign tenants
By MIZUHO AOKI Staff writer
The Japan Times: Saturday, May 15, 2010 (excerpt)
http://search.japantimes.co.jp/cgi-bin/nn20100515f2.html

As the country's foreign population keeps growing and the declining birthrate and oversupply of housing result in more and more vacancies, it is time for real estate agents to create a more welcoming environment for foreign customers, according to people who work in the business.
"Housing discrimination against foreigners still remains in Japan today. . . . We have a lot of vacant housing that needs to be filled. And there are many (foreigners) who want to rent housing in the country," Noriaki Shiomi, vice deputy chairman of the Japan Property Management Association, told a forum in Bunkyo Ward, Tokyo, on Tuesday. "What we must try now is to gain knowhow to smoothly accept foreign customers."
Efforts to provide foreigners access to rental housing have become increasingly important amid the surge in vacancies in recent years due to oversupply and the shrinking population, according to the association…
According to a survey conducted by the association in 2003 on 275 landlords nationwide, over 60 percent of landlords said they worried about dealing with foreign customers when there is a problem because of difficulties in communicating. Over 50 percent of landlords also said they were concerned about differences in customs relating to living.
"What landowners want to know is that when something happens, they will have support from real estate agencies," said Ogino. "In other words, if the owners know that the agencies will deal with foreigners when they have trouble, many are willing to rent out their properties to foreigners."…
The Japan Property Management Association provides printed guidebooks and DVDs in Japanese, English, Korean, Chinese, Spanish and Portuguese designed to help foreigners gain basic knowledge of searching for and renting housing. They can be found at the association's member real estate agents.
The guidebooks explain step-by-step procedures for renting apartments, including tips in visiting real estate agencies, explanations of contracts and the rules of everyday life.
In addition to the booklets and DVDs, the association said another key for the industry to become more accessible for foreign customers is to hire foreigners.
Full article at http://search.japantimes.co.jp/cgi-bin/nn20100515f2.html

ENDS