www.debito.org
EUROPEAN TREK PT VI (I'm running out of languages here):
ITALY
(Originally sent to Friends Wed, 25 Sep 1996)
After being let down at the Hungarian Consulate in Milano, we decided to have a look around Italy proper.
I didn't have much choice; in a fit of pique, Aya said she was fed up of touring "my way", meaning staying with "MY friends doing little more than sitting around and eating". So it was high time to do "ryokou rashii ryokou", or "travelling which befits travelling".
Okay, fine. From now on, the itinerary was Aya's and we did it Japanese style.
---
IF THIS IS TUESDAY IT MUST BE MILANO
The first thing we did after that "blow-off-Budapest" lunch was go back to Milano station, where that nice lady in the tourist office was genuinely saddened to hear about our treatment. "Never mind," she said, "there are some nice places in this city to see," she scribbled on a free map, "here, and here. Do you want a family room for the kids in a hotel, bathroom included?" Uh, sure. "Okay, there's a nice place I know run by an old couple who likes children. Total 90,000 lira per night--a reasonable rate. Ten minutes' walk from here. Shall I call them and make a reservation?" Sure. And just like that, we had a room for the night and, since we couldn't access our backpacks without having to pay all over again, no baggage. Just the kids, the bottles, and a few diapers. We got info on cheap places to eat, nice mountain and coastal towns for day-tripping (Milano, a hub station, can send you anywhere from Paris to Rome, Warsaw to Madrid), and made tracks.
Milano is said to be one of the least interesting Italian cities architecturally. Probably true. Like Brussels, there is basically one square with beautiful buildings, but the rest, perhaps either due to the ravages of war or unfettered capitalism, is pretty dull: grey streets and streetcars (at least on the outside--inside the cityblock is where the gardens are, apparently). But liberated from our luggage for the first time, we spent the day going wherever (Milano's cathedral is beautiful), eating whatever (Italy has some very pricey but very fat half-sandwiches), picking up diapers and bottled water for however much, and deciding our plans over dinner in a cheap cafeteria.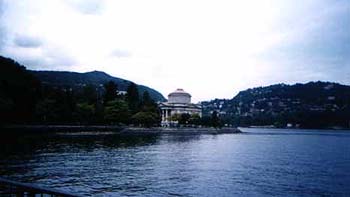 How about mountains tomorrow?, said Aya. Okay. The next day was spent in a lake city called Como, an hour north, amidst the foothills of the Italian Alps. The trip was pleasant but uneventful--that is, until the end, when we got soaked in a huge downpour that doused most of Italy. We spent the evening in Milano station, under a huge glass dome pelted by rain and emblazoned by lightning, waiting for the torrent to stop. It was worth it--we spent an hour gazing at the Fascist frescoes (Romulus and SPQR everywhere), bas-reliefs of lions and gladiator-figures in Aztec profile, and mosaics showing chunky women in togas seduced by radio towers and other technological phallic symbols. I gathered that Mussolini built this place, and it is the best-designed, most spacious showcase station I've ever seen.
But long-suffering Aya enjoyed herself for a change. "The lake was beautiful, the thunderstorm dramatic."
The only criticism Aya had was something, as usual, out of left field. "There are too many Japanese in Milano."
She was right. Milano's tourist business seems to be based on fashion, and just about every side street up to a kilometer south of the station was full of boutiques. Clothes, handbags, shawls, you name it. Menus were in Japanese, and a friendly shopkeep I talked to even traded with stores in Sapporo. But everywhere we looked we saw Japanese people, in backpacks or high heels, loping around.
"People just come here to spend money on designer goods, not see the country," Aya said in disgust.
Huh. Watch what happened next:
---
OVERNIGHT IN FLORENCE
I insisted we see Florence, and decided to make an overnight of it. We left Milano, a place we rather enjoyed because we had had no expectations, and went down to one of Italy's "art cities". We found a small, cheap pension (at 120,000 lira a night, breakfast included), dropped the bags, and headed for the Duomo (Florence's incredible domed cathedral). That is, until we got snagged by the marketplace.
Aya was near apoplectic when she was what was being sold. Shawls, shoes, leather bags, etc. Made in Italy by major and minor makers, and sold for less than designer prices. We got some new shoes for Amy (for 5000 lira, and at 1300 lira to the dollar we were really chuffed), found a few nicknacks (screaming "MADE IN ITALY") for those we owed back home, and got snagged by the bags.
I have never seen Aya, who is not by nature a fashion-conscious person, so goggle-eyed. Gucci, Ungaro, other Italian brands well-known in Japan. She kept on pulling bags down and asking how much. Then, from her experiences in Mexico and Seoul, she started haggling--gently, not rudely--but using an English dialog straight out of my textbook BUSINESS ENGLISH, "Marketplace Bargaining" chapter (click here to see page 24 and page 25). She never took the first price offered, played hard-to-get, and was not afraid to walk away and look elsewhere.
And it was working. Prices came down. I was proud.
But not too proud. She found daypack-style leather totes--that had been 200,000 lira--a "bargain" at 140,000, and woven wicker-style leather handbags at 50,000 lira. Whatever the exchange rate is, that adds up. When I finally snapped her out of her reverie long enough to ask her when we were going to the Duomo, she kept on saying "soon, soon", in a trance.
We did eventually get to the Duomo and by 5pm had climbed to the top. Amy was on my back in the stoller/backpack, Anna mounted on Aya's front carrier. And it was a tight squeeze in that stairwell. Like being a full-size car on a one-lane Irish countryside road, or like crawling up a tunnel in an anthill. I was unable to turn sideways, stand upright at times, or escape the cloud of humidity hovering before my face. But we reached the top just in time for the sun to turn orange, and that played just right into the siena-tiled roofs of Firenze.
The air was clear, washed clean by the previous night's thunderstorm, and the view--whitewashed walls capped by tiles, not a single modern building in sight, all surrounded by unspoilt green hills--made one optimistic about mankind's ability to get things right. Everyone, even the kids, was perfectly happy to stay up there for well over an hour and just gaze.
Once down, we decided to get some dinner but got snagged by the market again. Aya re-found a bag that had been occupying her mind the whole day and asked me if she could have it. She bought a rather nice tote for 120,000 lira, and kept her momentum long enough to pick up a handbag and a few other leather goods. "Now I understand why they say Italy is famous for leather," she said, stroking her new possessions. And now I understand why so many Japanese come here and spend money. Aya never said anything nasty about Japanese tourists again.
The evening was spent wandering Florentine streets till midnight, where a sidewalk band kept us entertained-- Amy was near rivetted (she refused to leave the music behind)--for nearly two hours. A beautiful city lived up to it's reputation, even if we'd only budgeted about 14 hours to see it.
Ah well, Aya was calling the shots, which meant tomorrow we were due in Venice.
---
VENICE--TOO TOURISTY FOR OUR LIKING
We spent two nights in Venice, which was enough. Far cleaner (the canals didn't stink at low tide) now than on my last visit (20 years ago), but far more expensive. It was too easy to be distracted by the costs, and it dampened our enjoyment considerably.
We looked for a gondola ride, but they cost between 100,000 and 200,000 lira--more than a room for the night--for perhaps an hour on the water. Restaurants levied (our children too, in some places) a 2000 to 2500 lira "seating charge", in addition to the 12% "gratuity", making any sit-down meal at least 50,000 lira. And the food was not all that great, never above average, even bad in one place (where they didn't even take the sand out of the clams, and thought that just adding olive oil to mushrooms made them special). So we scrimped. A cheap hotel room (no bath or toilet inside) near the station for 100,000 lira. Take-out food wherever possible. Window-shopping only.
But we did get transportation for free. There are no cars in Venice because there are really no roads--only walkways separated by canals with arch bridges spanning everything--hell for our baby strollers. So once you arrive at the train station, you walk down the stairs and wham-o!, there's the lagoon flushed by the Adriatic. To get to town, you must 1) cross a few dozen bridges over a dozen islands, 2) take a water-taxi (a motor boat) if you have a faraway hotel and a lot of bags, or 3) get on the bus--a big boat omnibus that runs 24 hours and takes you just about anywhere. So many people got on the omnibus at once that nobody checked our tickets. So we bought one ticket each, never validated it, and kept riding the boats free, ready to play dumb if checked. Enjoying the free and carefree travel, not to mention the cool breezes and ocean spray, we spent more time on the boats than on dry land.
We saw all the major sights with nothing special to report, so we won't dwell. The best time in Venice was off the main track, an island called Murano, where the water is clearer, people are (just) a little friendlier, and the most beautiful glass this side of Corning is made. It was my turn to go ballistic with the bankbook, having had an inexplicable weakness for glass for years. A friendly exhibition glass blower made a rearing horse for the children. I bought geometric-prism paperweights, Aya glass pendants and a crystal necklace, and Amy, well, she was happy with ice cream and pigeon corn.
But Venice, another "art city", is a place that you never really get to know unless you put a lot of effort into it. Florence is easy to circumambulate, and surprises lurk around every corner. Venice, you practically have to be an athlete, and definitely not in a stroller or a wheelchair, to get around. Florence, people seemed nicer and ready to perform on a streetcorner. Venice, you had to get a chair and a coffee before you could park your butt and enjoy the band. A Caravaggio exhibition was free in Florence, but a Venetian Dali exhibition was 20,000 lira. Florence, you could open the windows and go to sleep. Venice, the canals were always in your face, as were the mosquitoes at night.
But the thing that really annoyed me about Venice was the attitude. Everything costs and people pay, feeling they have no choice. Tipping is one thing, and tourist-driven demand-pull inflation another, but there were prime examples of asshollery that really put me off the place. When I bought two 1.5-liter bottles of iced tea (at Japanese prices), the guy tried to give us one warm one and one cold one, and then wanted an extra 100 lira for the plastic bag. All public toilets were pay, an arrangement I always find exploitative because it takes advantage of people's bowels--so we had to relieve ourselves in shops after buying something. Even the station's luggage attendants, who looked like gorillas with jock itch, had an attitude towards the bags they carried.
---
I was fed up of this tourist track and, fortunately, so was Aya. Five nights of "travelling that befits it" were enough. We packed up and got on the train, making sure to take a leak in the carriage toilet (while it was still in the station), and headed off for our next, final destination.
To stay with friends and do things, I guess, "my way", again. This was to be Munich, Germany.
The final chapter next.
Dave Aldwinckle
Sapporo
(on to the next essay in the series)


Copyright 1996-2002, Arudou Debito/Dave Aldwinckle, Sapporo, Japan