mytest
Books, eBooks, and more from Debito Arudou, Ph.D. (click on icon):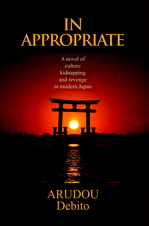 UPDATES ON TWITTER: arudoudebito
DEBITO.ORG PODCASTS on iTunes, subscribe free
"LIKE" US on Facebook at http://www.facebook.com/debitoorg
https://www.facebook.com/embeddedrcsmJapan
http://www.facebook.com/handbookimmigrants
https://www.facebook.com/JapaneseOnlyTheBook
https://www.facebook.com/BookInAppropriate
If you like what you read and discuss on Debito.org, please consider helping us stop hackers and defray maintenance costs with a little donation via my webhoster:


All donations go towards website costs only. Thanks for your support!
Hi Blog.  What follows is an update to the Senaiho Case of Junior High School bullying in Yamanashi, where a student three years ago had her hair forcibly cut by her Japanese school's "hair police" (i.e., her teachers) against her will, resulting in trauma to the point where she could no longer attend.  Debito.org has been covering this case for years now, and you can see previous entries here, here, and here. (And compare it with this.)
The news is that the family, working through "proper channels" to no effect (in fact, the opposite — officialdom harassed the victims further), are officially taking the bullies to court.  Here's Update 3.  Debito Arudou, Ph.D.
/////////////////////////////////////////////////
From: Senaiho
Subject: Senaiho Update 3
Date: November 1, 2019
To: Debito Arudou <debito@debito.org>
Hello Debito,
Since the Yamanashi Nichi Nichi published an article today (below) re the suit we will be shortly filing, I will go ahead and send this to you for your blog.
I will try to include some information not in the article.
The update:
Since my last update stating that the prosecutors office found insufficient evidence to proceed with charges, we have been working on the basis of filing a civil suit against the city of Yamanashi seeking a monetary amount of 7 million yen and a suit against the guardians of the perpetrators of the bullying seeking 5 million yen. This suit will be filed on the 8th of this month. This will be followed by a press conference at the press club office in the prefecture building.
The basis of the suit will be that our daughter was bullied and as a result of this, the school teachers cut her hair without her consent. This resulted in her being traumatised to the point of not being able to attend the last two years of her middle school education and requiring professional counseling, along with medical treatment for insomnia.
Since the original incident in '16, many of the people involved have retired, transfered, divorced, and even been imprisoned, such as the former mayor of Yamanashi (for unrelated crimes). This however does not decrease the liability of the city or the perpetrators. It does make it difficult for those in charge though who have to catch up, but that is their problem.
This will be a long process though, probably two years at least and there is no guarantee we will come through as we wish, but if our daughter understands that what happened to her is not her fault, it will be a victory.
Thank you all here at debito.org for your continued support.
Sincerely, Senaiho
(Courtesy Yamanashi Nichi Nichi Shinbun, 11/2/19 edition, p. 26.)
======================
Do you like what you read on Debito.org?  Want to help keep the archive active and support Debito.org's activities?  Please consider donating a little something.  More details here. Or if you prefer something less complicated, just click on an advertisement below.