mytest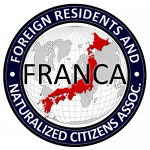 UPDATES ON TWITTER: arudoudebito
DEBITO.ORG PODCASTS on iTunes, subscribe free
Hi Blog.  The Sankei reports on May 25 that the Ministry of Justice will be loosening some of its strictures on NJ visas (the Sankei uses the word nohouzu in its headline; I'm not 100% sure of the nuance but it sounds like "a wild and endless expansion of favorable treatment regarding NJ entry visas"; rather snotty, but that's the Sankei for ya).
The new Immigration policy is directed at NJ with very high skills (koudo jinzai — a good idea) and their families (who will also be allowed to work; wow, that's a change!), will have a points system for evaluation (another good idea), will offer longer visa periods (5 years), and will loosen the specificity between work visas.  It's being touted as a means to make Japan more appealing to NJ labor (you had better!).
Sounds like a step in the right direction.  But it's still 中途半端.  What's missing is GOJ guaranteeing some degree of protection of labor and civil rights after NJ get here.  And what about qualifications?  Just try practicing law, medicine, or most other licensed skills in Japan now without going through the rigmarole of domestic certification, with walls so high (cf. the NJ nurses from Indonesia and The Philippines over the past few years) that almost all NJ applicants fail (and, magically, have to return home as usual after three years, just like any other revolving-door "Trainee" or "Researcher" NJ laborer).
This isn't the first time a points system etc. has been floated (only to die the death of a thousand meddling bureaucrats) either.  I guess the mandarins are realizing what a fix Japan is in without NJ labor.  But if this kind of policy is going to happen at all, the almighty MOJ has to be the one proposing it.  Then perhaps the waters will part for Moses.  Let's wait and see.
But this is on balance "good" news.  But not "great" news unless the GOJ also does something to force domestic actors to treat NJ nicely.  Which is doubtful.  Arudou Debito
////////////////////////////////////
法務省、外国人の入国優遇を野放図に拡大
産經新聞 2011.5.25 01:30, Courtesy of KG
http://sankei.jp.msn.com/politics/news/110525/plc11052501310002-n1.htm
法務省が専門的な技術や知識を持つ外国人(高度人材)を対象に、本人・配偶者の親や家事使用人の帯同、配偶者の就労制限を緩和するなどの優遇措置をまとめたことが24日分かった。政府が新成長戦略で掲げた「優秀な海外人材を引き寄せる」との方針に従う措置だが、専門知識のない外国人の入国を野放図に拡大する恐れがあり、与野党で反発が広がる公算が大きい。
表題は「高度人材に対するポイント制による優遇制度の基本的枠組み案」。政府は近く閣議決定か閣議了解の手続きを行い、10月に法務省告示を改正、今年中の施行を目指す方針だ。
枠組み案は、現行の出入国管理法が在留資格を認める人文知識・国際業務、投資・経営、法律・会計業務、医療、研究などの専門分野の人材のうち、学歴、職歴、年収などでポイントを満たした者を「高度人材」と位置付けて優遇。専門分野を越えた活動を許容し、最長在留期間も現在の3年から5年に延長する。
法務省は「有為な人材を招く上で家族やメイドを連れてこられないことがハードルになる」とし、原則的に認められない本人・配偶者の親、家事使用人の帯同、配偶者の就労許可といった優遇措置を検討している。
ただ、厚生労働省は事前調整で、親や家事使用人の帯同に関して「慎重な検討が必要」と難色。民主党からも「法改正を行わず、ドサクサ紛れで単純労働者を受け入れようとしている」(中堅)との批判がある。
高度人材優遇制度の基本的枠組み案の骨子
・対象は学術研究、高度専門・技術、経営・管理の活動を行う外国人
・学歴、年収、研究実績などのポイントを満たした者に入国・在留要件を緩和
・在留期間は最長5年
・親、家事使用人の帯同、配偶者の就労を許可
・平成23年中に導入
ENDS