mytest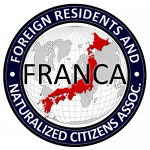 UPDATES ON TWITTER: arudoudebito
DEBITO.ORG PODCASTS now on iTunes, subscribe free
Hi Blog.  Earlier this year I was forwarded a manuscript by a Mr Christopher Dillon, entitled "LANDED: The Guide to Buying Property in Japan".  I liked it so much that I'm recommending it here on Debito.org.  As I say within the inside cover:
"Dillon's book is so good that while reading it, I felt like I was an adult in a toy store:   Envious of the stuff kids have now that I would have loved to have as a kid.  If only I had the information in this book when I was building my house in the 1990s, I wouldn't have ended up with the financial albatross I have now!  LANDED is an essential resource for anyone considering buying the most expensive consumer good in one of the most expensive (and tricky) housing markets in the world.  It's even a good read!"
As per the spirit of Debito.org (which seeks to help and empower people in Japan), and in the spirit of my first Housebuilding in Japan Essays I wrote more than a decade ago, I wholeheartedly recommend this book to anyone looking to settle down for good in Japan.  Here are some cover and table of contents scans, and information about next week's book tour in Tokyo.  Arudou Debito in Sapporo
Word from the author today about his book tour in Tokyo next week:
///////////////////////////////////////////
Hi Debito, I hope you're having a good Golden Week break. I will be in Tokyo next week to speak at the following events, which are open to the public:
May 11 at 12:00 noon — Book launch sponsored by the Canadian and the Australian and New Zealand chambers of commerce.
(http://www.anzccj.jp/eventdetails.php?eventid=471&menuid=4)
May 13 at 7:30 PM — The Tokyo Writers Salon (http://writers.meetup.com/648/calendar/13211566/)
May 14 at 12:00 noon –The Forum for Corporate Communications (http://www.fcctokyo.com/lunch_meeting_20100514)
I hope you can attend.
Kind regards

________________________________
Christopher Dillon
chris@dilloncommunications.com
www.dilloncommunications.com
________________________________

Follow Landed: Japan on facebook
ENDS