mytest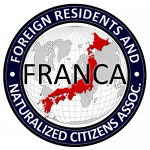 Hi Blog.  Here's an article from the Mainichi courtesy of MS talking about making life easier for NJ through "one-stop centers", noting (in a poorly-translated paragraph) that Newcomer Permanent Residents now outnumber the historical Zainichi Oldcomer Permanent Residents.  And have done since 2007.
Anyway, the article follows.  Believe Immigration's plausibly pleasant intentions if you like, but I'll remain a little skeptical for the moment.  Still mentioned is that hackneyed and ludicrous concern about garbage separation, after all, demonstrating that the GOJ is still dealing in trivialities; it might take a little while before the government sees what true assimilation actually means.  It's not just giving information to NJ.  It's also raising awareness amongst the Japanese public about why NJ are here in the first place.  Arudou Debito in Kumamoto
==========================
Gov't to set up 'One Stop Centers' for foreigners
Mainichi Shinbun March 30, 2009
http://mdn.mainichi.jp/mdnnews/news/20090330p2a00m0na011000c.html

With more and more foreign residents facing employment and immigration problems due to the ongoing recession, the Ministry of Justice is creating new "One Stop Centers" for foreign residents in the Kanto and Tokai regions to handle queries in one place.
Until now, these issues were handled separately by local governments and regional immigration bureaus, but the three centers — to be set up in Tokyo, Saitama and Hamamatsu in Shizuoka Prefecture — will be open for consultations on all matters pertaining to foreign residents in the country, in an attempt to better integrate them into Japanese society.
"The immigration bureau is not just about exposing illegal residents, it's now at a turning point where it can work toward creating a society where Japanese people and foreigners can live in harmony," said an Immigration Bureau official.
The number of native and Japan-born Koreans with special permanent residency, who have lived in Japan since the pre-war period, has been declining. However, the number of Chinese and Filipinos, as well as foreigners of Japanese descent whose employment was liberalized under the 1990 revision to the Law on Immigration Control and Refugee Recognition, has surged. In 2007, the number of these so-called "new comers" exceeded that of special permanent residents for the first time (440,000 vs. 430,000).
As a result, there are fears that the number of children unable to speak Japanese, and of foreigners unable to fit into society, is also on the rise.
The centers will be staffed by local government and former immigration bureau employees, and will cover everything from residency procedures to how to correctly separate garbage.
The Hamamatsu center will open in April.
==================================
定住外国人:一括支援、浜松などに「よろず相談所」--法務省
http://mainichi.jp/select/wadai/news/20090329ddm001010111000c.html

 法務省は日本に定住する外国人の相談を広く受け付ける「ワンストップセンター」を、定住者が多い浜松市など関東・東海地方の3カ所に設置する方針を決めた。従来は自治体と入国管理局が相談内容ごとに相談を受け付けていたが、一括して「よろず窓口」として対応する。景気低迷で外国人の失業が相次いでおり、定住外国人との共生社会づくりに向け支援体制を整える。
 日本の定住外国人は、戦前から住む在日韓国・朝鮮人ら特別永住者が減少傾向にある一方、90年の入管法改正で就労が自由化された日系人や中国人、フィリピン人ら「ニューカマー」と呼ばれる永住者が急増した。07年のニューカマーの永住者は約44万人で、特別永住者(約43万人)を初めて上回った。
 このため、日本語が苦手な子供や風土になじめない外国人の増加が懸念されている。「1回で用事が済む」という意味のワンストップセンターは、入国管理局職員OBや自治体職員らが常駐し、在留手続きに関する問い合わせからゴミ出しや日本人との接し方まで幅広く相談に乗る。設置場所は浜松市のほか、さいたま市と東京23区内の計3カ所が選定された。浜松市については、4月に開設する。
 失業した外国人の場合、元の在留資格が認められない場合もあり、再就職の相談と同時に法的な相談の必要も生まれる。これまでは、別々の窓口を訪れなければならなかった。医師や弁護士、労働相談員なども必要に応じて助言する。
 入国管理局の担当者は「入管は不正の摘発だけでなく、外国人と共生できる社会づくりへの転換期にいる」と話す。【石川淳一】
ends