mytest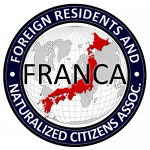 Hi Blog. Read this and then I'll comment:
=============================
Police to take measures for safety in foreign communities in Japan
Japan Today/Kyodo Thursday 5th March, 2009.  Courtesy of Ben
http://www.japantoday.com/category/crime/view/police-to-take-measures-for-safety-in-foreign-communities-in-japan
TOKYO —The National Police Agency on Thursday ordered prefectural police forces across Japan to implement crime prevention measures to ensure safety in areas where many foreigners reside. The police will sponsor seminars on crime prevention and road traffic safety in foreign communities based on comprehensive basic guidelines compiled for the safety of such communities, the NPA said.
The police will also join hands with local government organizations, business corporations and citizen groups in implementing crime prevention measures, the NPA said, adding that they will monitor employment conditions in foreign communities as factors that may induce crime. The guidelines are based on an action program the government's anticrime council worked out last December to help build a crime-free society and make Japan the world's safest country again.
The latest measures are designed to enable foreigners in Japan to live a better life, as well as to prevent organized crime groups and terrorists from sneaking into certain foreign communities to plot crimes, an NPA official said.
ENDS
========================
COMMENT:  Oh yes, safety.  Like instituting IC Chips in Gaijin Cards because it will "make things more convenient" for NJ.  It's for our own good.  We've heard that one before.  And we didn't buy it then.
As for the "action program worked out last December" in the article above, this is not phrased well, because these things have been worked out before, repeatedly.   The first anti-crime action plans this decade happened 2000-2001 before the World Cup 2002 with all manner of "anti-hooligan" measures.  Then came the "anti-NJ and youth crime" programs under Koizumi 2003-2004.  Then came the anti-terrorism plans of 2004 which resulted in passport checks (for all NJ, erroneously claimed the police) at hotels from 2005.  Not to mention the al-Qaeda scares of 2004, snapping up innocent people of Islamic appearance.  Then the border fingerprinting from 2007.  Then the overpolicing during the Toyako G8 Summit of 2008.  Now what?  The "anti-NJ-organized crime" putsch in the NPA's most recent crime report (see Debito.org entry of last week), with little reference to the Yakuza organized crime syndicates in Japan.  
And that's before we even get to the biannual reports from the NPA saying "foreign crime is rising" (even when it isn't).  Never lets up, does it.
And this is, again, for our safety?  Traffic safety?  Helping us lead a better life?  Save us from ourselves?
How about giving us jobs (which according to Ekonomisuto March 10, 2009, some local governments are doing on a temporary basis; more on that next week), not more community targeting and policing "for our own good"?
Same old song and dance.  Bureaucrats are remarkably uncreative when it comes to policy justifications.  And the media remarkably dimwitted in not seeing through them.  Arudou Debito in Sapporo