mytest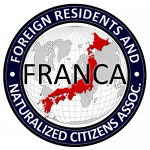 UPDATES ON TWITTER: arudoudebito
DEBITO.ORG PODCASTS on iTunes, subscribe free

ARE NATURALIZED CITIZENS STILL "FOREIGNERS"? (tentative title)
JAPAN TIMES "JUST BE CAUSE" COLUMN 36, to be published February 1, 2011
DRAFT THIRTEEN, SUBMITTED TO EDITOR
In Dec. 28's Japan Times, Charles Lewis wrote a respectful Zeit Gist column asking three fellow wise men (sumo wrestler Konishiki, musicologist Peter Barakan and Diet member Marutei Tsurunen) about their successful lives as "foreigners" in Japan. Despite their combined century of experience here, the article pointed out how they are still addressed at times like outsiders fresh off the boat.
Their coping strategy? Essentially, accept that you are a foreigner in Japan and work with it.
That is fine advice for some. But not for us all. I talked to three other wise men, with Japanese citizenship and a combined tenure of more than 50 years here, who offered a significantly different take…
Read the rest tomorrow in The Japan Times!
UPDATE:  Here it is:  http://search.japantimes.co.jp/cgi-bin/fl20110201ad.html