mytest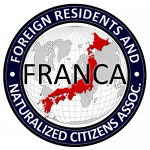 UPDATES ON TWITTER: arudoudebito
DEBITO.ORG PODCASTS now on iTunes, subscribe free
Hi Blog.  Here is the latest permutation of the "Japanese Only" signs nationwide.  Instead of saying they refuse all foreigners, QB House, an international bargain barbershop chain since 1995, has a sign up in one of their Tokyo outlets saying they may refuse anyone who doesn't speak sufficient Japanese.  While some may see this as an improvement (i.e. it's not a blanket refusal of NJ), I just see it as another excuse to differentiate between customers by claiming a language barrier (which has been the SOP at exclusionary businesses in Japan for years now).  Who's to judge whether or not someone is "able to communicate" sufficiently?  Some panicky manager?  I've seen it in practice (in places like Wakkanai), where a barber sees any white face, assumes he cannot communicate, and reflexively arms the X-sign at you.  This time, however, QB House has managed to make an exclusionary sign in perfect English in one of the more international areas of Tokyo.  How about catering to the customers instead of finding ways of snippily enforcing a "culture of no"?  Photo of the sign and note from submitter follows:
/////////////////////////////////////////////////////
January 6, 2011
Dear Debito, Happy New Year!  I'm sending you a picture taken yesterday of a new CAVEAT that the put on QBHOUSE of Tameike Sannou (http://www.qbhouse.co.jp/shop/detail.html?salon=detail&id=84)
It's pretty self-explanatory.
It wasn't there a couple of months ago. The non-Japanese population density is rather high in this area, especially north-American and European, I guess they had some understanding issues.
It's not the way of doing things anyway, especially with their outspoken passion for 国際化 and theit willingness to open further the country to tourism.
Best regards, Alberto Estevez, Tokyo
ENDS
//////////////////////////////////////////
UPDATE JANUARY 14, 2011:
According to Japan Probe et.al, the above QC sign has been replaced with this, as of January 13: