mytest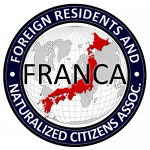 UPDATES ON TWITTER: arudoudebito
DEBITO.ORG PODCASTS on iTunes, subscribe free
Hi Blog.  Busy day today speaking today and tomorrow at the University of British Columbia, so no commentary.  Important news.  Arudou Debito in Vancouver
September 29 2010
Paul Toland writes:

I know coincidences happen, but the coincidence of timing of today's date seems almost too significant to be simple coincidence. It was one year ago today, on September 29, 2009, that major networks throughout the United States picked up on the story of a Tennessee man (Chris Savoie) who had been arrested in Japan for trying to recover his children. On that date, a number of parents appeared on major news programs throughout the US to discuss Christopher's case.
As important as that day was for bringing the child abduction issue into the national spotlight, today was even more significant. In fact, from beginning to end, today was perhaps the most significant day ever for advancing the issue of returning abducted children from Japan. Here is how the day unfolded:
The day started with a press conference at the House Triangle at 11:00 AM. Present were CNN, the Associated Press, Kyodo News Service and others. Congressman Moran began with a passionate speech condemning Japan for Child Abduction. He then introduced parents. First up was Chris Savoie, followed by Paul Toland. At that point, Congressman Chris Smith showed up and as always, he was able to speak eloquently of the abduction issue without the assistance of any notes. Congressman Smith is so vested in our issue that he can simply speak from the heart when speaking of our issue. Next up was Nancy Elias, followed by Doug Berg, William Lake and Patrick Braden. All of the parents spoke eloquently, and the common factor among all of us was the love for our children. Each of us had something different to add. From Chris' discussion of how the Resolution has already been used to prevent abductions, to Doug's discussion of his bedtime talks with his kids that are now only memories, to Nancy's tears that brought the rest of us to tears, it was a great opportunity to get our stories out to the world.
After having a quick lunch, we headed over to the House Floor to watch the vote, but Congressman Smith's staffer sent us an email informing us of a 2 PM Foreign Affairs Hearing at which Assistant Secretary Campbell would be testifying and that Congressman Smith would then be asking questions at the hearing about Japan Child Abduction. We immediately left the House and headed over to the Rayburn Building for the Hearing. Upon entering the hearing room, Assistant Secretary Campbell saw the lineup of Bring Abducted Children Home (BAC Home) members in the second row and immediately came back and spoke to us, holding up the hearing for a few minutes. He told us about some recent White House involvement in our issue. Congressman Smith once again gave an amazing opening speech about child abduction in Japan (there was a large Japanese press contingent). Assistant Secretary Campbell then opened his speech with an extended discussion of Japan Child Abduction. Later in the question and answer session, Congressman Smith asked some pointed and direct questions about whether or not President Obama discussed the abduction with Prime Minister Kan at the recent UN General Assembly in New York. Assistant Secretary Campbell was somewhat evasive in his answer, stating that Secretary Clinton addressed the issue, but not discussing whether President Obama addressed the issue.
Immediately after the Q&A, Congressman Smith had to depart for the floor vote on H.Res 1326, so we accompanied him to Congress and sat in the "Member's guests" section of the House Gallery to watch the vote. As we walked into the gallery, the entire Congress was cheering and looking up at the gallery to exactly where we were. As we looked around we realized that we were surrounded by New York City Firefighters and Police Officers. Congress had just passed the 911 First Responder's Bill to pay for the variety of heath conditions incurred by the brave firefighters and police who were the first to respond on 9/11/2001. It was an honor to be in their presence.
Soon after, the vote came on H. Res 1326. 416-1, with only Ron Paul of Texas voting against it. Randy Collins has already been in touch with Ron Paul's opponent in this November's election and they are VERY interested in Ron Paul's vote in favor of the abduction of US Citizen children to Japan. Additionally, there were some Congressmen who voted for both the bill preceeding and the bill immediately after H.Res 1326, leading me to believe that those Congressmen "abstained" from voting on H.Res 1326 due to some possible Japanese influence.
From there we went back to the House offices to thank both Congressman Smith and Congressman Moran's offices. While we were in Congressman Moran's office, he walked in and a big cheer went up. He presented BAC Home members with the poster he used at the Press Conference earlier in the day, and signed the poster for us, writing "your children would be very proud of you" on the poster. We concluded the day with a visit to Ron Paul's office, but, as we figured, they would not see us, so we left a BAC Home book with them.
Overall, it was a whirlwind day, and without a doubt our biggest day yet. However, as we have said again and again, today was only the "first step" and we still have a way to go before we are reunited with our children. As mentioned in my speech today, there is an old Irish Proverb that states "Hope is the physician of each misery." While hope alone can never fully heal us, hope is the physician that provides us with the daily medicine we need to remain standing, with our heads held high, and carry on to fight another day for our children. Today, Congressman Jim Moran, Congressman Chris Smith and their colleagues in the House of Representatives have provided us with hope. Hope that Japan can change its' ways and join the family of nations that understands that children require love from both parents to grow up healthy in body and mind. Hope that President Obama and Secretary Clinton will address this problem forcefully and demonstrate to the world that they truly care about the security and well-being of abducted American children. Hope that someday soon we may again be able to share the love of our children. Hope that Erika Toland may someday meet the grandparents, aunts, uncles and cousins who are waiting for her with open arms, and hope that Erika and I are reunited once again, so she may know and feel the love I so wish to give to her. Thank you all. Sincerely, Paul
www.bachome.org
ENDS
MEDIA:
U.S. lawmakers pressure Japan on child custody rights
Thursday 30th September 2010, 05:47 AM JST
http://www.japantoday.com/category/politics/view/us-lawmakers-push-japan-on-child-custody-rights
WASHINGTON —
The U.S. House of Representatives turned up the pressure Wednesday on Japan, strongly urging Tokyo to return immediately half-Japanese children that lawmakers say have been kidnapped from their American parents.
The House voted overwhelmingly for a nonbinding resolution that "condemns the abduction and retention" of children held in Japan "in violation of their human rights and United States and international law."
The resolution, which passed 416 to 1, also calls for Japan to allow Americans to visit their children and for Tokyo to join a 1980 international convention on child abduction that would allow for the quick return of the children to America.
Democratic Rep Jim Moran told reporters that the resolution sends a strong signal to Japan that the U.S. Congress "is watching and expecting action."
Republican Rep. Chris Smith said, "Americans are fed up with our friend and ally Japan and their pattern of noncooperation."
The Japanese Embassy said in a statement that Japan is sympathetic to the plight of children caught in custody battles between Japanese and American citizens and "is continuing to make sincere efforts to deal with this issue from the standpoint that the welfare of the child should be of the utmost importance."
The United States often calls Japan its lynchpin ally in Asia, and tens of thousands of U.S. troops are stationed in Japan. But Japan's stance on custody rights has been a source of friction. U.S. lawmakers say that at least 121 American children currently are being held in Japan.
Japanese law allows only one parent to have custody in cases of divorce, usually the mother. Activists say the court system in Japan is tilted against fathers and foreigners.
Assistant Secretary of State Kurt Campbell, the top U.S. diplomat for East Asia, told lawmakers at a hearing Wednesday that the issue is a priority, with Secretary of State Hillary Rodham Clinton raising it in meetings with her Japanese counterpart.
Campbell said that he would also raise the matter when he travels to Tokyo next week and that Japan should act urgently.
"We're going to need to see some progress on this," Campbell said.
Christopher Savoie, a father who was arrested last year after going to Japan in a failed attempt to reclaim his two children, joined lawmakers and other fathers at a news conference before the House vote. Japan, Savoie said, should be ashamed for keeping parents from seeing their children.
However, the problem is not only restricted to abductions by Japanese citizens, according to William Lake, whose daughter was taken without his knowledge by his ex-wife, who is not Japanese, to Osaka.
In several cases like Lake's, non-Japanese parents have fled to Japan with their children so as to take advantage of permissive child custody laws that have led some to describe Japan as a ''black hole'' for abducted children, a fact that illustrates the depth and seriousness of the problems with the current system.
''Neither I, my ex-wife, or my daughter are Japanese in any way shape or form,'' Lake noted, adding ''The Japanese government should have no say in this issue whatsoever, other than to choose what airline they're going to send the children home on.'
Wire reports
ENDS