mytest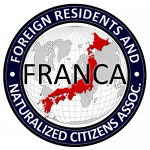 UPDATES ON TWITTER: arudoudebito
DEBITO.ORG PODCASTS on iTunes, subscribe free
Hi Blog. We've recently had a decent discussion come up in my previous blog entry, and it's good enough to warrant its own entry.
The topic was Oguri Saori's "Daarin Wa Gaikokujin" (My Darling is a Foreigner), a best-selling series of manga depicting the life of a quirky bilingual foreigner by the name of "Tony" who marries a Japanese woman. The manga chronicles the different personalities of the husband and wife as they deal with issues in Japan, create a life and a family together, travel from one place to another, and generally try to get inside "Tony's mind". There are several books under Oguri's authorship (at least one with real-life husband Tony Laszlo's co-billing — his "Guide to Happiness"), and even a movie earlier this year, not to mention an English translation, subway and train PSAs, and an ANA advertising deal. It's a very influential economic juggernaut that has spawned imitators (there are other "Darling"-types of books connected with different nationalities), and now with "DWG with baby" on board the epic is anticipated to continue for some years to come.
The question for Debito.org Readers: Is the DWG manga series really working in NJs best interests? As in, as far as Debito.org is concerned, helping NJ to assimilate, be treated as equals and moreover residents of Japan?
I came out in my last blog entry and said I wasn't sure it is. Let me give my standpoint and open the floor up for discussion:
First a disclaimer: I knew Oguri Saori personally, stayed with Laszlo and Saori for many days during trips to Tokyo, and even helped Saori with some grunt work (as in erasing pencil lines) in earlier non-DWG works. We were quite close. I have immense respect for her as an illustrator (as I too like to draw) and a storyteller. I think she has earned every bit of her success after developing her talent and investing years of hard work in her craft. Bully for her. May she earn millions more.
But the problem I have had with the DWG series (and I've come to this conclusion after many years of watching how DWG appeals to people) is that it is selling "foreigner" as "exotic" and "different" all over again. A friend of mine concurs, seeing the appeal of DWG as "making foreigners into things, even accessories, for collection and display". I won't go quite that far. But watching what kind of audience the DWG media machine generally seeks to appeal to (young to middle-aged women who might want to date a foreigner — or are dating/married to a foreigner), I see that they are being encouraged to view DWG as a guide to "foreigners' minds". This might be an overstatement, but the title itself ("Gaikokujin") already sets Tony-chan apart as something perpetually different, moreover something to be studied (and there is enough bad social science in Japan treating NJ as cultural representatives, worthy of petri-dish examination). Regardless of how Saori originally intended, the marketing of these books plays right into this. Tony-chan is cute, sure. Eccentric and interesting, sure. Representative of anything? No.
Imagine if we were to publish a book, "My Darling is a Japanese", and we had this quirky Japanese man who spoke geeky English and studied all sorts of [insert country here] cultural norms and had all sorts of eccentric tics? Then imagine a publisher pushing it as having insight into how Japanese men (or for that matter, any kind of Asian man) behave within this cultural context? We'd have people buying it if it were funny, sure. But I bet there would be a little more care against pushing it as something representative of anything. Even Borat, for example, was sold as performance art, not fodder for the study of Kazakhstan or foreigners in general.
In sum, I initially liked the idea of DWG as an eye-opener and a softener. But subsequent mutations of the phenomenon have turned it into simply more of the same: Quirky foreigner comes here and still is seen as quirky because he is foreign. Not because he is a quirky person. And people lap it up because they think it offers insights. Doubt that? Read this.
I don't see it furthering the cause of helping NJ assimilate and being treated as equals and residents, not foreigners. DWG has been a wasted opportunity.
Now let's open up the floor to discussion. I ask respondents to please try to leave Laszlo's and my personal relationship out of this (because it's irrelevant, and the DWG books are not Laszlo's anyway). Please critique the DWG phenomenon on its own merits. I seriously look forward to seeing what people (especially fans) say. Arudou Debito in Radium Hot Springs, BC