mytest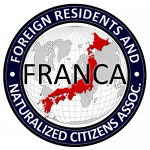 UPDATES ON TWITTER: arudoudebito
DEBITO.ORG PODCASTS now on iTunes, subscribe free
Hi Blog. Coming out tomorrow, June 1, in print and online (print version will appear Wednesday June 2 in the provinces), my column will be on the Okinawa Futenma Issue. I think my opinion on what PM Hatoyama should do about the American military bases here will surprise some of you; my editor anticipates quite a bit of debate generated. So get yourself a copy at newsstands tomorrow, or view at www.japantimes.co.jp as you prefer.
I'll let this announcement be today's blog entry. Yesterday's (on the Top Ten artists who would not have been successful the American Idol format) was fat enough to count as a double entry.  Been cycling in the gorgeous weather, a bit tired, think I'll chuck it in early tonight.  Getting old, I guess.  Arudou Debito in Sapporo
UPDATE:  Here's the article.  I'll have it up tomorrow for comment.
http://search.japantimes.co.jp/cgi-bin/fl20100601ad.html