mytest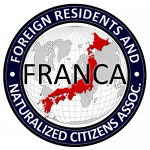 UPDATES ON TWITTER: arudoudebito
DEBITO.ORG PODCASTS now on iTunes, subscribe free

DEBITO.ORG PODCAST MAY 1, 2010
[display_podcast]
Table of Contents:
1) "2Channel:  The Bullies' Forum" (Japan Times Just Be Cause Column February 3, 2009), on how the thriving culture of bullying in Japan has gone online and spoiled things for the rest of us.
2) Column by Gregory Clark, "Antiforeigner Discrimination is a Right for Japanese People" (Japan Times January 15, 2009), an apologist's view on how Japanese are taken advantage of both ways — both by rapacious foreigners and by bullying anti-discrimination activists.  One of the worst examples of social science I've seen in print in the Japan Times.
3) "On Toadies, Vultures, and Zombie Debates" (Japan Times Just Be Cause Column March 3, 2009), inspired in part by Clark's column above, I explore the subterfuge of the disenfranchised seeking benefits of membership in The Nativist Club by telling enfranchised Japanese what they want to hear.
21 minutes.  Excerpts from Duran Duran open and close, with rests by Tangerine Dream (White Eagle).  Enjoy.  Arudou Debito in Sapporo