mytest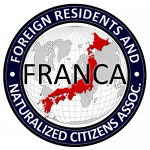 UPDATES ON TWITTER: arudoudebito
DEBITO.ORG PODCASTS now on iTunes, subscribe free
Hi Blog.  Bringing this old article up as a matter of record:  I mentioned on Debito.org back in early 2008 about a Swiss woman who came to Japan as a tourist and was arrested on drug charges.  She got acquitted not once but twice in Japanese courts, yet was not released on bail because NJ and are considered more of a flight risk.  While actual convicted felons are released in the interim if they are Japanese.
Again, foreigners aren't allowed bail in Japan. Unlike Japanese: When Japanese defendants appeal guilty verdicts, they are not detained (see Horie Takafumi and Suzuki Muneo; the latter, now convicted of corruption twice over, is still on the streets, even re-elected to the Diet!).
So despite being incarcerated as an innocent NJ since 2008, she finally gets booted out for "overstaying her visa" (oh, sure, she could have gone to Immigration any time and renewed, right?) and barred from reentry.  Rights of the defendant and "Hostage Justice" depending on your nationality.  What a swizz.  Arudou Debito in Sapporo
/////////////////////////////////////////////////////
Held despite acquittal, now barred from re-entry, woman slams legal system
The Japan Times, Friday, Oct. 10, 2008, courtesy of MMT (excerpt)
http://search.japantimes.co.jp/cgi-bin/nn20081010a3.html
CHIBA (Kyodo) A Swiss woman who was detained by Japanese authorities for seven months after being acquitted of a drug charge expressed anger over the Japanese legal system in a recent written message to Kyodo News.
"I was put under continuous detention because of shortfalls in Japanese law and alien policies," wrote Klaudia Zaberl. "I have been filled with despair and anger."
Upon arriving in Japan from Malaysia as a tourist in October 2006, Zaberl, 29, was arrested for allegedly smuggling about 2.2 kg of amphetamines hidden in a suitcase into Narita airport.
She denied the allegation, saying she was not aware the suitcase she had been handed by a stranger in return for money contained the drugs, but was later indicted.
The Chiba District Court cleared Zaberl of the charge in August 2007, saying there was reasonable doubt she was aware of the drugs.
However, following the ruling she was transferred to an immigration facility instead of being freed, as her visa had expired during her detention.
Prosecutors soon appealed the ruling and obtained court permission to detain her again to block her deportation.
In April, the Tokyo High Court ruled that she was not guilty of the charges, leading prosecutors to drop the case. She returned to Switzerland later in April.
Rest of the article at: http://search.japantimes.co.jp/cgi-bin/nn20081010a3.html