mytest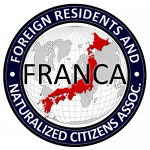 UPDATES ON TWITTER: arudoudebito
DEBITO.ORG PODCASTS now on iTunes, subscribe free
Hi Blog.   In mid-March we had a storm in a teacup about DPJ policy re child allowances:  If NJ also qualified for child support, politicians argued, some hypothetical Arab prince in Japan would claim all 50 of his kids back in Saudi Arabia.  Well, thanks to that storm, we have the Health Ministry creating policy within weeks to prevent NJ from potentially sponging off the system.  As submitter JK notes, "What follows is article on why 厚生労働省 feels the need to clamp down on those untrustworthy foreigners; never mind about the lack of data."
Gov't gets tough on allowances for foreigners who claim to have children in home countries
http://mdn.mainichi.jp/mdnnews/news/20100407p2a00m0na008000c.html
子ども手当:外国人支給、厳格に 子との年2回面会要件
http://mainichi.jp/life/edu/child/archive/news/2010/04/20100407ddm002010042000c.html
Well, that's proactive policymaking in Japan.  In the same way that anti-terrorism policy that targets foreigners only was proactive (although it took a few years to draft and enact).  Here, the bureaucrats could just do it with a few penstrokes and call it a "clarification", without having to go through the pesky political process.
But the assumption is, once again, that a) foreigners are untrustworthy and need extra background checks, and b) any policy that might do something nice for the Japanese public needs to be carefully considered by viewing it through the "foreigner prism", for who knows what those people might do to take advantage of our rich system?  "What-if" panicky hypotheticals without any data win the debate and govern policymaking towards NJ again.
Arudou Debito in Sapporo
/////////////////////////////////////////
Gov't gets tough on allowances for foreigners who claim to have children in home countries
(Mainichi Japan) April 7, 2010
The Health, Labor and Welfare Ministry has tightened conditions for paying child-care allowances to foreigners who reside in Japan and claim to have children in their home countries, ministry officials said.
The move is aimed at preventing foreign residents from illicitly receiving expensive allowances by falsely adopting children in their home countries or using other tricks to deceive Japanese authorities. The ministry has notified local governments across the country of its decision.
Before providing child-care allowances, local governments are required by the ministry to confirm that such recipients meet their children in their home countries at least twice a year by checking their passports, and make sure that they send money to their children at least once every four months.
The ministry took the measure out of fear that a large number of foreigners would falsely adopt children in their home countries for the sole purpose of illegally receiving child-care allowances in Japan.
The number of foreign residents' children who receive child allowances while living in their home countries remains unclear, according to the ministry.
Some local governments have expressed concern that the measure would increase their workload.
Original Japanese story
子ども手当:外国人支給、厳格に 子との年2回面会要件
毎日新聞 2010年4月7日 東京朝刊
厚生労働省は、国内に住み母国に子供がいる外国人に対する子ども手当の支給要件を厳格化する通知を各自治体に出した。年2回以上面会していることをパスポートで確認することなどが柱。児童手当は比較的緩やかな条件下で支給されてきたが、高額の子ども手当で不正受給を防ぐことを狙った。
児童手当は、子を養育する権限があり、生計を維持する保護者に支給。母国に子がいる外国人については、出生証明書と送金証明書があり、面会などしていれば支給してきた。だが面会の立証は困難で、手紙の提示だけでよかったり、証明を求めない自治体もあった。証明書の偽造も可能と指摘されており、不正受給目的の養子縁組の横行などが危惧(きぐ)されていた。
このため厚労省は、少なくとも年2回以上の面会をパスポートで確認▽約4カ月に1回以上の送金を銀行の送金通知などで確認--などを支給要件と定め通知した。
厚労省によると、母国で児童手当を受給する子どもの数は把握されていない。年度末に子ども手当の駆け込み申請があった自治体もあり、今回の通知に対し、自治体側からは「事務負担がどのくらい増えるか未知数」と懸念する声も上がっている。【野倉恵】
ENDS