mytest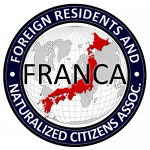 UPDATES ON TWITTER: arudoudebito
DEBITO.ORG PODCASTS now on iTunes, subscribe free
PRESS CONFERENCE
[Mr Suraj's widow], Koichi Kodama and Mayumi Yoshida
Another illegal immigrant in Japan, another death:
The fatal journey of Mr. Suraj
10:00-11:00 Tuesday, April 20, 2010
(The speech and Q & A will be in Japanese with English interpretation)
On March 22, Mr. Abubakar Awudu Suraj, an illegal immigrant who was in the process of being deported to his native country of Ghana, died in Narita.
The circumstances surrounding Mr. Suraj's death are unknown. What is clear is that the immigration officers used a towel and handcuff to restrain Mr. Suraj as he was boarding an Egypt Air flight. In February, a first attempt to send Mr. Suraj back to Ghana had failed. Since then, he had been subject to confinement. Married since 2006 to [a Japanese national], he had spent the equivalent of 2 years in detention for no other crime than staying illegally.
The death of Mr. Suraj follows the suicide by hanging of a South Korean man a week ago in the Ibaraki detention center. And the self-hanging of a young Brazilian man in Ibaraki again. And a hunger strike by 70 detainees at the Osaka detention center in March.
The appalling conditions Japan is placing illegal immigrants in have been regularly denounced. Immigration authorities in particular, which lack judicial oversight, have the ability to indefinitely detain people, breakup families by deporting one of their members, and so on. More tragedies are to come.
10 days ago, Jorge Bustamante, U.N. special rapporteur on the rights of immigrants, concluded a Japan visit at the end of which he was very critical of Japan.
Come and hear from [the] wife of the late Mr. Suraj, Koichi Kodama, Lawyer and Mayumi Yoshida, Deputy Representative of Asian People's Friendship Society.
Please reserve in advance, 3211-3161 or
http://www.fccj.or.jp/node/5565
(still & TV cameras inclusive). Reservations and cancellations are not complete without confirmation.
Professional Activities Committee
記者会見
児玉 晃一、吉田 真由美
4月20日(火)10:00
(スピーチ日本語: 逐次通訳付)
ENDS