mytest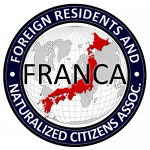 UPDATES ON TWITTER: arudoudebito
DEBITO.ORG PODCASTS now on iTunes, subscribe free
Hi Blog. Addendum to yesterday's post on the Ibaraki Gaijin Tank Hunger Strikers and the upcoming meetings with the government. The Japan Times has put out another article, which I will excerpt from. It also hints at the timing of it, wondering whether it's due to Special Rapporteur Bustamante (to whom I will be talking tomorrow, wish me luck) visiting Japan. Which means, once he leaves, things go back to the ignored normal? Fortunately, according to the article below, we have some traction within the ruling party on this issue as well, so let's hope in the end we see progress. Although, as noted before, Japan's police forces have quite extreme (and unaccountable) powers, especially as regards treatment of NJ, so unless some legal changes are made to this largely extralegal system itself, the amount of oversight necessary in an already abusive system is pretty demanding. Arudou Debito in Sendai
//////////////////////////////////////////////////////
The Japan Times Monday, March 22, 2010
Immigration detainees end hunger strike
Osaka center staff to meet inmates (excerpt)
By ERIC JOHNSTON Staff writer
http://search.japantimes.co.jp/cgi-bin/nn20100322a1.html
[scroll down]  Justice Minister Keiko Chiba said at the meeting that 71 detainees were refusing to eat and that the reasons for the hunger strike were being investigated. He also said the issue of temporary release had to treated carefully.
"We have to thoroughly discuss the issue of temporary release for long-term detainees, and the reasons for deciding whether to grant such release," Chiba said.
The hunger strike was brought up by Azuma Konno of the ruling Democratic Party of Japan, who noted that the West Japan facility had been the site of temporary release and other troubling disputes in the past.
On Jan. 1, 2008, an Indian detainee was found dead in the center after allegedly committing suicide, while between 2000 and 2004, a Kyodo News investigation found that 23 detainees had attempted suicide.
"Unless there is a strong policy for dealing with the issue of temporary release applications, (hunger strikes) could be repeated," Konno said.
In addition, the timing of a United Nations visit may have prodded the center into agreeing to the Tuesday meeting.
Jorge Bustamante, the U.N.'s special rapporteur on the human rights of migrants, will meet in Tokyo on Wednesday with former detainees who waged hunger strikes.
Full article at http://search.japantimes.co.jp/cgi-bin/nn20100322a1.html