mytest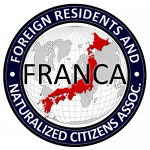 UPDATES ON TWITTER: arudoudebito
DEBITO.ORG PODCASTS now on iTunes, subscribe free
Hi Blog.  My FRANCA speech yesterday for JIPI went very well, with me reading my slides in Japanese probably the most comfortably ever (I felt I was really "in the zone").  This blog entry is to make my powerpoint presentation public for download:
https://www.debito.org/JIPI032910.ppt
About 120 slides in Japanese (not all are visible, I hid about a third), making the case that Japan needs immigration, and presenting things in terms of "give and take" — what the GOJ must offer immigrants to make them come and stay, and what immigrants must do to make themselves assimilatable and contributing to this society.
Photos from the event:
Mr Sakanaka tells a joke about Debito.  Can't remember what.
One of many, many slides, presenting irrefutable arguments…
Not a full house, but plenty of very attentive, earnest people.
I'll also be at JIPI most of the time every day until Saturday.  If you'd like to have a chat with Mr Sakanaka with an introduction from me, do be in touch (debito@debito.org) and drop by.
Arudou Debito in Tokyo