mytest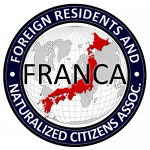 UPDATES ON TWITTER: arudoudebito
DEBITO.ORG PODCASTS now on iTunes, subscribe free
Hi Blog.  As a holiday post (enjoy your first shard of Golden Week, everyone), here's an excerpt of one person's essay in the JT calling for change in Japan's approach to the world.  Much of what is said there has been said here.  Enjoy.  Arudou Debito in Sapporo.
////////////////////////////////////
For Japan to thrive, the wall must come down
By ROBERT DUJARRIC, Director, Institute of Contemporary Asian Studies at Temple University, Japan Campus
Special to The Japan Times, Wednesday, April 14, 2010, Courtesy of Kevin
http://search.japantimes.co.jp/rss/eo20100414a2.html
More than 20 years have passed since the Berlin Wall fell, yet Japan remains shut out from the rest of humanity by its own wall. Though it is a shapeless partition that we cannot touch, it nevertheless cuts off the country from the world beyond its shores. What are the characteristics of this invisible barrier?
It serves as much to prevent inbound flows as outward ones. Japan is the only major developed nation where almost none of the men and women of influence — in the realm of ideas, business or government — are from foreign backgrounds. Tokyo, as opposed to other global metropolises, has no cosmopolitan flavor. There is a striking paucity of Japanese people teaching in foreign universities, writing about the humanities and social sciences or contemporary politics in scholarly journals or mass-circulation magazines and Web sites, and working in multinational corporations, international organizations and nongovernmental organizations.
This intangible forcefield harms Japan much more than is generally realized. It condemns Japanese universities, especially in the humanities and social sciences, to international irrelevance. This is not to say that Japan lacks great researchers — it has plenty of them. But they operate in an environment with few foreign colleagues and students (except for a few Asian countries), are under-represented in international conferences, and rarely publish in global journals. Thus, their ideas remain locked within the boundaries of the wall.
Rest of the article at
http://search.japantimes.co.jp/rss/eo20100414a2.html
ENDS