mytest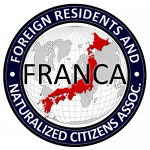 UPDATES ON TWITTER: arudoudebito
DEBITO.ORG PODCASTS now on iTunes, subscribe free
Hi Blog.  I've reported on nationwide bargain business hotel chain Toyoko Inn before, regarding their lousy treatment of me at check-in back in 2007 (when they decided to gaijinize me, and quite nastily too; my letter of complaint to HQ went unanswered), and for refusing reservations for other NJ if they don't produce Gaijin Cards (something they are not entitled to do under laws governing Immigration or hotels).  Not to mention their lousy treatment of handicapped guests (embezzling GOJ subsidies earmarked for barrier-free facilities).  It's a place I'll never stay at again.
Now for an update.  Over the past couple of days, a Debito.org Reader who calls himself The Shark has been sending us good reports on Toyoko Inn as comments that deserve a blog entry of their own.  We aim to please.  Other people with experiences (Doug also commented, and I'll repost that too) at Toyoko, feel free.
Arudou Debito in Sapporo, whose life is probably officially half over as of today (age 45).
///////////////////////////////////////////////
SHARK'S REPORT BEGINS (collated), received January 11 and 12, 2010:
Summary about Toyoko-Inn hotels:
(1) They will refuse foreigners if the foreigner does not show some kind of ID.
I had exactly the same experience with this hotel chain. In my case my wife went first and explained the situation to me by phone. I had her convey that I refuse to stay at the hotel on the grounds of discrimination. The hotel then said to my wife that it's not compulsory and seeing as I would be with my wife they would let it pass. Needless to say I wont be going to that chain again. The experience puts me off traveling in Japan.
The TOYOKO INN hotel chain (東横イン) state the following in their "Terms & Conditions for Accomodation Contract" which can be found in any of their rooms:
"Registration
…
The Guest shall register the following particulars at the front desk of the Hotel …
… (2) Except Japanese, nationnality, passport number, port and date of entry in Japan; (The copy of the passport is necessary) …"
or in Japanese:
"…(2) 外国人にあっては、国籍、旅券番号、入国地及び入国年月日。(確認の為、パスポートのコピーをとらせていただきます)。"
My (Japanese) wife checked in so we had no problems. But by chance I noticed these conditions inside the room and talked to the front staff about them (in Japanese!). Here are parts of our conversation:
Me: According to Japanese law you don't need this information from foreigners living in Japan. Do you know that?
Staff: We know it's not required by law. It's just our policy.
Me: If I came alone (without my wife) and I didn't show you my passport would you refuse me?
Staff: Yes, we would.
Me: But according to the Hotel Management Law coming without a passport is not a reason for refual.
Staff: We know that. It's not the law. It's just our rule.
Me: So your rule is above the law, right?
Staff: Right.
Me: How about foreigners living in Japan and travelling domoestically without a passport?
Staff: Oh, they can show their driver's licence or some other ID.
Me: Why?
Staff: We need to confirm that their address is correct.
Me: Does that mean, you belive that Japanese guests dont need to show an ID because they would never lie about their address? But non-Japanese guests need to show an ID because they are more likely to lie about their address?
Staff: That's the rule at our hotels. But please don't think it's discrimination.
==> NB: She started using the word discrimination (差別) during our conversation. Because I delibarately decided not to use it!
Me: If I told you I were Japanese would you believe me?
Staff: Yes, we would.
Me: So how you know someone is Japanese?
Staff: If someone can speak Japanese , then he or she could be Japanese.
Me: So your decision about someone's nationality depends on that person's language ability?
Staff: Yes, that's how we do it.
At that time I decided to discontinue the conversation before it became even weirder than it already was.
Summary about Toyoko-Inn hotels:
(1) They will refuse foreigners if the foreigner does not show some kind of ID.
(2) They use creative methods to confirm someone's nationality.
The Shark and the Ant seem to have had a similar "Toyoko-Inn" experience.
It's a pity they have such a policy. Because that hotel chain is quite cheap and they are all over Japan.
Their webpage and all their information is multilingual (Japanese, English, Korean, Chinese).
However, I believe equal treatment matters more to foreigners than any non-Japanese language information.
I personally will not be staying at Toyoko-Inn hotels again (as long as they have such a policy in place).
One more thing:
Sometimes they don't listen when foreigners complain.
So in my case my (Japanese) wife was kind enough to tell the front staff in front of other people that she too would not be staying there again if they didn't treat her husband like all other people.
Suddenly they paid more attention and promised my wife that we would get a reply from the hotel management regarding that matter.
Haven't received anything yet. But if we do get anything in writing that might be of interest to others I will post it here.
One final thing about Toyoko-Inn:
If you want to make reservation online, you need to tell them your date of birth and your citizenship. Even Japanese guests need to provide this information! Under citizenship (国籍) you can have a selection of 15 countries (including Japan). Otherwise you need to select "other countries"
So they didn't even bother to compile a list of all countries in the world. And the logic behind their selection is incomprehensible. Slovenia is included for instance, but Russia isn't.
You can check it out yourself. That's their webpage:
http://www.toyoko-inn.com/eng/index.html
(of course: just for looking, not for booking!)
/////////////////////////////////////////////
DOUG REPLIES:
First I am not saying this never happens, because obviously it does (not one of the dudes that says if it does not happen to me it does not happen). It really sucks.
I have used Toyoko Inns for over 5 years now for business and have never had this happen to me. I am usually travelling alone and on business. The locations I have used are numerous (Kofu, Kumamoto, Fujisawa, Sendai, etc.)
The reason I bring this up could there be some other type of profiling going on? I am not married to a Japanese woman and usually show up alone. I complete the check in process in Japanese and write my name in katakana and address in my feeble nihongo.
The places are cheap, clean, and have good internet connectivity and even a little breakfast in the morning. I think the best deal in Tokyo is the Toyoko at Shinagawa if you can get in.
It sucks this is happening….especially to guys that are with their wives!!!! I hope the wives are furious!
I am wondering if these events are taking place in the same locations?
Shark do you mind saying where this happened? And if you get a reply I would love to see it. I use this chain all the time.
MORE COMMENTS?  FIRE AWAY