mytest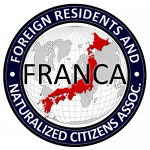 UPDATES ON TWITTER: arudoudebito
DEBITO.ORG PODCASTS now on iTunes, subscribe free
Hi Blog.  As a natural extension of the strengthened policing of NJ by the GOJ (for we can only anticipate what scams NJ might get up to, untrustworthy lot), starting with fingerprinting them at the border every time as potential terrorists, criminals, and disease carriers, then tracking their money wherever they earn it, we now have the Tax Bureau doing the Immigration Bureau's job of checking visa status if NJ were so good as to file their own tax forms.  How dare they engage in such suspicious activities!  It's all part of expanding Gaijin Card Checks to unrelated agencies nationwide.  Arudou Debito in Sapporo
//////////////////////////////////////////
From: KYA
Subject: [Community] Gaijin card required for tax return now?
Date: April 13, 2010
To: communityinjapan@yahoogroups.com
Can someone help me shed some light on this situation? I've filed my taxes in Japan every year for the past 8 years. I can't swear that I ws never asked for a gaijin card or other form of ID before, but I KNOW that last year I wasn't, wasn't even asked to fill out that form asking how many days you spent in and out of the country, etc (I was asked to do that one two or three times, definitely not every year). And I know that my refund has NEVER been delayed, I've always filed early and got my money back early.
But this year, I filed my return in early March, and until today had heard nothing. Today, I got this in the mail: http://s161.photobucket.com/albums/t223/babyhayate/?action=view&current=tax.jpg
(Click to expand in your browser)
I called immediately, asked why they needed it and if it was necessary, and got a big variety of non-answers in response. The first time I called, the person whose name was on the letter wasn't there, so the guy who answered the phone said he'd answer my questions… I probably got more honest answers from him, although he was a bit of a jerk. He said that it's always been like this, it's not starting from this year, and that if I never had to do it before, it was because the person reviewing my return in the past decided that my name sounded Japanese enough, but that whoever did it this year thought it sounded foreign. I did challenge this, and asked him if it was okay to just judge people and choose who to question ad delay based on their NAME, would he have done the same to one of the many Japanese people who don't have any NJ heritgage, but just have parents who gave them a katakana name? He basically said it just depended on the judgement of whoever got the return to review.
I asked why this NEVER popped up when I was preparing my tax return on the tax department's homepage. There were all kinds of lists of necessary documents, including some things that said "(when applicable)" etc beside them. Nowhere did it say Gaiijn card (for those who have one) or something similar. He said "Well, the homepage is written with Japanese people in mind. If you'd asked for help at city hall they would have told you to submit it." So… you are delaying my tax return BECAUSE I can read Japanese, look at the homepage and prepare my own tax return WITHOUT wasting the time of someone at city hall or at the tax office? That seems very counterprductive, and when I pointed out as much, again he had no reply.
Then I told him I wanted to Google the law that made this necessary and asked him to tell me the name of the law requiring a gaijin card to get a tax refund. He said there was no law. So I said, well then I won't provide it if the law doesn't require it, and he said that they wouldn't process my return until I provided it. So I said, so that means the law DOES require it? This time he said yes, but still couldn't actually come up with a specific law. He then wanted my name and phone number so that he could "get back to me" about it… but he was pissed off by this point, I didn't want him to make a note on my file or something that would delay my refund any further so I said I'd call back when the person in charge had returned.
The person in charge said, it was for the purpose of confirming my address, because I don't have a juminhyo… but again, I didn't have a juminhyo LAST year either. And if they are really checking everyone at city hall, there is a record of my address there as well, it's a different deprtment but they could still check. He then said it was to confirm the spelling of my name in English… again, doesn't make sense to me as all of the documents issued by all of the companies I freelance for list my name in kanji-katakana (which I requested them to do BECAUSE it's the way I've always filed my tax return and silly me, I thought the names should match?)
I did get this second guy to tell me that I could submit a copy of my driver's license instead or copy the gaijin card and black out everything except name, address, and date of birth, when I said that it wasn't the tax office's job OR right to check my birthplace or status of residence etc.
But… what is the deal here? Has anyone else has this experience? This year only, or have I just lucked out seven years running? Does anyone know what the law DOES say about this? Do I have to submit it? Can they really withhold my tax refund, for taxes that I paid but never owed in the first place, if I don't submit it?
I never know what to do in this situation… if it's a hotel or another business, in the end, they want my money and the money of all the people I'm going to tell about my lousy experience… in this case, it's the government and they've got 48,000 yen that I want and need, and in the end they KNOW that I'm not going to throw away that money on principle… I considered throwing the teigakukyuufukin paperwork in their faces when the woman had the nerve to refer to my "husband's household" as something separate from ME… but that was a free handout, this money is MINE, I knew I was going to get it back and planned for it in my budget, so I feel like there's not a lot I can do… I'd at least like to know what they are really checking, whether it's for everyone or just people picked at random, and whether I can legally say no and still get my money (much as I'd like to make a stand, that's a whole month's pay coming back… they know they've got me up against a wall here)
Anyone else having problems? KYA
/////////////////////////////////////////
MTJ replies:
A few things came to mind when I read your story, KYA.  First, that the form they sent seems to cover a lot of the new 'procedures' linked to the new family allowance program being implemented this month, specifically the brouhaha in the media over NJ who has children living abroad needing to jump through all sorts of hoops to qualify.  More tellingly, the part at the bottom confirms what I suspected was the case, it's a piece of gyousei shidou;, or 'administrative guidance.'  That's why the official may have had trouble supplying you with an actual law, as it doesn't actually exist.  However, in the minds of the local bureaucrats it's just as good, especially if it "came from above."
Wiki has a good stub on the subject here:
http://en.wikipedia.org/wiki/Administrative_guidance
ENDS