mytest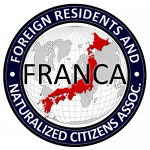 UPDATES ON TWITTER: arudoudebito
DEBITO.ORG PODCASTS now on iTunes, subscribe free
Hi Blog.  Here is an abridged version of the NGO FRANCA (Foreign Residents and Naturalized Citizens Association) minutes I sent out today, regarding our exceptional Tokyo meeting last night in International House, Roppongi.  It was a full house, with fifteen attendees, four of whom became dues-paying members.  People attending were from a variety of backgrounds, from corporate to techie to journalist to academic to relative newcomer.
We got a lot discussed.  We had so many voices describing their experiences in Japan (from employment issues to bike and passport checks to child abductions to domestic politics) that it was difficult to get through my powerpoint!  (I did, and you can download it revised at https://www.debito.org/FRANCA.ppt.
We added to the list of proposed projects.  In addition to the ones put up at Sendai FRANCA:
========================================
POSSIBLE PROJECTS FOR NGO FRANCA:
— Having all family members of household listed on jūminhyō Residency Certificate regardless of nationality (currently under GOJ revision, proposed changes by July 2012).
— Having koseki Family Registry forms include NJ under spouse column.
— Eliminating requirements for jōji keitai, 24/7 carrying of the "Gaijin Card", must present to authorities within set time period (3 days?).
— Other letter writing campaigns (e.g. Sumo Association) as issues come up.
— Allow for flexibility in registration and naming systems to reflect ethnic diversity (spellings, order, middle names for Double children).  Let us decide our official identity.
— Include optional question about ethnicity (not just nationality) in National Census.
— Law against Racial Discrimination.
— Survey on rental refusals (us or GOJ?)
— List of small issues you can say in passing to GOJ bureaucrats, as "pinprick protests"?
— Stop border fingerprinting discrimination for all visa holders, esp. Permanent Residents (make universal for Japanese citizens too?)
— Allow dual nationality even after naturalization.
— Stop arbitrary street "Gaijin Card" checkpoints by police, bring into line with Police Execution of Duties Law for questioning J citizens.
— Send positive stories of Non Native Japanese doing community activities to media (local papers), hope they take the story (we need more positive engagement with J society, not just "whining")
========================================
We added:
========================================
— Push for more accountability from police (keisatsu techō), provide cop names, record of stoppage.  Website survey of people stopped?
— Suffrage for NJ PR in local elections.
— Public statement on international child abduction and joint custody after divorces.
— Cooperation with unions on labor issues.
— List of FRANCA positions on social issues E&J
========================================
We obviously have a lot of ideas out there.  There is no order of priority.  Just who's motivated enough to lead the project and take something up.  Others that see something they think also ought to be on the drawing board, join our group and offer input!
We then repaired for drinks in Roppongi.  I got home at 3AM last night.  One of our group is a former bartender, and knew how to keep us drinking (thanks, I think!?!).
=================
Again, if you need to know more about FRANCA, or would like to tell others about it, see our websites and download our powerpoint. https://www.debito.org/FRANCA.ppt
This powerpoint makes all the arguments I would if you met me face to face and needed convincing. Have a look. There are lots of hidden slides.
Bring me down for a speech sometime (I'll probably be on the road again around August, so you don't need to pay travel expenses), and I'll try to convince you and your friends too that we need FRANCA and that we need you to be a part of it.
Anyway, thanks for reading! Arudou Debito, NGO FRANCA Chair