mytest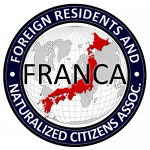 UPDATES ON TWITTER: arudoudebito
DEBITO.ORG PODCASTS now on iTunes, subscribe free
Hi Blog.  Following up on some previous Debito.org posts (here, here, and here) on how the debate on NJ PR suffrage has devolved into hate speech, here is how bad it's getting.  We have anonymous flyers appearing in people's snailmailboxes accusing NJ of being criminals (and linking it to not granting suffrage), fomenting anti-Chinese sentiment with threats of invasion and takeover, and even a book capitalizing on the fear by saying that granting NJ the vote will make Japan disappear.  Read on:
First up is a notice I received world about on February 28, 2010, from a Nagoya resident.  (click on image to expand in your browser)
As you can see from the headline, we have the "Beware of Foreign Crime" slogans, with the claim that foreign crime is rising (an outright lie — it's been falling for years:  sources here, here, and here)).  It asks people to lock their doors properly and be careful of walking alone.  Then it digresses to say that the DPJ is planning to bring in immigrants and grant them suffrage, and that more crimes are anticipated, so protect your family and property by linking your opposition to the NJ PR suffrage bill to crime prevention.  It then asks people to do their own research, using search terms "NJ suffrage" and "danger", plus "mass media" and "biased reporting".
And who put this out?  At the very bottom it just says that these are "internet users" who have woken up to the dangers out there, and are putting this flyer out at their own expense.  They are not in any way affiliated with a group or religion.  They're just anonymous internet bullies.  (Okay, the last sentence they didn't the courage of conviction to say:  never mind taking responsibility for their actions — such is the modus operandi of the anonymous bully.)
Next up:  A flyer that appeared in a person's snailmailbox in Narita, February 23, 2010: (click on image to expand in your browser)
Very well rendered in classic easily-understood manga illustration, it zeroes in on the dangers of NJ PR suffrage in terms of Chinese hordes.  Once they get elected, tiny little carbon-copy slanty-eyed Maos all vote in a bloc in small towns and get elected.  Just like, they claim, some Chinese did in Richmond, BC, Canada, and the candidate allegedly couldn't even speak English!  Then Chinese will take over public utilities and blackmail old, hardworking Japanese into paying user fees, and then we'll have an invasion of Chinese voters, ballots in hand.  Before you know it, we'll be surrounded, thanks to immigrants' higher birthrates, and we'll see the same fear of foreigners here as we see in Europe, where the Dutch are being crowded out of their own country.  Etc etc.  In other words, it's turning the positive arguments for immigration on their head, and making the issue into a zero-sum power game with Japan being lost in the process.
And finally for today, an actual published mook, found on newsstands in Tokyo and no doubt much elsewhere on March 7, 2010.
The title is "Emergency Publication" (aren't they all?), "NJ PR suffrage will be the end of Japan".  Same thing in the subtitles:  "China can now legally invade us!"  "The Policy for 10 Million Immigrants will make Japan into a foreign country."  With flakey Zainichi Taiwanese commentator Kin Birei (who is all over the ideological map whenever she appears on Koko Made Itte Iinkai) saying "Naturalize if you want to vote", etc.
What follows are the Table of Contents and a sample page, courtesy of MS.  He comments that "The contents aren't as bad as the cover."  Then like Miwa Locks "Foreigner-Proof Security" and "Gaijin Hanzai Mook", once again we have businesses riding the anti-foreign scare wave to make a quick buck.
This is why we need laws against hate speech in Japan — to prevent the knock-on effects of fear by anonymous bullies being further fanned by the profit motive and marketing sharks.  Arudou Debito in Sapporo
ENDS