mytest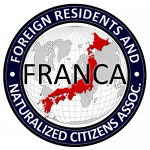 UPDATES ON TWITTER: arudoudebito
DEBITO.ORG PODCASTS now on iTunes, subscribe free
Hi Blog.  Here's something I received the other day from Debito.org Reader XY.  It's a flyer he found in his mailbox from the Tokyo Edogawa-ku LDP, advising people to "protect Japan and vote their conscience" (although they can't legally use the word "vote" since it's not an official election period).  It talks about how "dangerous" it would be to grant NJ PR local suffrage.
I've given some of the con arguments here before (from radical rightists loons like Dietmember Hiranuma and co.), but this time it's seventeen more-mainstream LDPers (a party which would otherwise be in power but for people voting their conscience last August) offering a number of questionable claims.  First, have a look at the flyer (received February 19, 2010):
The arguments in summary are these:
1) PR NJ suffrage might be unconstitutional (hedging from the rabid right's clear assertion that it is).  In fact, I'm not sure anyone's absolutely sure about that.
2) PR NJ suffrage will give foreigners say over how our children are taught and how our political decisions are made.  (Well, yeah, if there are enough NJ in any particular district; and even if there were, given how nasty Japan's public policy can be towards NJ, I'm not so sure that's such a bad thing.)
3) Granting PR NJ suffrage is not the world trend.  (Oh, now we cite how other countries do things?  If other countries were creating a world trend, such as signing the Hague Convention on Child Abductions, you'd no doubt be begging off stressing how unique Japan is instead.  Besides, at least three dozen other countries, many of them fellow developed countries, grant local suffrage to non-citizens, and they deal with it just fine.)
4) One shouldn't equate taxpayer with voting rights, asserting that Japanese wouldn't get suffrage if they lived overseas.  (Actually, yes they would, if they lived in one of those abovementioned three dozen plus countries which grant it.)
5) We haven't studied the issue enough.  (This is a typical political stalling tactic.  How much debate is enough?  How long is a piece of string?)
6) We've got prefectural governors coming out against PR suffrage.  (And we have prefectural governors coming out FOR suffrage too.  Anyway, when has the national government listened to local governments until now?  It hasn't been for the past decade since the Hamamatsu Sengen, for example.)
My favorite bit is the illustration at the bottom.  "JAPAN, LET'S PROTECT OURSELVES!!"  Love how it's an angry-looking alien ship with its spotlight on our archipelago.  NJ as invading alien!!  And I remember back in the day when we had a UFO Party (yes, the UFO党) waiting to cart us all away!!  How times change when there's a real policy up for debate.
But seriously folks, this isn't some podunk backwater like Dejima Award Winner Setaka Town in Fukuoka, which decided that its local university should be officially "foreigner-free".  This is Edogawa-ku, the easternmost ku of Tokyo proper, right across the river from Chiba, with more than half a million registered residents.  It's not the type of place for xenophobic alarmist politicians to immaturely paint the spectre of an alien invasion in a serious debate.
Vote your conscience.  Now that we know who these LDP idiots are, don't vote them back into power.  Arudou Debito in Calgary