mytest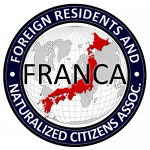 UPDATES ON TWITTER: arudoudebito
DEBITO.ORG PODCASTS now on iTunes, subscribe free
Hi Blog.  We have the news of local governments calling upon the national government to do something to help the NJ residents under their charge.  Some things just aren't amendable without national government directives.  Like a dedicated agency to deal with immigration.
That's good news.  The problem is, these local governments have been doing this for years now:  Consider the Hamamatsu Sengen (2001), Toyoda Sengen (2004) and Yokkaichi Sengen (2006), which demanded just about the same thing.  And it will be the same thing I demand in my next Japan Times column, due out next Tuesday, December 1.  Have a read.
Local governments want to be nice to their NJ.  It's just that the elite Edokko bureaucrats in Kasumigaseki just don't care.  They don't want to help NJ settle and make a life here.  The people in charge of NJ affairs, mostly the Ministry of Justice, just want to control and police them.  And that is pretty short-sighted, given that Japan needs immigration, and the less attractive Tokyo's mandarins make Japan look to immigrants, the more likely the ones that will help Japan most will pass Japan by for better opportunities in other more open societies.  Again, more in my JT article on Tuesday.  Arudou Debito in Sapporo
///////////////////////////////////////////////
Municipalities calls for gov't agency to help foreigners
Kyodo News/Japan Today Friday 27th November, courtesy of John, Aly and others
http://www.japantoday.com/category/national/view/municipalities-calls-for-establishing-govt-agency-for-foreigners
TOKYO — Representatives from Japanese municipalities holding a large number of foreign residents called for the central government Thursday to set up a new agency aimed at improving the livelihoods of foreign people living in the country.
The proposal by a group of 28 municipalities in seven prefectures said they have recognized the need for the government to create such an entity so that foreign people in Japan would be better off at a time of economic difficulties. They also proposed that foreigners have the same rights and responsibilities as Japanese nationals and make it mandatory for children with foreign nationality to attend schools in Japan.
ENDS