mytest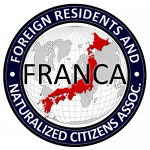 UPDATES ON TWITTER: arudoudebito
DEBITO.ORG PODCASTS now on iTunes, subscribe free
Hi Blog.  Here we have Japan's version of the US opposition "Tea Parties", with some prefectural assemblies (most rural and apparently LDP-strongholded) coming out in opposition to giving NJ with PR the vote in local elections.  (Debito.org, unsurprisingly, is in favor of granting suffrage; reasons passim here.)  The interesting thing is, when has the media granted much attention to what the prefectures think before about national policies?  They certainly didn't when it came to a decade of requests from lots of city governments, after the Hamamatsu Sengen, to make life easier for their NJ residents.  Oh, that's right.  It's not business as usual since the LDP is not in power.  Plus it looks like the Cabinet may actually help pass a law to do something nice for foreigners.   How dare they!
Anyway, name and shame.  These are the prefectures you should write to to say you're unimpressed by their lack of tolerance:
Akita, Yamagata, Chiba, Ibaraki, Toyama, Ishikawa, Shimane, Kagawa, Oita, Saga, Nagasaki and Kumamoto, plus Saitama and Niigata.
Source in Japanese below.  Arudou Debito in Lake Louise, Alberta, Canada
//////////////////////////////////////////
14 prefectures oppose allowing foreigners to vote in local elections
JapanToday.com/Kyodo News Tuesday 09th February, 07:52 AM JST
http://www.japantoday.com/category/politics/view/14-prefectures-oppose-allowing-foreigners-to-vote-in-local-elections
Courtesy of MMT, John in Yokohama, and Cleo
TOKYO — Local assemblies in 14 of Japan's 47 prefectures have adopted statements in opposition to giving permanent foreign residents in Japan the right to vote in local elections since the Democratic Party of Japan took power last year, a Kyodo News tally showed Monday.
[Those open-minded prefectures are: Akita, Yamagata, Chiba, Ibaraki, Toyama, Ishikawa, Shimane, Kagawa, Oita, Saga, Nagasaki and Kumamoto, plus Saitama and Niigata]
Before the launch last September of the new government under Prime Minister Yukio Hatoyama who supports granting local suffrage, 31 prefectural assemblies took an affirmative stance, but six of them have turned against it since then.
The results underscored growing opposition to the government's policy, with local assembly members, including those belonging to the main opposition Liberal Democratic Party, pressing for the adoption of statements of opposition in prefectural assemblies.
The Japanese government is considering formulating a bill that will grant local suffrage to permanent residents in Japan, and DPJ Secretary General Ichiro Ozawa has expressed the hope that such a bill will pass through parliament in the current Diet session.
But reservations remain within the DPJ-led coalition government about the idea, with collation partner People's New Party President Shizuka Kamei reiterating his opposition last week.
Explaining the reason behind the Chiba prefectural assembly's opposition, Naotoshi Takubo, secretary general of the LDP's local branch in Chiba, said the change of government made it more likely than before that a law will be enacted to accept local suffrage.
''The political situation has changed and we now have a sense of danger for the Hatoyama administration,'' he said. The Chiba assembly adopted a supporting statement in 1999 when the coalition government between the LDP and the New Komeito party was launched.
An LDP member of the Ishikawa prefectural assembly expressed a similar view, saying the assembly had been supportive because giving permanent residents the right to vote was not ''realistic'' before.
The Akita prefectural assembly, which adopted its opposing statement after the change of government, said that ''a national consensus has not been built at all.''
The Kagawa prefectural assembly says in its statement that foreign residents should be nationalized [sic] first to obtain the right to vote.
The issue of local suffrage for permanent foreign residents in Japan came under the spotlight in 1995 after the Supreme Court said the Constitution does not ban giving the right to vote to foreign nationals with permanent resident status in local elections.
Since 1998, the DPJ, the New Komeito party and the Japanese Communist Party have submitted local suffrage bills, but their passage was blocked by the then ruling LDP.
Japan does not allow permanent residents with foreign nationality, such as those of Korean descent, to vote in local elections, let alone in national elections, despite strong calls among such residents for the right to vote on the grounds that they pay taxes as local residents.
Residents of Korean descent comprise most of the permanent foreign residents in Japan.
Japan grants special permanent resident status to people from the Korean Peninsula and Taiwan who have lived in the country since the time of Japan's colonial rule over the areas, and to their descendants.
ENDS
/////////////////////////////////////////////////
<外国人選挙権>8県議会が「反対」に転向
2月9日12時38分配信 毎日新聞
http://headlines.yahoo.co.jp/hl?a=20100209-00000047-mai-pol
永住外国人への地方選挙権付与について、昨年9月の民主政権発足以降、47都道府県議会のうち14の県議会が反対や、慎重な対応を求める意見書を可決していたことが、全国都道府県議会議長会の調べで分かった。このうち千葉や石川など8県議会は、かつて賛成の立場の意見書を採択しており、政権交代で外国人への選挙権付与が現実味を帯びてきたことに対し、自民系が多数を占める地方議会による反発とみられる。【渡辺暢】
永住外国人への地方選挙権付与は、民主党のマニフェスト(政権公約)の原案となった「09年政策集」に盛り込まれた。民主が今国会にも新法案を提出する方針を示す一方、亀井静香金融・郵政担当相が反対を明言するなど、足並みはそろっていない。
議長会の調べでは政権交代から昨年末までに、秋田、山形、千葉、茨城、富山、石川、島根、香川、大分、佐賀、長崎、熊本の12県議会が法制化に反対、埼玉と新潟が慎重な対応を求める意見書を採択した。在日本大韓民国民団の働きかけもあり、参政権に賛成または検討を求める意見書を採択した都道府県は昨年6月までに34に達していた。しかし、政権交代後、かつて賛成意見書を採択した千葉、茨城、富山、石川、島根、大分、佐賀、長崎が反対に転じた。
自民党千葉県連の田久保尚俊幹事長は「民主党による(法案の)提出が現実味を帯びてきた。選挙で(県議会の)構成メンバーも代わっており、(99年の賛成意見書とは)別に考えてほしい」と話す。同石川県連の福村章幹事長は昨年12月の意見書採択を受け「(賛成の意見書を採択した95年)当時は自社さ政権。状況が変わった」と説明した。
反対意見書の急増について、千葉大の新藤宗幸教授(政治学、行政学)は「極めて政治的なもの。地方議会全体では今も自民系が多く、『地方は反対』という状況を作って政権に亀裂を入れていこうという、自民党中央の考えではないか」と分析する。全国市議会議長会によると、昨年末までに反対の意見書を採択したのは山形県天童市など、少なくとも13市議会ある。
ENDS