mytest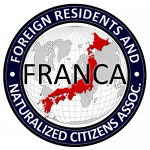 UPDATES ON TWITTER: arudoudebito
DEBITO.ORG PODCASTS now on iTunes, subscribe free
Hi Blog.  It's that time of year again.  Time for the National Police Agency (NPA) Spring Offensive and Media Blitz against foreign crime.  Article, then comment, then some original Japanese articles, to observe yet again how NJ are being criminalized by Japanese law enforcement and our domestic media:
/////////////////////////////////////////////
No. of white-collar crimes by foreigners up by 31.2% in 2009
Thursday 25th February, 2010 Kyodo News, Courtesy of KG
http://www.japantoday.com/category/crime/view/no-of-white-collar-crimes-by-foreigners-up-by-312
TOKYO — The National Police Agency detected 964 white-collar crimes by visiting foreigners in Japan last year, up 31.2% from the previous year, it said Thursday. The number of visiting foreigners charged with such crimes came to 546, up 7.9%, according to the NPA. It said notable among the crimes was teams using faked credit cards.
The overall number of crimes committed by all foreigners in the reporting year fell 11.1% to 27,790, with 13,282 people, down 4.3%, charged, the NPA said.
ENDS
/////////////////////////////////////////////
COMMENT:   Yep. Same old same old. Parrot the NPA: Highlight the NJ crime rises, and play down the fact that NJ crime overall has gone down. And of course no depiction of J "white collar" (whatever that means) crime numbers, nor their ups or downs to give a sense of scale.
NB: I can't find the Japanese original for the Kyodo English article, only something in Kyodo's Chinese-language news service (which avails us with the original terminology for "white-collar crime", as "gaikokujin chinou hanzai" (lit. foreign intellectual crime); again, whatever that means). The structure is the same:
◆09年在日外国人智能犯罪案件骤增
02.25.10 17:36
http://china.kyodo.co.jp/modules/fsStory/index.php?sel_lang=schinese&storyid=78662
【共同社2月25日电】据日本警察厅统计,除永久居住者外,去年赴日外国人犯罪案件中诈骗等"智能犯罪"急剧增加。案件数量较上年增加了31.2%,共964起;涉案人数为546人,增加了7.9%。
其中使用伪造信用卡的多人诈骗团伙发案率明显居高。
警察厅表示,不同国籍的团伙成员在世界各地重复犯罪的"犯罪国际化"对日本的治安也构成了巨大威胁,将重新构筑针对外国人有组织犯罪的调查机制。
从外国人犯罪的整体情况来看,触犯《刑法》及特别法的案件共27,790起,减少了11.1%;涉案人数为13,282人,减少4.3%。(完)
ENDS
======================
The Sankei doesn't defy its typical anti-NJ bent as it also parrots the NPA:
外国人の知能犯罪が増加 前年比31・2%増の964件 564人摘発詐欺グループ目立つ
産經新聞 2010.2.25 10:53
http://sankei.jp.msn.com/affairs/crime/100225/crm1002251055012-n1.htm
昨年警察が摘発した永住者らを除く来日外国人による犯罪のうち、詐欺などの「知能犯」が急増し、件数で対前年比31・2%増の964件、人数で7・9%増の546人となったことが25日、警察庁集計で分かった。
偽造クレジットカードを使った多人数の詐欺グループ摘発が目立つ。
警察庁は、多国籍のメンバーが世界各地で犯行を繰り返す「犯罪のグローバル化」が日本の治安にも大きな脅威になっているとして、外国人組織犯罪への捜査態勢の再構築を打ち出している。
外国人犯罪全体では、刑法犯と特別法犯を合わせ件数が11・1%減の2万7790件、人数が4・3%減の1万3282人だった。
ENDS
=======================
Jiji Press takes a different angle, headlining the drop in NJ crime and assigning possible societal causes, but still resorts to pointing out a rise where possible (in types of crime, such as theft and graft):
外国人犯罪、5年連続減少=「生活苦」で窃盗、強盗増加−警察庁
http://www.jiji.com/jc/c?g=soc_30&k=2010022500269
2009年に全国の警察が摘発した来日外国人は、前年比603人減の1万3282人だったことが25日、警察庁のまとめで分かった。04年に過去最多の2万1842人となった後は5年連続で減少しているが、罪種別で見ると窃盗や強盗、詐欺などが増加。同庁は「生活苦による犯罪が目立つ」としている。
国籍別の割合は、中国が36%を占めて過去10年間続けて最多。フィリピンやベトナムが10年前と比べ激増した。(2010/02/25-10:23)
ENDS
=======================
And in a related note, the NPA is going "global" in its unified crime-fighting efforts:
警察庁:国際犯罪、対応を一元化 部門横断的に「対策室」
毎日新聞 – ‎Feb 22, 2010‎
http://mainichi.jp/select/wadai/news/20100223dde041010004000c.html
国際的な犯罪グループによる事件の続発を受け、警察庁は23日、犯罪のグローバル化戦略プランをまとめた。警察庁の各部局や各都道府県警察本部間の垣根を低くして情報の一元化と共有を図るため「グローバル対策室」を設置。韓国や中国の捜査当局との連携強化も視野に置きグローバル化する犯罪の解決や解明に乗り出す。【千代崎聖史】
戦略プランの主な柱は(1)ICPO(国際刑事警察機構)の積極活用や、各捜査部門間の壁を取り払い組織横断的な情報収集を強化して、警察庁の情報管理システムに集約(2)海外勤務経験者を活用するなどして通訳・翻訳体制を充実(3)東アジアでの国際協力枠組みを構築し、共同オペレーションの推進。グローバル対策室は警察庁のほか各警察本部にも設置され、まず警察庁で約20人体制で発足する。
従来の外国人犯罪は、短期間のうちに実行し出国する「ヒット・アンド・アウエー型」が主流だった。しかし、この数年は拠点など犯罪インフラの準備を入念に行うケースも増え、「ピンクパンサー」と呼ばれる国際的強盗団による宝石店強盗▽ナイジェリア人らによる身代金目的邦人誘拐▽多国籍グループによる広域自動車盗事件--など複数の国にまたがる事件が頻発。日本人が犯行拠点の確保などを支援し、組織の実態解明が困難なケースも多いため、警察庁はこうした犯罪への対策を最重要課題と位置づける。
安藤隆春警察庁長官は同日の担当課長会議で、「全国警察一体で取り組まなければならない治安上の喫緊の課題だ」と訓示した。
◇初動早め情報共有
日本と海外の捜査当局が連携して事件を解決したケースに共通するのは、初動の素早さと情報の共有だ。
「助けて。マレーシアにいるの」。昨年12月13日、千葉県に住むフィリピン人女性(38)の携帯電話に、山梨県で食品工場の工員をしているはずの姉(44)から電話が入った。入管関係者を名乗る男が電話口に出てきて「薬物の容疑で連行した。釈放してほしければ1万ドルを口座に振り込め」と要求した。14日、女性は東京のフィリピン大使館に駆け込んで通報した。
警視庁は通訳を派遣し身代金目的誘拐とみて捜査を開始。「金を早く用意しないと殺す」。脅迫の電話や電子メールは計16回。警察庁はICPOを、フィリピン大使館はマレーシアの同大使館をそれぞれ通じてマレーシア国家警察に情報提供を続けた。
これを受けて、日本のフィリピン大使館とマレーシア・セランゴール州警察に対策本部が発足。州警察が携帯電話の発信電波からアジトの団地を割り出して包囲した。17日に犯人グループが被害女性を解放、ナイジェリア人5人とマレーシア人3人の21~35歳の計8人が逮捕された。女性は衰弱していたが無事だった。
捜査関係者によると、犯人グループの男らは英語のチャット上に、欧州のビジネスマンを名乗り「結婚相手を探しています。40歳以上希望」と書き込み、返信した女性にはハンサムな白人男性の顔写真を添付して送信。誘い出したクアラルンプール国際空港で拉致した。アジトでは別のカザフスタン人の女性(43)を拉致していたことも判明した。警察幹部は「警察が国境を超えてリアルタイムで情報を共有し、解決できた意義は大きい」と話す。【千代崎聖史】
ENDS
Arudou Debito in Sapporo