mytest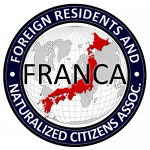 UPDATES ON TWITTER: arudoudebito
DEBITO.ORG PODCASTS now on iTunes, subscribe free
REQUEST FOR INPUT FROM THE NON-JAPANESE RESIDENT COMMUNITY
By JAPAN IMMIGRATION POLICY INSTITUTE, TOKYO
March 24, 2010
Mr SAKANAKA Hidenori, head of the Japan Immigration Policy Institute in Tokyo (http://www.jipi.gr.jp), author of books such as "Nyūkan Senki" and "Towards a Japanese-style Immigration Nation", is looking for input from Non-Japanese (NJ) long-termers, and immigrants who would like to see Japanese immigration policy (or current lack thereof) head in a better direction?
Mr Sakanaka, former head of the Tokyo Immigration Bureau, has become a leading supporter of immigration to Japan, believing that Japan would be a stronger, more economically-vibrant society if it had a more open and focused immigration policy. More on his thoughts about "Big Japan vs. Small Japan" on Debito.org in English and Japanese here:
https://www.debito.org/publications.html#otherauthors
Mr Sakanaka wants your ideas and input as how Japan should approach a multicultural future, and (sensibly) believes the best way is to ask people who are part of that multiculture. Please consider getting in touch, if not making an appointment for a conversation, via the contact details at http://www.jipi.gr.jp/access.html, or via email at sakanaka AT jipi DOT gr DOT jp (English and Japanese both OK).
We would like to hold seminars, forums, and other convocations in future, working to make JIPI into a conduit for a dialog between Japan's policymakers and the NJ communities.
Debito.org is proud to support Mr Sakanaka and his works, and has interned at JIPI with many an enlightening conversation. This proposal for community outreach is the product of one of those conversations. Please be in touch with JIPI.
— Arudou Debito, Coordinator, Debito.org and NGO FRANCA
(https://www.debito.org, http://www.francajapan.org)
ENDS