mytest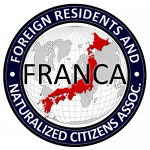 UPDATES ON TWITTER: arudoudebito
DEBITO.ORG PODCASTS now on iTunes, subscribe free
Hi Blog.  As you know, as representative of NGO FRANCA I met with Special Rapporteur for the Human Rights of Migrants Dr Jorge A. Bustamante on March 23, 2010. Here's a briefing:
Starting from 9AM at one of the Diet Lower House meeting rooms, I sat in as Amnesty International Japan and Solidarity with Migrants Japan made their cases about how NJ are being treated badly by the media, the government, and labor policy. Dr Bustamante asked a lot of questions and wanted statistics, particularly about the death rates for migrant workers (we were all surprised; he said that in other developed countries those statistics were available at the government level, something inconceivable to us). After 45 minutes, he went off to meetings with GOJ officials.
We were supposed to meet again for another 45 minutes from 1PM, but Dr Bustamante arrived more than twenty minutes late. (This is a typical GOJ trick so the NGOs get less time; if NGOs go overtime, they become the object of criticism, but if the GOJ goes overtime, nobody complains but the NGOs.) A representative from the Zainichi Koreans, an academic from Korea University (Kodaira, Tokyo) named Mr RYOM Munsong, kept his speech to 12 minutes, I kept mine to twelve as well (we had timers), and mixed our powerpoint with movie and speech.
As far as I went, I was able to squeeze in my full introduction and two of my five bullet issues, then had to skip to the end with the entreaty to not see NJ as "temporary migrant workers" but "immigrants" (read entire speech here). But I was very disappointed that we had virtually no time for Q&A (Dr Bustamante looked tired), and that all that preparation was cut short because we were keeping our promises with the scheduling and the GOJ was not.
Some photos from the proceedings:
Morning session with Dr. Bustamante [removed by request]:
Afternoon session:
Mr RYOM Munsong from Korea University gives his powerpoint.  I sit back and get out of the way so the media could film him.  Note fat blue folder on table just itching to be given to Dr. Bustamante.
Then I'm on:
Second from right is Dr Bustamante, with Ms Valentina Milano, Human Rights Officer, OHCHR.
I have to barnstorm through; I finish in 12 minutes 58.9 seconds.  Note mp3 recorder and iPod timer.  I'll have a recording of my speech as my next DEBITO.ORG PODCAST up in a couple of weeks.  If you want to see the powerpoint for yourselves, click https://www.debito.org/FRANCABustamantepresentation032310.ppt.  Table of contents with links to all articles at https://www.debito.org/?p=6201.
The good news is that everything I wanted to say, even if i did not say it, is on paper or online.  Everything, including that fat folder, is now in Dr Bustamante's hands.
It's heavy schlepping this around Japan.
Genuine Monbetsu "Japanese Only" sign enclosed as a souvenir.
Everything completely indexed and categorized for ease of reading.
This is FRANCA at work.  Join us for our meeting this coming Saturday in Tokyo.
I was a bit dejected, so to make sure the day wasn't a total wipeout, I went to the Diet building (they've only recently opened up tours of the Lower House) and took a free hourlong tour.

It wasn't much (the Upper House, which I've done three times, is much better, and much friendlier), as the cop who acted as our tour guide was practically inaudible, and the attitude was "let's get this crowd out of here as quickly as possible" (I happened to join three tour busses; the Hato Bus tour guide also agreed the Upper House is much better).  Then I came back to Gotanda, had authentic Chinese takeout, and retired to write this all up.
I'll probably be attending more meetings with NGOs tomorrow as an observer.  If there is anything of note, or any statements from the NGOs they want made public here, I'll have them up soon.
Thanks to everyone for your input!
Arudou Debito in Tokyo