mytest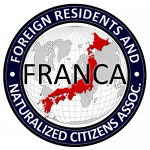 Hi Blog.  Mark in Yayoi pointed out a singular thing to me the other night — that the Tokyo Nerima-ku website lists its population and households in various municipal subsections.  Then puts at the top that "foreigners are not included".  
Screen capture (click on image to go to website) from:
http://www.city.nerima.tokyo.jp/shiryo/jinko/data/area/200810.html

etc. We already saw in yesterday's blog entry that NJ workers are not included in official unemployment statistics.  Now NJ taxpayers are also not included as part of the "general population"?
So I did a google search using the words "人口 総数には、外国人登録数を含んでいません" and found that other government websites do the same thing!  It is, in fact, SOP.
http://www.google.com/search?client=safari&rls=en&q=人口 総数には、外国人登録数を含んでいません。&ie=UTF-8&oe=UTF-8
The Nerima-ku page, BTW, does not even mention anywhere on the page I captured above that foreigners even exist in Nerima-ku — you have to go to a separate page, a separate enclave, for the gaijin.
Pedants (meaning the GOJ) will no doubt claim (as is worded at the top) that "we're only counting registered residents, and NJ aren't registered residents, therefore we can't count them".  But that doesn't make it a good thing to do, especially when you're using the context of "人口総数" (total population).  What a nasty thing anyway to do to people who pay your taxes and live there!  It also becomes a tad harder to complain about "Japanese Only" signs on businesses when even the GOJ also excludes foreigners from official statistics.
And it's also harder to believe the GOJ's claim to the UN that it has taken "every conceivable measure to fight against racial discrimination".  How about measures like counting (not to mention officially registering) foreigners as taxpayers and members of the population?  
(I bet if any measure actually does get taken in response to this blog entry, the only "conceivable" one to the bureaucrats will be to change the terminology, using the word "juumin" instead of "jinkou sousuu".  Solve the problem by futzing with the rubric, not changing the law.  Beyond conception.)
Arudou Debito in Sapporo
==============================
UPDATE:  And of course, don't forget this, from Debito.org too…
Population rises 1st time in 3 years The Yomiuri Shimbun, Aug 1, 2008 http://www.yomiuri.co.jp/dy/national/20080801TDY01306.htm
The nation's population grew for the first time in three years to 127,066,178 in the year to March 31, up 12,707 from a year earlier, the Internal Affairs and Communications Ministry said Thursday.
The figure was based on resident registrations at municipal government offices and does not include foreign residents…
https://www.debito.org/?p=1860